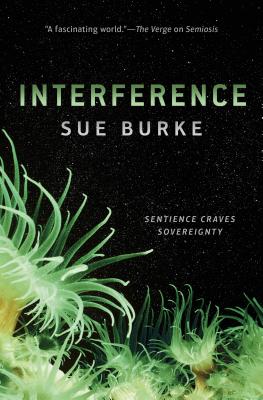 Interference
A Novel (Semiosis Duology #2)
Hardcover

* Individual store prices may vary.
Other Editions of This Title:
Digital Audiobook (10/21/2019)
Paperback (10/27/2020)
Description
Sue Burke's sweeping, award-finalist, SF Semiosis epic continues in Interference as the colonists and a team from Earth confront a new and more implacable intelligence.

Over two hundred years after the first colonists landed on Pax, a new set of explorers arrives from Earth on what they claim is a temporary scientific mission.

But the Earthlings misunderstand the nature of the Pax settlement and its real leader. Even as Stevland attempts to protect his human tools, a more insidious enemy than the Earthlings makes itself known.

Stevland is not the apex species on Pax.

Semiosis duology
Semiosis
Interference
Praise For Interference: A Novel (Semiosis Duology #2)…
Praise for Interference

"Interference is as good as Semiosis, which is no small feat for the sequel of a book whose strength lay in its thought-provoking concepts. Like Ann Leckie's Ancillary Justice, Sue Burke elevated a good story with a great idea."—SFRevu

Praise for Semiosis
"This is up there with Ursula K. Le Guin: science fiction at its most fascinating and most humane."—Thrillist

"A fascinating world."—The Verge

"A solid debut."—SFRevu

"A magnetic meditation on biochemistry and humanity."—Locus Online

"This first-contact tale is extraordinary."—Library Journal (starred review)

"Sharp, evocative . . . Semiosis unfolds the old science fiction idea of first contact in ways that are both traditional and subversive."—The Christian Science Monitor

"A clever, fascinating, fun and unique debut."—Kirkus

"Burke's world building is exceptional, and her ability to combine the intricacies of colonization with the science of botany and theories of mutualism and predation is astounding." —Booklist

"Impressive debut novel . . . lush . . . beautiful."—Publishers Weekly, starred review

"A fresh and fun perspective on planetary exploration."—The Bibliosanctum (4 out of 5 stars)

"A very… different and super engaging novel."—The Book Smugglers

"A fresh and thought-provoking take."—Open Letters

"Intelligent, riveting and ultimately uplifting, Semiosis asks big questions and gives satisfying answers."—Emma Newman, author Planetfall

"This is top class SF, intelligent and engaging and I loved every moment of it."—Adrian Tchaikovsky, winner of the Arthur C. Clarke Award for Children of Time

"In Semiosis, Sue Burke blends science with adventure and fascinating characters, as a human colony desperately seeks to join the ecosystem of an alien world." —David Brin, author of Earth and Existence.

"A first contact novel like none you've ever read. . . . The kind of story for which science fiction was invented." —James Patrick Kelly, winner of the Hugo, Nebula and Locus awards

"Sue Burke has created one of the most fascinating alien personae science fiction has seen in this decade." –David Nichols, early American historian and author of Engines of Diplomacy

"A gripping story of colonization and biological wonders."—Gregory Frost, author of the Shadowbridge novels

"A fantastic SF debut . . . Semiosis will remain relevant for years to come." —Prof. Daniel Chamovitz, award-winning author of What a Plant Knows and Director of the Manna Center for Plant Biosciences at Tel Aviv University.
Tor Books, 9781250317841, 320pp.
Publication Date: October 22, 2019
About the Author
SUE BURKE spent many years working as a reporter and editor for a variety of newspapers and magazines. She is a Clarion workshop alumnus, and she has published more than 30 short stories. Burke also worked extensively as a literary translator, and while living in Madrid, Spain, she headed the long-running Madrid Writer's Critique Group. Her translations include the fantasy novel Prodigies by Angélica Gorodischer, the bilingual science fiction anthology Castles in Spain / Castillos en el aire, and the script for the science fiction movie Mindgate.
or
Not Currently Available for Direct Purchase