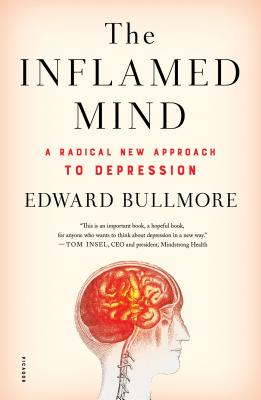 The Inflamed Mind
A Radical New Approach to Depression
Hardcover

* Individual store prices may vary.
Other Editions of This Title:
Digital Audiobook (12/30/2018)
Paperback (12/31/2019)
Paperback, Chinese (2/3/2020)
Description
As seen on "CBS This Morning"

Worldwide, depression will be the single biggest cause of disability in the next twenty years. But treatment for it has not changed much in the last three decades. In the world of psychiatry, time has apparently stood still...until now with Edward Bullmore's The Inflamed Mind: A Radical New Approach to Depression.

A Sunday Times (London) Top Ten Bestseller

In this game-changing book, University of Cambridge professor of psychiatry Edward Bullmore reveals the breakthrough new science on the link between depression and inflammation of the body and brain. He explains how and why we now know that mental disorders can have their root cause in the immune system, and outlines a future revolution in which treatments could be specifically targeted to break the vicious cycles of stress, inflammation, and depression.

The Inflamed Mind goes far beyond the clinic and the lab, representing a whole new way of looking at how mind, brain, and body all work together in a sometimes misguided effort to help us survive in a hostile world. It offers insights into how we could start getting to grips with depression and other mental disorders much more effectively in the future.
Praise For The Inflamed Mind: A Radical New Approach to Depression…
"Bullmore takes us through the exciting journey of immuno-psychiatry. He serves as an excellent guide... A tour de force not only because the book makes available to the layman what we have learned on the interactions between the immune system and the brain during the past two decades, but also because it puts it in perspective of the radical divide that unfortunately still separates psychiatry from other branches of medicine."—Robert Dantzer, BRAIN: A Journal of Neurology

"A rousing, straight-from-the shoulder call for a new approach to treating depression...Impressive and valuable... aimed at the general public, [The Inflamed Mind is] highly readable, and more than a little provocative."—Kirkus Reviews

"[A] targeted, readable primer... [and] a well-informed and cogently argued brief for funding and more investigation in the field."—Publishers Weekly

"The Inflamed Mind is not only a dramatic breakthrough in our understanding of depression. It is an extraordinary exploration of what it is to be human."—Matthew d'Ancona, author of Post Truth

"The Inflamed Mind confronts the reader with the converging revolutions in neuroscience and immunology that give rise to a new perspective about depression and its treatment. It traces the roots of dualism,the tendency to view mind dissociated from body, and then calls for moving beyond dualism in order to understand how inflammation in the body affects brain and mind. In an erudite, enjoyable, and accessible way, Professor Bullmore conveys the profound impact of this new perspective by helping us to appreciate the links between traditional 'medical' and 'psychiatric' syndromes and it identifies new anti-inflammatory treatments that may cross the boundary from general medicine to psychiatry."—John H. Krystal, M.D., Robert L. McNeil, Jr., professor of translational research; chair, department of psychiatry, Yale University School of Medicine

"Ed Bullmore provides a clearly written and compelling argument for the importance of the immune system and inflammation in depression. This lively book explains a major frontier in clinical neuroscience that is not only influencing research on depression, but also on schizophrenia and Alzheimer's disease."—Steven E. Hyman, Harvard University

"Here is a narrative that tells of exciting new approaches to reducing mental illness while capturing the essence of a powerful strand in fundamental brain science. Even better: it is easy to read without overly simplifying its subject."—Sir Philip Campbell, Editor-in-Chief, Nature

"An important book, a hopeful book, for anyone who wants to think about depression in a new way."—Tom Insel, MD, cofounder and president of Mindstrong Health

"As one of the first people to brand themselves as animmunopsychiatrist, Professor Bullmore has led us out of the dark ages and shone the light on the crucial link between systemic inflammation and mental illness. This set of insights is creating a paradigm shift in psychiatry which heralds a new field of personalized psychiatry in the same way that we are seeing personalized therapy in chancer."—Sir Robert Lechler, president of the Academy of Medical Sciences

"A compelling and highly readable argument that some forms of mental illness are really diseases of the immune system. If Bullmore is right, psychiatry is
on the brink of a revolution—the reunion of body and mind."—Sir Colin Blakemore, Professor of Neuroscience & Philosophy, School of Advanced Study, University of London

"Suddenly an expert who wants to stop and question everything we thought we knew…This is a lesson in the workings of the brain far too important to ignore."—Jeremy Vine, BBC
Picador, 9781250318145, 256pp.
Publication Date: December 31, 2018
About the Author
Prof Edward Bullmore, MB PhD FRCP FRCPsych FMedSci, trained in medicine at the University of Oxford and St. Bartholomew's Hospital, London; then in psychiatry at the Bethlem Royal & Maudsley Hospital, London. He moved to Cambridge in 1999 and is currently Co-Chair of Cambridge Neuroscience, Scientific Director of the Wolfson Brain Imaging Centre, and Head of the Department of Psychiatry at Cambridge University. He has published more than 500 scientific papers and is one of the most highly cited scientists worldwide in neuroscience and psychiatry.
or
Not Currently Available for Direct Purchase