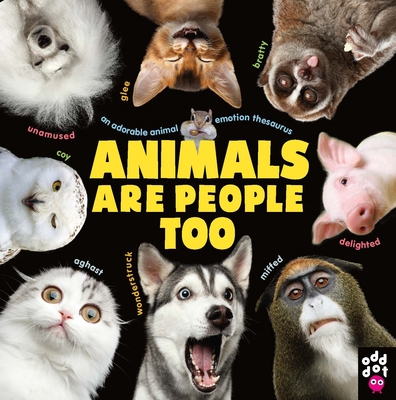 Animals Are People Too
An Adorable Animal Emotion Thesaurus
Hardcover

* Individual store prices may vary.
Description
ANIMALS ARE PEOPLE TOO explores the range of human emotion in 240 pages of adorable animals photos.

What's the difference between bliss and solace? Misery and sorrow? Bitterness and malice?

In ANIMALS ARE PEOPLE TOO, each page presents animal portraits that illustrate everything from the depths of sadness to the heights of joy. At times hilarious, at times poignant, but always visually stunning, see yourself in the animal world with images such as "indulgence" personified by a chubby-cheeked chipmunk, "glee" shown by a dancing tree frog, and "infatuation" portrayed by the entwined necks of two giraffes.
Odd Dot, 9781250318633, 240pp.
Publication Date: October 22, 2019
About the Author
Odd Dot is an imprint of Macmillan Children's Publishing Group dedicated to creating joyful books for curious minds. Our mission is to develop interactive and substantive gift books that explore categories and formats never seen before. We are a proudly odd mix of makers, creators, and engineers, guided by the priorities of innovation, education, and play.
or
Not Currently Available for Direct Purchase