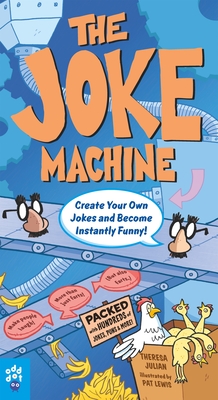 The Joke Machine
Create Your Own Jokes and Become Instantly Funny!
Paperback

* Individual store prices may vary.
Description
A JOKE BOOK THAT TEACHES YOU HOW TO BE FUNNY!

Follow a cast of fictional funny experts into the Laugh Lab, a hilarious joke-building factory that teaches middle-grade readers how to create their own jokes, puns, silly one-liners, and more. Each chapter explores a different style of joke making, such as surprise, understatement, and exaggeration, and includes hundreds of hilarious examples.

By the end of the book, readers will have a set of tools in their joke belt to make their friends and family actually LOL.

The book includes more than 500 family-friendly jokes—plus zillions that you can create on your own!
Odd Dot, 9781250318640, 224pp.
Publication Date: October 8, 2019
About the Author
Theresa Julian writes humorous children's fiction, nonfiction, screenplays and teleplays, including The Joke Machine. She is also the author of a humorous 'tween TV pilot and two screenplays that have all won or placed in multiple national writing competitions. Theresa is a graduate of Boston College and has a Master of Arts in Corporate Communications.

Pat Lewis is a freelance cartoonist/illustrator who lives in Pittsburgh, PA with his wife and two cats. His artwork has appeared in magazines such as Highlights for Children and Boys' Life, as well as books by Workman Publishing, Macmillan and McGraw-Hill. Some of his favorite things in this world are: flea markets, road trips, monster movies and snack-bar nachos. Oh, and drawing funny pictures for kids and adults.

Odd Dot is an imprint of Macmillan Children's Publishing Group dedicated to creating joyful books for curious minds. Our mission is to develop interactive and substantive gift books that explore categories and formats never seen before. We are a proudly odd mix of makers, creators, and engineers, guided by the priorities of innovation, education, and play.