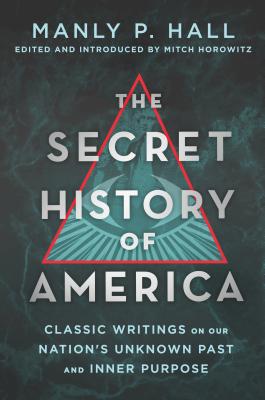 The Secret History of America (Paperback)
Classic Writings on Our Nation's Unknown Past and Inner Purpose
St. Martin's Essentials, 9781250319289, 288pp.
Publication Date: May 7, 2019
* Individual store prices may vary.
Description
A compilation of rare works on the untold history and destiny of America by acclaimed occult writer Manly P. Hall.

Writer and scholar Manly P. Hall (1901-1990) is one of the most significant names in the study of the esoteric, symbolic, and occult. His legendary book The Secret Teachings of All Ages has been an underground classic since its publication in 1928. The Secret History of America expands on that legacy, offering a collection of Hall's works—from books and journals to transcriptions of his lectures—all relating to the hidden past and unfolding future of our nation.
Hall believed that America was gifted with a unique purpose to explore and share principles of personal freedom, self-governance, and independent thought. PEN Award-winning historian, Mitch Horowitz has curated a powerful collection of Hall's most influential and insightful works that capture and explore these ideas. Never before collected in one volume, the material in The Secret History of America explores the rich destiny, unseen history, and hidden meaning of America.
About the Author
Manly P. Hall (1901-1990) founded the Philosophical Research Society in 1934, a non-profit organization dedicated to the dissemination of useful knowledge in the fields of philosophy, comparative religion and psychology. In his long career, spanning more than 70 years of dynamic public activity, Mr. Hall delivered over 8000 lectures in the United States and abroad, authored over 150 books and essays, and wrote countless magazine articles.
Many of Mr. Hall's lectures have been transcribed and are available as pamphlets; others were taped live, and the audio recordings are available on CD's as well. He is perhaps best known for his 1928 classic, "The Secret Teachings of All Ages," an encyclopedia of the world's wisdom traditions and symbolic disciplines.
Today, younger generations are re-discovering the works and words of Manly Hall, finding that the material he put forth so many years ago is still relevant and useful today. Mr. Hall's hope for humanity was to learn from the greatest minds of all times so that we may solve current problems - both in society and in the individual - today.
MITCH HOROWITZ is a writer-in-residence at the New York Public Library and the PEN Award-winning author of books including
Occult America
and
The Miracle Club: How Thoughts Become Reality
. He hosts the shows Master Class and One Simple Idea on the New Thought Channel. Visit him @Mitch Horowitz
Praise For The Secret History of America: Classic Writings on Our Nation's Unknown Past and Inner Purpose…
"The Secret History of America is a super-splendid collection of materials by Mr. Hall on the esoterica pertinent to our country. It is by far the most informative work on that subject and it is bound to be to the great benefit of the American people when they read it."—Stephan A. Hoeller