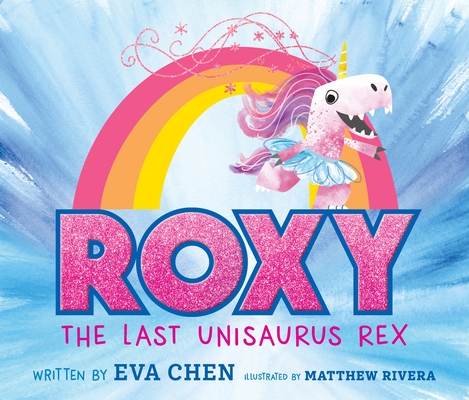 Roxy the Last Unisaurus Rex
Hardcover

* Individual store prices may vary.
Description
Instagram superstar and New York Times bestselling author of Juno Valentine and the Magical Shoes Eva Chen embarks on an all-new picture book venture of jurassic proportions, vibrantly brought to life by Matthew Rivera's rainbow watercolors.

Dinosaurs are awesome. Unicorns are, too. So what happens when you combine the best parts of each?

Roxy the Last Unisaurus Rex!

Join Roxy in all her sassy, steak-loving, glittery glory as she learns about the importance of staying true to yourself, celebrating your differences, and finding friends who love you for who you are.
Praise For Roxy the Last Unisaurus Rex…
Praise for Roxy the Last Unisaurus Rex:

"Eva Chen has really hit the mark with her Juno Valentine series, but is branching out into children's literature in a huge way with Roxy the Last Unisaurus Rex...It's not often you can find a children's book that pleases both the child and the parent reading it 800 times, but ROXY feels like a good fit. And any picture book that makes me want to wallpaper my house with its pages is more than OK by me." —Romper

Praise for 3 2 1 Awesome!:

"Counting down from 20, this charming board book profiles strong contemporary and historical women ... The choices are solid and represent a diverse range of women and professions. The countdown ends by bringing readers in; number one is 'The 1 and only YOU, a singular sensation. The world is yours to change!'" —Booklist

Praise for A Is for Awesome!:

A Publishers Weekly Bestseller!

"That theme of swinging for the fences and going for it is the undercurrent in this book. Even though it's about how they're all awesome, the real undercurrent is, 'Look at all these people who are superheroes who are just like you.' I try to tell that to my daughter." —Hasan Minhaj, in Huffpost

Praise for Juno Valentine and the Magical Shoes:

A New York Times Bestseller!

Featured in Oprah Magazine's Holiday Gift Guide
Recommended by Rachael Ray as the perfect holiday gift
Featured in InStyle's Holiday Gift Guide

"[A] fresh take on a fairy tale." —Forbes.com

"Those who are 3, 13, or 30 can all enjoy the book." —Vogue.com

"Not only does this book pay homage to some of history's greatest women, it also gives them snaps for their fashion sense." —Romper

"Kids need more books like this." —HelloGiggles

"[This book is] not going to drop without a bang." —Refinery29

"[A] charming story." —MyDomaine

"Chen proves that the accessory can actually provide an important teachable moment for young kids." —WhoWhatWear
Feiwel & Friends, 9781250619921, 32pp.
Publication Date: October 6, 2020
About the Author
Eva Chen is a first-generation Chinese-American who grew up in New York City. She blames her deviation from pre-med at Johns Hopkins University on a love of fashion and beauty instilled in her by her mother, whose perfect bob and lipstick made a permanent imprint on her impressionable young mind. Previously the editor in chief of Lucky, Eva has also written for ELLE, Vogue, Teen Vogue,Vogue China, the New York Times, and the Wall Street Journal. She is currently the head of fashion partnerships at Instagram, where she is guilty of the occasional duck-face selfie. Eva lives in New York City with her husband and two children. She is the author of Juno Valentine and the Magical Shoes, A Is for Awesome, and Juno Valentine and the Fantastic Fashion Adventure.

Matthew Rivera earned his bachelor degree in fine arts from the University of Arizona. After many years of being an art director for agencies, corporations, and toymakers, Matthew now writes and illustrates stories for children, such as Brains: Not Just a Zombie Snack and Roxy the Last Unisaurus Rex.