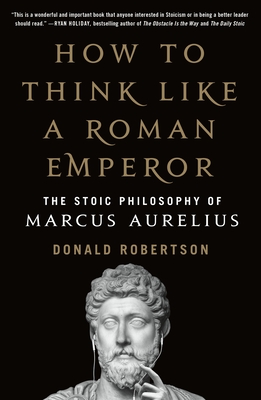 How to Think Like a Roman Emperor
The Stoic Philosophy of Marcus Aurelius
Paperback

* Individual store prices may vary.
Other Editions of This Title:
Digital Audiobook (4/1/2019)
Hardcover (4/2/2019)
CD-Audio (4/9/2019)
Description
"This is a wonderful and important book that anyone interested in Stoicism or in being a better leader should read." —Ryan Holiday

Roman emperor Marcus Aurelius was the final famous Stoic philosopher of the ancient world. The Meditations, his personal journal, survives to this day as one of the most loved self-help and spiritual classics of all time. In How to Think Like a Roman Emperor, cognitive psychotherapist Donald Robertson weaves the life and philosophy of Marcus Aurelius together seamlessly to provide a compelling modern-day guide to the Stoic wisdom followed by countless individuals throughout the centuries as a path to achieving greater fulfillment and emotional resilience.

How to Think Like a Roman Emperor takes readers on a transformative journey along with Marcus, following his progress from a young noble at the court of Hadrian—taken under the wing of some of the finest philosophers of his day—through to his reign as emperor of Rome at the height of its power. Robertson shows how Marcus used philosophical doctrines and therapeutic practices to build emotional resilience and endure tremendous adversity, and guides readers through applying the same methods to their own lives.

Combining remarkable stories from Marcus's life with insights from modern psychology and the enduring wisdom of his philosophy, How to Think Like a Roman Emperor puts a human face on Stoicism and offers a timeless and essential guide to handling the ethical and psychological challenges we face today.
Praise For How to Think Like a Roman Emperor: The Stoic Philosophy of Marcus Aurelius…
"Robertson distills the emperor's philosophy into useful mental habits...[he] displays a sound knowledge of Marcus' life and thought...[his] accessible prose style contributes to its appeal...[the] book succeeds on its own terms, presenting a convincing case for the continuing relevance of an archetypal philosopher-king." —The Wall Street Journal

"This is a terrific book on Marcus Aurelius and flourishing in the Stoic mode." —Derren Brown

"Highly recommended." —The Stoic

"A fascinating history of Aurelius and his beliefs, and an insightful consideration of how they inform the practice of modern mindfulness." —Publishers Weekly

"Donald Robertson is one of the leading lights behind the modern Stoicism movement. He's also a cognitive behavioral therapist with a strong background in ancient philosophy. This book is an unusual combination of biography and self-help. By following Marcus's life and his own progress in the study and practice of Stoicism, Robertson introduces the reader to the philosophy, the exercises, and how to make both of them relevant to life in the twenty-first century." —Massimo Pigliucci and Gregory Lopez, A Handbook for New Stoics (2019)

"This book uniquely combines history, philosophy, and psychology in a way that is both entertaining and extremely useful for the self-development of the reader. This is not some cheap "self-help" gimmick but a true manual of self-development. Robertson has an interesting way of leading readers through a journey of how Stoic philosophy works, how it was utilized effectively by Marcus Aurelius, and suggests practical exercises to utilize these methods in the reader's own life." —Dr. Franklin Annis, Small Wars Journal
St. Martin's Griffin, 9781250621436, 304pp.
Publication Date: August 4, 2020
About the Author
Donald J. Robertson is a cognitive-behavioral psychotherapist, trainer, and writer. He was born in Ayrshire, Scotland, and after living in England and working in London for many years, he emigrated to Canada where he now lives.

Robertson has been researching Stoicism and applying it in his work for twenty years. He is one of the founding members of the non-profit organization Modern Stoicism.

Donald is the author of How to Think Like a Roman Emperor.