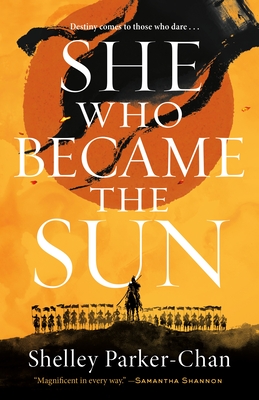 She Who Became the Sun
Hardcover

* Individual store prices may vary.
Description
Mulan meets The Song of Achilles in Shelley Parker-Chan's She Who Became the Sun, a bold, queer, and lyrical reimagining of the rise of the founding emperor of the Ming Dynasty from an amazing new voice in literary fantasy.

To possess the Mandate of Heaven, the female monk Zhu will do anything

"I refuse to be nothing…"

In a famine-stricken village on a dusty yellow plain, two children are given two fates. A boy, greatness. A girl, nothingness…

In 1345, China lies under harsh Mongol rule. For the starving peasants of the Central Plains, greatness is something found only in stories. When the Zhu family's eighth-born son, Zhu Chongba, is given a fate of greatness, everyone is mystified as to how it will come to pass. The fate of nothingness received by the family's clever and capable second daughter, on the other hand, is only as expected.

When a bandit attack orphans the two children, though, it is Zhu Chongba who succumbs to despair and dies. Desperate to escape her own fated death, the girl uses her brother's identity to enter a monastery as a young male novice. There, propelled by her burning desire to survive, Zhu learns she is capable of doing whatever it takes, no matter how callous, to stay hidden from her fate.

After her sanctuary is destroyed for supporting the rebellion against Mongol rule, Zhu takes the chance to claim another future altogether: her brother's abandoned greatness.
Praise For She Who Became the Sun…
Praise for She Who Became the Sun

"The characters are bold and complex in this story of fealty, family, and self. Epic worldbuilding, high action, and ruthless shades of love and desire make the tale at turns tragic and inspiring... Parker-Chan's debut is forceful, immersive, and unforgettable. This inspired queer retelling of Chinese history is an exciting read." —Library Journal, starred review

"Parker-Chan's fascinating debut, the first in the Radiant Emperor duology, gives the historical Red Turban Rebellion a grimdark fantasy twist... Her nuanced exploration of gender identity and striking meditation on bodily autonomy set this fantasy apart. Fans of Asian-influenced fantasy have just been given their newest obsession." —Publisher's Weekly

"Magnificent in every way. War, desire, vengeance, politics – Shelley Parker-Chan has perfectly measured each ingredient of this queer historical epic. Glinting with bright rays of wit and tenderness, yet unafraid to delve into the deep shadows of human ambition, She Who Became the Sun, like Zhu, is unquestionably destined for greatness."—Samantha Shannon, author of The Priory of the Orange Tree

"Evocative and heartrending, Parker-Chan's debut is a poetic masterpiece about war, love, and identity…. It stabbed me through the heart then salted and set fire to the wound."—S.A. Chakraborty, international bestselling author of The Daevabad Trilogy

"An exhilarating rise to power that takes you from palace to village to battlefield, in a world that is stunningly alive. Parker-Chan's exquisitely wrought prose brings light and nuance to the novel's immense themes of gender, power and fate. An instant classic."—C.S. Pacat, USA Today bestselling author of the Captive Prince Trilogy

"She Who Became the Sun is epic, tragic, and gorgeous. It will wreck you, and you will be grateful."—Alix E. Harrow, Hugo Award winner Alix E. Harrow, author of The Ten Thousand Doors of January

"Parker-Chan unrolls the painted scroll of her epic tale with the control of a master storyteller, revealing a dazzling new world of fate, war, love and betrayal. Fantasy will never be the same."—Zen Cho, award-winning author of the Sorcerer to the Crown series

"Zhu is a hero unlike any other - her propulsive desire to survive at any cost powers a glorious novel that encompasses grand betrayal, love, loss and triumph. An unforgettable debut."—A. K. Larkwood, author of The Unspoken Name

"She Who Became the Sun is an intense and sweeping epic that blurs the lines between rebellion and revenge, between fate and ambition, exposing the inherent violence of gendered ideologies and the traumas they create in ourselves and the world."—Tessa Gratton, author of The Queens of Innis Lear

"Shelley Parker-Chan's debut novel is a sweeping epic rendered in elegant prose. Arresting, beautiful, grand in scope and yet intimately poignant, readers will be drawn into this deftly written fantasy."—Rowenna Miller, author of the Unraveled Kingdom series

"A gripping tale of rise to power, fate, betrayals and the bloody beginnings and endings of dynasties. Heartbreaking, stirring, haunting."—Aliette de Bodard, Nebula-award winning author of Seven Of Infinities

"Stunning, powerful and complex, there are no heroes in this tale, and people knowingly do terrible things. And you'll love them for it…. Parker-Chan is a major new voice in historical fantasy."—Anna Stephens, author of the Godblind Trilogy

"Instantly enthralling. Zhu is canny, charming, and ruthless as she claims her own fate in a richly detailed world, challenging dynasties and gender in the process." —Malinda Lo, author of Ash and Huntress

"An absolute stunner... The story, much like the characters, is ambitious and clever and the depth of emotion Parker-Chan is able to tap into without ever becoming maudlin is astounding... There's war and violence and betrayal (oh the betrayal) and destiny both embraced and defied. Incredible work. Cannot wait for the next one." —Rebecca Roanhorse
Tor Books, 9781250621801, 416pp.
Publication Date: July 20, 2021
About the Author
Shelley Parker-Chan is an Australian by way of Malaysia and New Zealand. A 2017 Tiptree Fellow, she is the author of the historical fantasy novel She Who Became the Sun. Parker-Chan spent nearly a decade working as a diplomat and international development adviser in Southeast Asia, where she became addicted to epic East Asian historical TV dramas. After a failed search to find English-language book versions of these stories, she decided to write her own. Parker-Chan currently lives in Melbourne, Australia, where she is very grateful to never have to travel by leaky boat ever again.