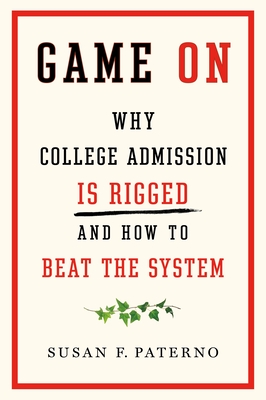 Game On
Why College Admission Is Rigged and How to Beat the System
Hardcover

* Individual store prices may vary.
Description
Director of the Chapman journalism program—and mother of four recent college grads—Susan F. Paterno leads you through the admissions process to help you and your family make the best decision possible.

How is it possible that Harvard is more affordable for most American families than their local state university? Or that up to half of eligible students receive no financial aid? Or that public universities are rejecting homegrown middle- and working-class applicants and instead enrolling wealthy out-of- state students? College admission has escalated into a high-stakes game of emotional and financial survival. How is the deck stacked against you? And what can you do about it?

Susan F. Paterno, a veteran academic and journalist, answers these questions and more in Game On. Paterno helped her four very different kids navigate the application process to a wide range of colleges, paying for their four-year educations on a finite budget. She incisively decodes the college admission industry—the consultants, the tutors, the rankers, the branding companies hawking "advantage"—and arms you with the knowledge you need to make the system work for you.

You'll learn how to narrow your focus, analyze who gets in and why, and look for the right financial fit before considering anything else, including geography, reputation, and, especially, ranking.

Among the tools and insights in Game On:

· Why forty years of failed free-market policies have led to skyrocketing tuition and historic levels of student debt
· Why applying to college has become a bewildering maze and how to find your way to a successful result
· Why college costs are more terrifying than you think
· How to read beyond the rack rate to negotiate the best financial package with the least debt
· Why merit is a myth, but merit aid is essential
· The difference between family debt and student debt and how to split it

A playbook for the Hunger Games of higher education, Game On explains the anxiety, uncertainty, and chaos in college admission, explodes the myth of meritocracy, exposes the academy's connection to America's widening gap between rich and poor, and provides strategies to beat—and reform—a broken system.
Praise For Game On: Why College Admission Is Rigged and How to Beat the System…
"Paterno offers refreshingly honest insights into the inscrutable world of college admissions and financial aid. This meticulously researched work is highly recommended for parents and guardians intent on understanding and navigating the college admissions morass." --Library Journal (starred)

"Journalist Paterno delivers a witty and informative deep dive into the 'college admissions industrial complex.' Her cogent advice is enriched by careful research and flashes of humor. Parents looking for a commonsense perspective on the admissions process will appreciate this accessible account." --Publishers Weekly

"Millions of families apply to American colleges every year, entering a rigged game that they can't fully comprehend. In her shocking new book Game On, Susan Paterno exposes a corrupt system that favors the rich, punishes the poor and snares the middle class in crushing debt. Paterno, who has thought deeply about this as an investigative journalist, a college professor and a parent who sent two daughters to Harvard, has written an essential survival guide as well as a clarion call for reforming America's broken college admissions system." --Pulitzer Prize winner Mike Stanton, University of Connecticut professor and bestselling author

"Applying to colleges means entering a maze full of grifters and bad advice. Game On leads you past all that and onto the campus green. It should be required reading for everyone embarking on the application process."--John Nielsen, Los Angeles Times bestselling author and former NPR correspondent

"Susan Paterno's book reads like a fast-paced crime novel, with shocking revelations of graft, corruption, and conspiracy on virtually every page. I wish it were a novel, and not appallingly true. It'll open your eyes." --James Blaylock, award-winning author and professor, Chapman University

"College-bound parents are in for a white-knuckle read. Paterno has been to the battlefield of college admissions and returns with ample information and a healthy dose of humor, like a trust-worthy expert, yes, but more like that one reliable parent who actually knows what she's talking about." --Doug Cooney, playwright, screenwriter, and novelist

"Susan Paterno uses a journalist's eye for investigative detail and the skilled storyteller's narrative talent to weave a complex and intriguing expose. Every high school parent should read Game On." --Martin Dugard, New York Times #1 bestselling author

"I now understand why the college search was dramatically different for my three adult children from searches years ago. Understanding how academia got here and how to avoid being seduced by the corporate admissions business is worth every page. [Paterno's] advice can save you thousands of dollars." --Hilary Hanafin, Ph.D., family therapist and parent of three
St. Martin's Press, 9781250622648, 320pp.
Publication Date: June 15, 2021
About the Author
Susan F. Paterno is the director of the journalism program at Chapman University in Orange, California. An award-winning journalist with more than twenty years' experience, she has written for the Los Angeles Times, The New York Times, and U.S. News & World Report. As senior writer for American Journalism Review, she won a landmark ruling to protect journalists in the state of California. She has collaborated on a half dozen books, including the Newswriter's Handbook and Talk Straight, Listen Carefully with M. L. Stein.
or
Not Currently Available for Direct Purchase