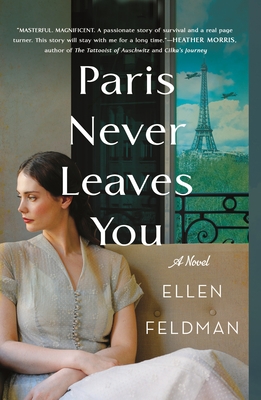 Paris Never Leaves You
A Novel
Paperback

* Individual store prices may vary.
Other Editions of This Title:
Digital Audiobook (8/3/2020)
Hardcover (8/4/2020)
CD-Audio (8/4/2020)
Description
"Masterful. Magnificent. A passionate story of survival and a real page turner. This story will stay with me for a long time." —Heather Morris, author of The Tattooist of Auschwitz and Cilka's Journey

Living through World War II working in a Paris bookstore with her young daughter, Vivi, and fighting for her life, Charlotte is no victim, she is a survivor. But can she survive the next chapter of her life?

Alternating between wartime Paris and 1950s New York publishing, Ellen Feldman's Paris Never Leaves You is an extraordinary story of resilience, love, and impossible choices, exploring how survival never comes without a cost.

The war is over, but the past is never past.
Praise For Paris Never Leaves You: A Novel…
ONE OF CNN'S BEST NEW BOOKS THIS AUGUST

"Haunting... Metaphorically compressed, filled with dramatic scenes, and sarcasm and passion, it's an unusual take on the theme of redemption and of the force of love." — Joan Baum, WSHU Public Radio

"Author Ellen Feldman's haunting novel explores the impact of the choices people make to survive... The theme of unrequited love hangs heavy in this page-turning novel, but this is not so much a romance as a reckoning of missed opportunities and old demons being laid to rest." —Minneapolis Star Tribune

"A memorable, thought-provoking moral conflict, and dialogue [that] crackles like a duel... Paris Never Leaves You succeeds as a meaty moral tale." —Historical Novel Society

"Fans of Anthony Doerr's All the Light We Cannot See and Kristin Hannah's The Nightingale may want to pick this up." —Booklist

"Nothing is quite what it seems... Wartime Paris is described in vivid, sometimes harrowing, detail... [An] engrossing page-turner." —Kirkus

"Riveting... alternates between World War II in Paris and the 1950s in New York City... [This] story of love, resilience, determination and courage showcases just how far a mother and daughter will go to survive." —CNN

"The novel is about a smart heroine whose ethical and moral dilemma causes the reader to think about what challenges our sense of right and wrong and what you would do to survive." —Lee Woodruff

"The best works of historical fiction have a way of illuminating the present, allowing readers to better understand themselves through well-defined characters reflected in the prism of time.... Feldman does this beautifully in a multi-layered, tender story that explores the emotionally charged, often parallel terrains of truth, deception, love and heartbreak." —Shelf Awareness

"A nuanced WWII story of love and survival in Occupied Paris… With its appealing heroine and historically detailed settings… a dangerous secret gives Feldman's story a gasp-worthy spin." —Publishers Weekly

"Things are seldom as they seem in this engrossing tale of identity, survival, loyalty, and love...Recommend with enthusiasm." —Library Journal

"Ellen Feldman's writing is riveting in this beautiful novel that tells the bittersweet story of a young mother's strength and survival during WWII. From a tiny bookstore in Nazi-occupied Paris to a post-war New York publishing house, Feldman effortlessly captures the terror, immediacy, and inextinguishable human spirit." —Noelle Salazar, author of The Flight Girls

"Completely compelling. I tore through it. This novel pivots on how we manage to survive surviving... Charlotte's visceral story will stay with me." —Naomi Wood, New York Times best-selling author of Mrs. Hemingway and The Hiding Game

"Feldman's powerful exploration of some of the most profound questions about love and loyalty resonates strongly today: What would you do to save your child? What is morality in wartime? How do we make peace with the past?" —Christina Lynch, author of The Italian Party

"This is an exquisite novel – one that gives us what we're hungry for: an intelligent, complex female character who challenges our ideas of right and wrong, morality and immorality. We're reminded, too, of the dangers of drawing easy, swift conclusions. Feldman achieves all of this with wholly admirable precision and wit; she takes aim and does not miss." —Elizabeth J. Church, author of The Atomic Weight of Love and All the Beautiful Girls

"A fluid, rich, and nuanced novel, expertly crafted, guaranteed to follow you around long after you've turned the last page. I gulped it down." —Stacy Schiff, author of Cleopatra, Vera, The Witches, and A Great Improvisation

"Feldman's characters—in the Paris bookstore that harbors many secrets or the Manhattan publishing house with its marvelous cast of misfits—are both terrifying and utterly engaging. With more twists and turns than the back streets of Paris, the story is as propulsively readable as a spy novel, and as rich and psychologically rewarding as only the finest literature can be." —Liza Gyllenhaal, author of Local Knowledge and Bleeding Heart

"...a vivid and precise portrait of that city under German occupation during the Second World War, but it is also an exploration of the courage and cowardice of those bitter years, as well as offering a slyly persuasive love story. The swift, engrossing narrative conceals, in the best way, the fact that Feldman is also giving us a wise and troubling lesson about the great moral crisis of the last century." —Richard Snow, author of Iron Dawn

"A thrilling achievement...I was thoroughly drawn into a deep, rich, vivid world of engrossing characters and emotional and moral crises...a great piece of writing in every way." —Fred Allen, Leadership Editor, Forbes

"Feldman is back with a new novel—and its a gripper." —Modern Luxury Hamptons

"An extraordinary and exquisitely written novel." — East Hampton Star
St. Martin's Griffin, 9781250622778, 368pp.
Publication Date: August 4, 2020
About the Author
Ellen Feldman, a 2009 Guggenheim fellow, is the author of Paris Never Leaves You, Terrible Virtue, The Unwitting, Next to Love, Scottsboro (shortlisted for the Orange Prize), The Boy Who Loved Anne Frank (translated into nine languages), and Lucy. Her novel, Terrible Virtue, was optioned by Black Bicycle for a feature film.
1. Charlo tte is continually trying to reassure herself that she didn't really collaborate. She wasn't dining on tournedos of beef and bo les of Saint-Émilion with Nazis. She never turned anyone in. Are there degrees of collaboration, and if so, how do you determine where to draw the line?
2. Was Charlo tte right to raise Vivi believing a lie? If not, how and when could she have told her the truth?
3. Mr. Rosenblum, who has survived a concentration camp, absolves Charlo tte of guilt. Hannah, who spends her life listening to tales of horror and trying to minister to those who have suffered it, refuses to forgive Charlo tte. What do you think their different reactions are based on? Does someone who has not suffered have as great a right to judge as someone who has?
4. Julian believes he sacrificed honor, honesty, and his family to survive. If he had refused to serve in Hitler's army would it have done any good?
5. Why do you think Charlo tte answered Julian's le tters a fter the war and tried to help him?
6. The book begins with a quote from a young girl who lived in Paris during the Occupation about being able to hate in the abstract but not in individual instances. This phenomenon is generally recognized as an antidote to prejudice. If you live next door to a member of a minority, it is harder to hate that minority. How does this phenomenon apply to the hatred of oppressors and tyrants?
7. Charlo tte spends a good deal of time worrying and talking about moral compasses — her own, her daughter's, her late husband's, her lover Julian's. Hannah spends her time doing good. Can people who commit immoral acts be moral people? How does this relate to Hannah and Charlo tte?
8. If your child was caught in a moral bind between turning in her best friend for cheating and ignoring the infraction, what would you advise her?
9. In the last scene in the book, Horace tells Charlo tte she would have been be tter off if she'd stayed in Paris and suffered the consequences of her choices rather than ge tting off scot-free and spending the rest of her life punishing herself. Do you agree with this sentiment? Why or why not?