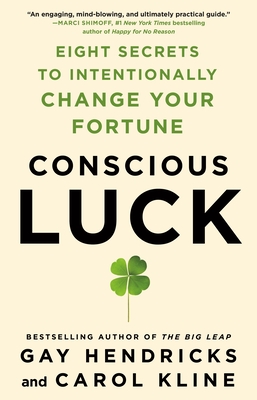 Conscious Luck (Hardcover)
Eight Secrets to Intentionally Change Your Fortune
St. Martin's Essentials, 9781250622945, 192pp.
Publication Date: May 12, 2020
* Individual store prices may vary.
Description
Change Your Luck and Live a Charmed Life!

What if you could create your own luck? What if living a charmed life—being lucky in love, lucky in money, lucky in your chosen work—was within your control? The good news is that it's all entirely possible…when you know how!

In Conscious Luck, New York Times bestselling authors Gay Hendricks and Carol Kline share eight Secrets that will allow you to intentionally change your fortune. Instead of hoping and wishing that luck will come your way, let Conscious Luck show you how to seize control of your destiny and create the dazzling life of your dreams.

This powerful step-by-step program, which includes practical techniques, inspiring true stories, and the authors' personal journeys, will lead you to greater freedom and abundance. The Secrets—four core shifts and four daily practices—teach you how to:

· plant the seeds of luck in your own psyche
· remove unlucky programming (including lifting "curses")
· move at your Essence Pace
· practice Radical Gratitude, and much more.

Based on decades of the authors' trailblazing work, this unique and highly effective toolkit offers a surefire way to transform your life.
About the Author
Gay Hendricks is the New York Times bestselling author of more than forty books in the fields of therapy, relationship counseling and body/mind transformation, including Conscious Living and The Big Leap.

He received his Ph.D. from Stanford University in counseling psychology in 1974 and went on to a 20-year academic career at University of Colorado. Along with his wife, Dr. Kathlyn Hendricks, he founded The Hendricks Institute in 1989, which has since trained more than one thousand professionals in education, therapy, coaching and medicine.
Carol Kline
is a #1 New York Times bestselling author and the coauthor
of Happy for No Reason
and five books in the
Chicken Soup for the Soul series
.
Praise For Conscious Luck: Eight Secrets to Intentionally Change Your Fortune…
"Conscious Luck is a toolkit for writing your own happy ending."
—Debbie Macomber, #1 New York Times bestselling author


"If being luckier appeals to you, you've got to read this book! Luck isn't as random as you might think. The secrets in Conscious Luck will accelerate your journey from where you are to where you want to be."
— Jack Canfield, coauthor of the #1 New York Times bestselling Chicken Soup for the Soul® series and The Success Principles™: How to Get from Where You Are to Where You Want to Be


"Conscious Luck takes everything you know about luck…and turns it on its head! This is an engaging, mind-blowing, and ultimately practical guide to creating more luck in your life. I highly recommend it!"
— Marci Shimoff, #1 New York Times bestselling author, Happy for No Reason and Chicken Soup for the Woman's Soul

"Conscious Luck is as unique as it is powerful. It approaches luck from many different angles—somatically, psychologically, spiritually, and behaviorally—and uses true, inspiring stories to illustrate the principles."
— John Gray, #1 New York Times bestselling author of Men are from Mars, Women are from Venus


"Conscious Luck presents an entirely new paradigm about luck—instead of passively waiting and hoping for luck to find you, these two brilliant authors show you how to create good luck by changing your core beliefs about luck and incorporating easy, simple practices into your daily life. A lucky life is waiting for you."
—Arielle Ford, author of The Soulmate Secret


"Gay Hendricks and Carol Kline are the luck mentors everyone needs! Their new book, Conscious Luck, is a winning combination of inspiring true stories and simple, practical steps designed to create more luck in life. Give yourself the gift of good fortune."
—Katherine Woodward Thomas, New York Times bestselling author of Calling in "The One"

Your life is about to become super charged with positive transformation abilities as you read, absorb, and use the secrets in Conscious Luck!
—Mark Victor Hansen, author of Chicken Soup for the Soul, One Minute Millionaire, and ASK! The Bridge from Your Dreams to Your Destiny.

"I'm a firm believer in the power of clarity and persistence to create success. Add the ability to create your own luck to the equation and watch your growth and happiness soar. Conscious Luck is a game-changer."
—Jeff Olson, bestselling author of The Slight Edge: Turning Simple Disciplines into Massive Success and Happiness and the CEO and founder of Neora

"Luck isn't just a matter of chance! Conscious Luck provides a practical formula for cultivating good luck in your life intentionally. Your core beliefs and daily habits are the key."
—Dr. John Douillard, globally recognized leader in the fields of natural health, Ayurveda, and sports medicine, and the bestselling author of The 3-Season Diet

"This is your lucky day! Authors Gay Hendricks and Carol Kline will teach you how to lead a successful, abundant, harmonious life. Reading Conscious Luck provides you with the missing elements that attract luck to you—in all areas of your life."
—Peggy O'Neill, Inclusion and Empowerment Strategist and the author of Walking Tall: Overcoming Inner Smallness No Matter What Size You Are.


"Conscious Luck demonstrates that by focusing on specific practices you can dramatically increase your good fortune. This should be required reading for anyone who wants to create the life they dream to live."
—Tina Seelig, PhD, professor at Stanford University, and author of What I Wish I Knew When I Was 20, and Creativity Rules


"I fought my skeptical tendencies while reading this book, but when I started regularly scoring prime parking spots within days of doing the exercises, I became a believer!
Take on 'luck creation' as a lifestyle and watch your life change!"
—Laura Berman Fortgang, author of Now What? 90 Days to a New Life Direction


"I know Conscious Luck will be an important contribution to the life of every person who reads it. Highly recommended!"
— Neale Donald Walsch, author of the Conversations with God series

"Those intrigued by how mental visualization and intentionality can lead to a "more abundant" life will love this."
— Publisher's Weekly

"Inherently fascinating, thoughtful and thought-provoking, insightful, practical, and thoroughly 'reader friendly in organization and presentation, Conscious Luck: Eight Secrets to Intentionally Change Your Fortune is a unique and extraordinary addition to community and academic library Self-Help/Self-Improvement collections." — Midwest Book Review