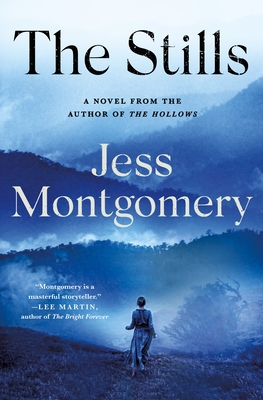 The Stills
A Novel (The Kinship Series #3)
Hardcover

* Individual store prices may vary.
Other Editions of This Title:
Digital Audiobook (3/8/2021)
CD-Audio (3/9/2021)
Paperback (1/4/2022)
Description
With compassion and insight, Jess Montgomery weaves a gripping mystery and portrait of community in The Stills, the powerful third novel in the Kinship series.

Ohio, 1927: Moonshining is a way of life in rural Bronwyn County, and even the otherwise upstanding Sheriff Lily Ross has been known to turn a blind eye when it comes to stills in the area. But when thirteen-year-old Zebediah Harkins almost dies after drinking tainted moonshine, Lily knows that someone has gone too far, and—with the help of organizer and moonshiner Marvena Whitcomb—is determined to find out who.

But then, Lily's nemesis, the businessman George Vogel, reappears in town with his new wife, Fiona. Along with them is also her former brother-in-law Luther Ross, now an agent for the newly formed Bureau of Prohibition. To Lily, it seems too much of a coincidence that they should arrive now.

As fall turns to winter, a blizzard closes in. Lily starts to peel back the layers of deception shrouding the town of Kinship, but soon she discovers that many around her seem to be betraying those they hold dear—and that Fiona too may have an agenda of her own.
Praise For The Stills: A Novel (The Kinship Series #3)…
"A beautifully written, finely crafted, character-based mystery that uses historical detail to enhance a powerful story." - Kirkus Reviews (Starred)

"Like Sharyn McCrumb's and Julia Keller's thrillers, this third Lily Ross tale (following The Hollows, 2020) is a fine example of Appalachian storytelling, thoughtfully portraying characters at the intersections of kinship, poverty, power, and survival." - Booklist

"Provocative... richly fleshed-out characters..." - Publishers Weekly

"The Stills richly delves into class differences, religious obsession, greed and Prohibition's failures. Montgomery's strong storytelling shines." - Shelf Awareness

"A beautifully written tour de force . . . Part mystery, part character study, The Stills is a treasure trove of historical detail, a cast of much-loved characters, and a provocative storyline will keep you up well into the night." - Linda Castillo

"[Montgomery's] a dazzling portraitist, illuminating the lives of her characters and bringing their joys and sorrows to life. This is another stunning read from a supremely gifted writer." - Aunt Agatha's

"The research and detail that go into these books is part of why I love them. I love the progression of this series and seeing Lily Ross continue to grow and succeed in her position as sheriff. If you're a fan of historical fiction with strong female protagonists, then you need to pick up the Kinship series." - Jessicamap Reviews

"The stories of the characters in The Stills have so much depth. Fans of historical fiction and mysteries should not skip this series!" - PhDiva

"The Stills deals with moonshining and the Prohibition. If you're a fan of historical fiction, you really need to read this series." - The Book Club Mom

"I love the intersection of two favorite genres--historical fiction and mysteries and, Sheriff Lily Ross, is a strong, female main character to root for, as are the other strong women in the book. The writing is vivid and descriptive and puts me right into the setting. This third book did not disappoint in any way, and I can't wait for the next one!" - Kahakai Kitchen

"Marvelous . . . a splendid portrait of a time, a place, and the strong women who forged lives for themselves in it. If you haven't read these books, I urge you to do so." - Kittling: Books
Minotaur Books, 9781250623409, 352pp.
Publication Date: March 9, 2021
About the Author
JESS MONTGOMERY writes a new Writer's Digest magazine column, "Level Up Your Writing (Life)" and was formerly the "Literary Life" columnist for the Dayton Daily News. Based on early chapters of the first in the Kinship Series, The Widows, Jess was awarded an Ohio Arts Council individual artist's grant for literary arts and named the John E. Nance Writer-in-Residence at Thurber House in Columbus. She lives in her native state of Ohio.