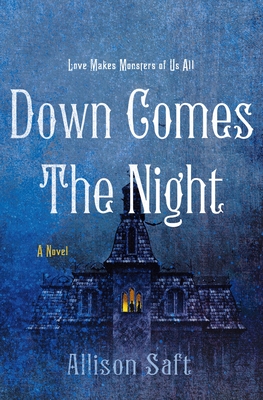 Down Comes the Night
A Novel
Hardcover

* Individual store prices may vary.
Description
"Utter magic. It's everything I have ever wanted from a book. Truly spectacular and a must read for all fans of fantasy." - Emily A. Duncan, New York Times bestselling author of Wicked Saints

"A YA fantasy classic in the making." - Christine Lynn Herman, author of The Devouring Gray

Allison Saft's Down Comes the Night is a snow-drenched romantic fantasy that keeps you racing through the pages long into the night.

He saw the darkness in her magic. She saw the magic in his darkness.

Wren Southerland's reckless use of magic has cost her everything: she's been dismissed from the Queen's Guard and separated from her best friend—the girl she loves. So when a letter arrives from a reclusive lord, asking Wren to come to his estate, Colwick Hall, to cure his servant from a mysterious illness, she seizes her chance to redeem herself.

The mansion is crumbling, icy winds haunt the caved-in halls, and her eccentric host forbids her from leaving her room after dark. Worse, Wren's patient isn't a servant at all but Hal Cavendish, the infamous Reaper of Vesria and her kingdom's sworn enemy. Hal also came to Colwick Hall for redemption, but the secrets in the estate may lead to both of their deaths.

With sinister forces at work, Wren and Hal realize they'll have to join together if they have any hope of saving their kingdoms. But as Wren circles closer to the nefarious truth behind Hal's illness, they realize they have no escape from the monsters within the mansion. All they have is each other, and a startling desire that could be their downfall.

Love makes monsters of us all
Praise For Down Comes the Night: A Novel…
BOOKRIOT, "Get Cozy With These Winter 2021 YA Books For Your TBR"

BUZZFEED, "25 LGBTQ+ YA Books You'll Want To Curl Up With This Winter"

CULTURESS, "21 Upcoming YA Book Releases We Can't Wait To Read In 2021"

FROLIC, "Dark YA to watch for in 2021"

GOODREADS, "56 of the Most Anticipated Young Adult Books of 2021"

MEDIUM, "The Most Exciting Reads of Winter/Spring 2021"

UNITED BY POP, "270+ Must Read 2021 YA Book Releases"

"Debut author Saft has crafted an intricate world that's figured out down to the details of each character. A choice addition to any collection where Sarah J. Maas and Leigh Bardugo rule. " - Booklist

"The Gothic atmosphere includes echoing, candlelit halls; a secret passage; and explosive secrets....readers who love slow-burn romances will find much to enjoy. A promising debut." - Kirkus

"Saft interweaves intrigue, romance, and magic to fashion a slow-burning and atmospheric fantasy debut." - Publishers Weekly

"Fans of Leigh Bardugo's "Grisha Trilogy" and Marie Rutkoski's "Winner's Trilogy" have been waiting for this Darkling-esque romance...Those who pick up Saft's debut will be richly rewarded on all counts—intricately woven characters, beautiful prose, and darkness around every corner make this fantasy a first purchase." - School Library Journal (Starred Review)

"This gorgeous book definitely has that 'must...keep...reading' power (I read it in one sitting!)." - Buzzfeed, "40 YA Fantasy Books We're Highly Anticipating In 2021"

"A dark, action-packed mystery with intricate worldbuilding and a uniquely creative magical system Down Comes the Night is a beautifully realized and wildly detailed story." - Culturess, "21 upcoming YA book releases we can't wait to read in 2021"

"Down Comes the Night is utter magic. Stunning prose, a compassionate heroine, and the heart of a true Gothic novel with darkness at all its edges. It's everything I have ever wanted from a book. Truly spectacular and a must read for all fans of fantasy." - Emily A. Duncan, New York Times bestselling author of Wicked Saints

"Complex, carefully rendered, and utterly addictive, Down Comes the Night is a YA fantasy classic in the making. Saft seamlessly blends an utterly original magic system, multifacted main characters, and forbidden romance into a gothic narrative that will stay with you long after the last page." - Christine Lynn Herman, author of The Devouring Gray

"Down Comes the Night is a twisty dark ride through a gothic world that'll keep you up all night. Saft has crafted a deeply romantic tale with fresh magic and mystery on every page, and filled with an arresting cast. An engrossing, haunting, and beautiful addition to the YA shelf." - Isabel Ibañez, author of Woven in Moonlight

"I adored Allison Saft's complex world and engaging heroine. Wren navigates a war-torn country as a healer, wielding her compassion and wit as deftly as her magic. Atmospheric, romantic, and just a touch eerie—this is the kind of story I love to get lost in." - Emily Lloyd-Jones, author of The Bone Houses
Wednesday Books, 9781250623638, 400pp.
Publication Date: March 2, 2021
About the Author
Allison Saft was born in a Philadelphia blizzard and has been chasing the sun ever since. After receiving her MA in English Literature from Tulane University, she moved from the Gulf Coast to the West Coast, where she spends her time hiking the redwoods and practicing aerial silks. Down Comes the Night is her debut novel.