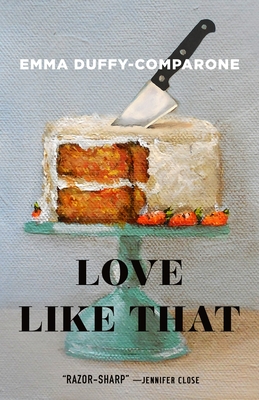 Love Like That
Stories
Hardcover

* Individual store prices may vary.
Other Editions of This Title:
Digital Audiobook (3/8/2021)
Paperback (2/1/2023)
Description
Named a Best New Book of 2021 by Vogue and Refinery29
Named a Most Anticipated Book of 2021 by Lit Hub
Named one of "5 Hot Books" by The National Book Review

"For a friend who needs a reminder that love is weird, humans are complicated, and bad things often get better or at least later become funny stories to tell our friends." —Vanity Fair

A sharp, witty book about brilliant, broken women that are just the right amount wrong.

Whether diving into complicated relationships or wrestling with family ties, the girls and women who populate this collection—misfits and misanthropes, bickering sisters, responsible daughters, and unhappy wives—don't always find themselves making the best decisions.

A woman struggles with a new kind of love triangle when she moves in with a divorced dad. A lonely teenage beach attendant finds uneasy comradeship with her boss. A high school English teacher gets pushed to her limits when a student plagiarizes. Often caught between desire and duty, guilt and resentment, these characters discover what it means to get lost in love, and do what it takes to find themselves again.

Utterly singular and wholly unforgettable, Emma Duffy-Comparone's stories manage to be slyly, wickedly funny at even their darkest turns and herald the arrival of an irreverent and dazzling new voice.
Praise For Love Like That: Stories…
"A collection as dangerously sharp as a rust-glinted razor. . . For a friend who needs a reminder that love is weird, humans are complicated, and bad things often get better or at least later become funny stories to tell our friends."
—Vanity Fair

"Subtly female obligations—of caregiving, career, the ever-present need to cater to the male ego—[are] woven through each tale as sometimes sinister forces, and then picked apart with Comparone's edgy wit. Her protagonists are jagged, hard-edged women and girls, but they are also, in their unique and quirky way, quite lovable."
—Vogue

"A witty, provocative short story collection, filled with women who are delightfully difficult and resolutely incapable of doing the "right" thing, Love Like That is the kind of book you can snack on, dipping into a story here and there, or — and far more likely — inhale all in one sitting, as you find it impossible to wait even one more day to find out just where Emma Duffy-Comparone has decided to take you next."
—Refinery29

"In this debut short story collection, Duffy-Comparone does an astounding job of portraying women navigating complex relationships or dealing with family drama…These stories perfectly reflect the meaning of finding yourself again."
—Palm Beach Daily News

"Duffy-Comparone's collection celebrates feminism in an entirely different way by portraying the genuine, unglamorous mistakes that women can make. Her stories allow us a road for deeper empathy, connection, and relation to women who are more similar to us than we may realize."
—Paperback Paris

"...Stylish and sharp debut collection...[Duffy-Comparone] brings an ironic, wry, yet generous eye to the power dynamics of ordinary life..."
—The National Book Review

"Duffy-Comparone gives voice to a wide range of women and girls leading hardscrabble lives in her bold debut collection...Exquisite...Marvelous...Heartrending prose with a sprinkling of humor makes this one a winner."
—Publishers Weekly (starred)

"Young women glimpse men's baffling behavior and discover their own....Lorrie Moore's "Terrific Mother" and Raymond Carver's "Why Don't You Dance?" come to mind...Well-crafted, emotionally stirring work."
—Kirkus

"Duffy-Comparone's stories are indeed as layered as an elaborate cake, and as incisive as a blade...delightful prose, rich with unexpected, yet pitch-perfect descriptions..."
—Ploughshares

"[An] unforgettable debut....this collection of dark, tender, and enthralling stories is captivating. Duffy is a masterful storyteller and uses vivid imagery to showcase the pivotal moments in the lives of these broken but resilient female characters as they go through loss, love, hurt, and healing."
—Booklist

"Emma Duffy-Comparone's debut is smart, witty, and razor-sharp. These stories perfectly capture the complications of love and heartbreak, longing and desire. The women and girls in Love Like That are written with precision and compassion and it is fascinating to eavesdrop on their lives, to witness the pivotal moments as they deal with family, lovers, children, and loss."
—Jennifer Close, author of Girls in White Dresses and The Hopefuls

"Emma Duffy-Comparone is an extraordinary talent and Love Like That is an accomplished, masterful collection. These stories hinge on surprising intersections of emotion—devastation and hopefulness, heartbreak and hilarity, control and submission—allowing us the full impact of those precarious, life changing turns. Bold and smart, with a voice all her own, Emma Duffy-Comparone is a writer not to be missed."
—Jill McCorkle, author of Hieroglyphics and Life After Life

"The stories in Love Like That are funny and raw and big-hearted. Duffy-Comparone acknowledges the people we want to be and puts crosshairs on the people we are and the places we are loved nonetheless. This collection is a grand tour of the human heart, a true pleasure to read."
—Danielle Lazarin, author of Back Talk

"Duffy-Comparone's collection is intense fun, whip smart and creates a family out of those lovable, eccentric people who are fallible yet so, so self-aware. On each and every page, the voice shines with enviable confidence and verve, demanding to be read. This is a stunning debut that unsettled me in the best possible way."
—Weike Wang, author of Chemistry

"These stories tingle like a fresh sunburn, secretly pleasant in their heat and specificity. Here, women burn inside their bodies, bodies that have done bad things or had bad things done to them. Whether they are fuming at the beach or hiding in a projectionist booth, it's a sharp joy to watch them make tender and merciless decisions to reclaim their lives. You'll think of short form masters like Joy Williams, Deborah Eisenberg, and Tessa Hadley, but most of all you'll be thinking of the ruthless and beautiful voice of Emma Duffy-Comparone."
—Aja Gabel, author of The Ensemble

"What a joy to read these stories! This accomplished collection is dark and delightful, hilarious and heart-breaking. Fearless, tense, funny, and surprising, these witty, sharp stories will devastate you. Duffy-Comparone is a marvel!"
—Kirstin Valdez Quade, author of The Five Wounds
Henry Holt and Co., 9781250624550, 224pp.
Publication Date: March 9, 2021
About the Author
Emma Duffy-Comparone's fiction has appeared in Ploughshares, New England Review, One Story, AGNI, The Sun, The Pushcart Prize XXXIX & XLI, and elsewhere. A recipient of awards from the Bread Loaf and Sewanee Writers' Conferences, the MacDowell Colony, the Yaddo Corporation, and the Elizabeth George Foundation, she is an assistant professor of creative writing at Merrimack College. Love Like That is her first published book.