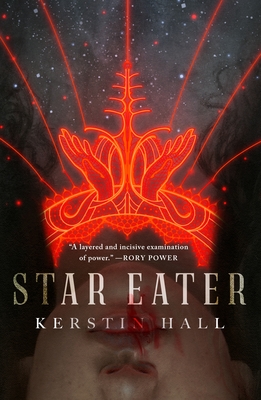 Star Eater
Hardcover

* Individual store prices may vary.
Other Editions of This Title:
Digital Audiobook (6/21/2021)
Paperback (10/4/2022)
Description
From Nommo Award finalist Kerstin Hall comes "a layered and incisive examination of power."—Rory Power, New York Times bestselling author of Wilder Girls

All martyrdoms are difficult.

Elfreda Raughn will avoid pregnancy if it kills her, and one way or another, it will kill her. Though she's able to stomach her gruesome day-to-day duties, the reality of preserving the Sisterhood of Aytrium's magical bloodline horrifies her. She wants out, whatever the cost.

So when a shadowy faction approaches Elfreda with an offer of escape, she leaps at the opportunity. As their spy, she gains access to the highest reaches of the Sisterhood, and enters a glittering world of opulent parties, subtle deceptions, and unexpected bloodshed.

A phantasmagorical indictment of hereditary power, Star Eater takes readers deep into a perilous and uncanny world where even the most powerful women are forced to choose what sacrifices they will make, so that they might have any choice at all.
Praise For Star Eater…
"Written in beautifully agile prose, Star Eater is a layered and incisive examination of power, and Elfreda Raughn its beating heart. Her voice grabbed me from the first page and never let go."—Rory Power, New York Times bestselling author of Wilder Girls

"The intricate, bloody mechanics of Hall's worldbuilding come together with her perfectly assured prose to make an utterly compelling fantasy, both haunted and haunting."—A. K. Larkwood, author of The Unspoken Name

"Gut-churning, wonderful, and strange—a fantasy that knows where the bodies are buried."—Max Gladstone, author of This Is How You Lose the Time War

"Hall paints a lush and haunting world with a terrifying magic that forms the very foundation of society. Gripping and absorbing, Star Eater will leave readers lingering over its themes of heritage and power."—Andrea Stewart, author of The Bone Shard Daughter

"Systemic power structures built on the back of a dead god, ritualistic cannibalism, and magical disease are balanced with emotional themes of love and regret. . . . Hall's solid worldbuilding and strong prose create an utterly gripping novel that blends the boundaries of horror and fantasy."—Library Journal, starred review

"Star Eater is exciting horror-fantasy about power, violence, and control, and El's complicated quest to be free
of the violent magic system at the sisterhood's core will keep readers compelled from the first page."—Booklist

Praise for Kerstin Hall

"A phantasmagorical picaresque through a lushly realised underworld, populated by a grotesque bestiary of fantastical creatures. . . . This twisty example of the new weird genre examines love, loss and loyalty."—The Guardian

"Beautifully and vividly imagined. Eerie, lovely, and surreal."—Ann Leckie

"A labyrinth of demons, dead gods, cranky psychopomps, and broken all-too-human lives."—Max Gladstone

"A fantasy forged in the belly of dreams. . . . A singular debut with no easy answers and beauty to spare."—Indrapramit Das

"Quiet but intricate, shored up by rich prose. . . . The tangle of love, loss, grief, and regret that is gradually exposed as the book's emotional core feels tender and profound."—Publishers Weekly
Tordotcom, 9781250625311, 448pp.
Publication Date: June 22, 2021
About the Author
Kerstin Hall's short fiction has appeared in Strange Horizons and Fireside Magazine, and she is the author of the novellas The Border Keeper and Second Spear. She lives in Cape Town, South Africa.