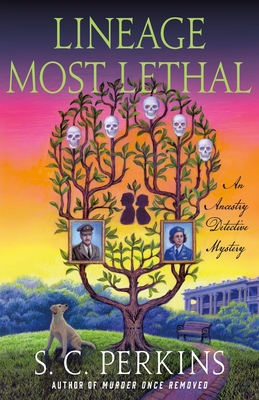 Lineage Most Lethal
An Ancestry Detective Mystery
Hardcover

* Individual store prices may vary.
Other Editions of This Title:
Digital Audiobook (7/20/2020)
Mass Market (3/9/2021)
Description
In Lineage Most Lethal, the captivating second mystery in the Ancestry Detective series, Texas genealogist Lucy Lancaster grapples with a mystery rooted in World War II and espionage.

It's the week before New Year's Eve and genealogist Lucy Lancaster is ready to mix work and play at the beautiful Hotel Sutton, enjoying herself while finalizing the presentation for her latest client, hotel heiress Pippa Sutton.

Freshly arrived at the hotel—and determined not to think about Special Agent Ben Turner, who went radio silent on her after one date—Lucy is stopped in her tracks when a strange man comes staggering toward her. She barely has time to notice his weak, sweaty appearance before he presses a classic Montblanc pen onto her hand, gasps, "Keep them safe," and collapses at her feet, dead.

When Lucy shows the fountain pen to her grandfather, an avid collector and World War II veteran, she's in for another shock. Not only does Grandpa recognize the Montblanc, he also reveals a secret: he was an Allied spy during the war and the pen is both a message regarding one of his wartime missions and the key to reading a microdot left by the dead man.

On the microdot is a series of ciphers, some decrypted to form names. Could they be the descendants of Grandpa's fellow spies? When two from the list end up murdered—including the chef at the Hotel Sutton—and Grandpa's life is put in jeopardy, Lucy's sure she's right. And with Lucy's and Pippa's names possibly on the list, too, she's got to uncover the past to protect those in the present.

With a secret Allied mission, old grievances, and traitors hiding behind every corner, Lucy must use her research skills to trace the list's World War II ancestors and connect the dots to find a killer in their midst—a killer who's determined to make sure some lineages end once and for all.
Praise For Lineage Most Lethal: An Ancestry Detective Mystery…
"Perkins neatly intertwines history, mystery, espionage, and revenge. Cozy fans will be well satisfied."
—Publishers Weekly

"Picks up the murderous magnetism right where it left off...Perkins's plots are thick with fascinating atmosphere, curios, history and family lore, but her humor and characters shine through most brightly, holding readers in an embrace of warm and lethal Southern charm." —Shelf Awareness

Praise for Murder Once Removed:

"This debut features an intelligent genealogist detective, a strong supporting cast, some romantic tension, and information about Texas history that should appeal to readers of Rett MacPherson's genealogy mysteries as well as cozy lovers who prefer a dash of history in their mysteries." —Library Journal (Starred, Debut of the Month)

"[A] fun debut. Lucy's officemates and other quirky friends add spice to this delightful cozy. Readers will look forward to Lucy's further adventures." —Publishers Weekly

"A delightful debut spiced with a tempestuous romance and certain to appeal to fans of genealogical research and history." —Kirkus Reviews
Minotaur Books, 9781250750075, 352pp.
Publication Date: July 21, 2020
About the Author
S.C. PERKINS is a fifth-generation Texan who grew up hearing fascinating stories of her ancestry and eating lots of great Tex-Mex. Her first book, Murder Once Removed, was the winner of the 2017 Malice Domestic Best First Traditional Mystery competition, and an Agatha Award Nominee. She resides in Houston and, when she's not writing or working at her day job, she's likely outside in the sun, on the beach, or riding horses.