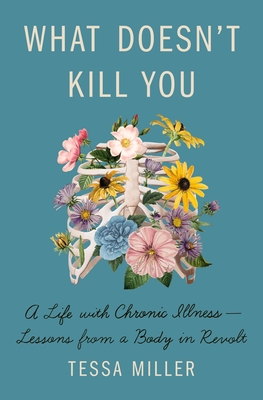 What Doesn't Kill You
A Life with Chronic Illness - Lessons from a Body in Revolt
Hardcover

* Individual store prices may vary.
Other Editions of This Title:
Digital Audiobook (2/1/2021)
Paperback (2/1/2022)
Description
"Should be read by anyone with a body. . . . Relentlessly researched and undeniably smart."
—The New York Times

Named one of BuzzFeed's "Best Books of 2021"

What Doesn't Kill You is the riveting account of a young journalist's awakening to chronic illness, weaving together personal story and reporting to shed light on living with an ailment forever.

Tessa Miller was an ambitious twentysomething writer in New York City when, on a random fall day, her stomach began to seize up. At first, she toughed it out through searing pain, taking sick days from work, unable to leave the bathroom or her bed. But when it became undeniable that something was seriously wrong, Miller gave in to family pressure and went to the hospital—beginning a years-long nightmare of procedures, misdiagnoses, and life-threatening infections. Once she was finally correctly diagnosed with Crohn's disease, Miller faced another battle: accepting that she will never get better.

Today, an astonishing three in five adults in the United States suffer from a chronic disease—a percentage expected to rise post-Covid. Whether the illness is arthritis, asthma, Crohn's, diabetes, endometriosis, multiple sclerosis, ulcerative colitis, or any other incurable illness, and whether the sufferer is a colleague, a loved one, or you, these diseases have an impact on just about every one of us. Yet there remains an air of shame and isolation about the topic of chronic sickness. Millions must endure these disorders not only physically but also emotionally, balancing the stress of relationships and work amid the ever-present threat of health complications.

Miller segues seamlessly from her dramatic personal experiences into a frank look at the cultural realities (medical, occupational, social) inherent in receiving a lifetime diagnosis. She offers hard-earned wisdom, solidarity, and an ultimately surprising promise of joy for those trying to make sense of it all.
Praise For What Doesn't Kill You: A Life with Chronic Illness - Lessons from a Body in Revolt…
"In this riveting memoir, journalist Tessa Miller describes the sudden onset of severe Crohn's disease in her twenties. . . . Evocative. . . . She analyzes studies and statistics about healthcare chronic illness in the U.S., including racial and gender discrimination. It's a fascinating and disturbing read."
—BuzzFeed

"[Miller] writes with precision, conviction, respect and thoughtfulness about pain as well as the disparate, and at times unjust, experiences that people face when navigating the American health care system. . . . What Doesn't Kill You is relentlessly researched and undeniably smart, but more than that, it is humane and offers reliable information to chronically ill people and their allies."
—The New York Times

"[Miller] puts her experiences to paper, detailing the many ways her life changed after her diagnosis . . . all in a digestible, authentic manner. . . . As applicable and important of a read as ever."
—Shape

"More than a memoir . . . [Miller] offers hard-earned wisdom, solidarity, and hope for others facing the medical, occupational, and social realities inherent in receiving a lifetime diagnosis."
—Life and Style

"Miller weaves together her harrowing story of navigating the health care system with frank and funny observations about living with an invisible disease, making this a must-read."
—Ok! Magazine

"Powerful and moving. . . . A source of hope and comfort for those living with a long-term ailment."
—Star

"Chronically ill people, their loved ones, and their colleagues will find useful advice and food for thought in this conversational, revealing memoir and guide. . . [A] page-turner and a quality resource.
—Booklist

"A clear, no-holds-barred account that will be useful both to those coming to grips with their own chronic illness and also to the people in their lives."
—Library Journal

"What Doesn't Kill You would have been engrossing as a memoir of illness, and infuriating as a polemic against the dysfunctional, often malicious American healthcare system. Instead, through skill and deep insight, it manages to be even more. Equal parts personal history, polemic and guidebook, its service journalism is invaluable for those living with 'a body in revolt,' as Miller puts it. The dividing line between the land of the well and that of the sick is an often blurry one, and Miller documents life on its uncertain borders with clarity and force."
—Anna Merlan, Author of Republic of Lies

"This is a must-read book for anyone suffering chronic illness, and for the people who care for them. Beautifully written, and full of keen personal observations, What Doesn't Kill You is a powerful memoir and a smart self-help book rolled into one. Living with an invisible disability like Crohn's is a lonely business, but Tessa Miller makes you feel less alone. Her voice is funny, helpful, and most of all honest—she doesn't sugar-coat the truth, which is that life with a chronic disease is really damn hard. But you don't have to be hard on yourself, too. There are ways to ease the pain, both mental and physical, and this book is a good place to start learning what that means."
—Annalee Newitz, bestselling author of Autonomous and Scatter, Adapt, and Remember

"A book you don't just read, but inhabit. Tessa Miller powerfully captures all the pain and beauty of being alive in this beautiful hybrid of memoir and journalism. If you have a chronic illness, What Doesn't Kill You will make you feel seen; to everyone else, it offers the opportunity to listen without judgment and, ultimately, to care about bodies different from your own."
—Samantha Allen, Author of Real Queer America

"Unflinchingly honest, What Doesn't Kill You provides an unfiltered look at what it truly means to be sick. Miller takes her years navigating the health care system and distills them into crucial resources and eye-opening insights. A must-read for those trying to navigate life with a chronic illness."
—Jordan Davidson, Co-founder of Endo Warriors and women's health advocate

"Breathtaking. Miller brings together an absolutely frank personal memoir with scientific accuracy about her disease and insights into relationships, the mind-body connection, and our broken health system. She turns her life into an affirming guidebook to living with warmth, compassion, humor, humility, and generosity. This book will make you want to be a better friend, colleague, daughter, son, sibling, and partner."
—Esther Choo, MD, MPH, Associate Professor of Emergency Medicine and Co-founder of Equity Quotient

"This is a book to press into someone's hands and say 'read this.' It both makes you feel you really know the author, and makes you want to spend more time with her to get to know her better. What Doesn't Kill You is by turns harrowing, heartbreaking, funny and practical, but it is compassionate on every single page. It is a book for people with chronic illness, people who love someone with a chronic illness, people who care for patients with chronic illness, and people who may one day develop a chronic illness. In other words, it is a book for everyone."
—Daniel Summers, MD, Slate and Daily Beast columnist
Henry Holt and Co., 9781250751454, 320pp.
Publication Date: February 2, 2021
About the Author
Tessa Miller is a Brooklyn-based health and science journalist. Her writing has appeared in the New York Times, New York magazine, Self, Vice, and Medium, among others. She was a senior editor at Lifehacker and the Daily Beast. What Doesn't Kill You is her first book.
or
Not Currently Available for Direct Purchase