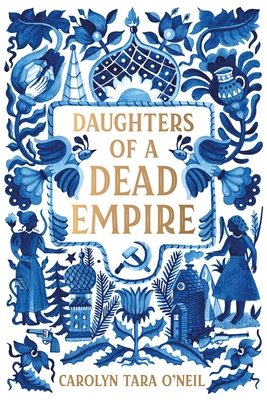 Daughters of a Dead Empire
Hardcover

* Individual store prices may vary.
Description
From debut author Carolyn Tara O'Neil comes a thrilling alternate history set during the Russian Revolution.

Russia, 1918: With the execution of Tsar Nicholas, the empire crumbles and Russia is on the edge of civil war—the poor are devouring the rich. Anna, a bourgeois girl, narrowly escaped the massacre of her entire family in Yekaterinburg. Desperate to get away from the Bolsheviks, she offers a peasant girl a diamond to take her as far south as possible—not realizing that the girl is a communist herself. With her brother in desperate need of a doctor, Evgenia accepts Anna's offer and suddenly finds herself on the wrong side of the war.

Anna is being hunted by the Bolsheviks, and now—regardless of her loyalties—Evgenia is too.

Daughters of a Dead Empire is a harrowing historical thriller about dangerous ideals, inequality, and the price we pay for change. An imaginative retelling of the Anastasia story.
Praise For Daughters of a Dead Empire…
"This fresh, thrilling take on Anastasia establishes that O'Neil is a debut author to watch." —Buzzfeed

*"A riveting reimagining of a historical legend as a pulse-pounding thriller." —Kirkus Reviews, starred review

"[F]ast-paced and compelling. . . . Perfect for readers who enjoy Monica Hesse and ­Elizabeth Wein."—School Library Journal

"[A] well-researched glimpse into the brutality of a nation in civic unrest."—BCCB

"Tightly plotted and compulsive, Daughters of a Dead Empire is simultaneously a heart-racing thrill ride across the landscape of revolutionary Russia and a tender, timely reflection on the reconciling power of friendship." —Amanda McCrina, author of Traitor and The Silent Unseen

"O'Neil's thrilling, historically authentic novel is every bit as moving as it is harrowing. A must read for Russophiles and bibliophiles alike." —Candace Fleming, author of The Family Romanov: Murder, Rebellion, and the Fall of Imperial Russia, a Los Angeles Times Book Prize winner for Young Adult Literature.

"A page-turning tale of loss, redemption and deep friendship, as two young women learn to move past the prejudices they've grown up with. A heartfelt book that makes you believe in the power of friendship over conflict." —Shamim Sarif, author of The Athena Protocol and The Shadow Mission

"A poignant and well-researched historical fiction about two incredible young women and the lengths they will go to save themselves and those they love." —June Hur, author of The Forest of Stolen Girls

"Carolyn Tara O'Neil's Daughters of a Dead Empire highlights the chaos of a muddled war with heartbreaking accuracy. I didn't want it to end!" —Amber Lough, author of Open Fire

"An amazing adventure in history, politics, and empathy." —J. Albert Mann, author of The Degenerates and Scar

"You might know the history, but do you know the heart that beats beneath? Carolyn Tara O'Neil reinvents revolutionary Russia with a broad brush for atmosphere and a fine pen for detail. Daughters of a Dead Empire spins the tale of two fierce young women facing down history in an emotional reimagining of one of the greatest mysteries of the 20th century. Start to finish, I was hooked—a remarkable feat for story inspired by well-known facts." —Sherri L. Smith, SCBWI Golden Kite Award Winning author of The Blossom and the Firefly.
Roaring Brook Press, 9781250755537, 336pp.
Publication Date: February 22, 2022
About the Author
Carolyn Tara O'Neil grew up in a tiny New York City apartment filled with thousands of books. Every Friday she went to the public library for even more reading material. She's lived in France, Spain, and Japan, before circling back to New York. Carolyn now lives in a slightly smaller NYC apartment with slightly fewer books, and still goes to the library every week. Daughters of a Dead Empire is her first book.