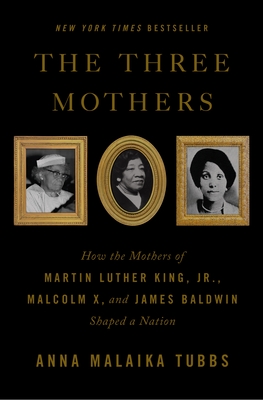 The Three Mothers
How the Mothers of Martin Luther King, Jr., Malcolm X, and James Baldwin Shaped a Nation
Hardcover

* Individual store prices may vary.
Description
Much has been written about Berdis Baldwin's son James, about Alberta King's son Martin Luther, and Louise Little's son Malcolm. But virtually nothing has been said about the extraordinary women who raised them.

In her groundbreaking and essential debut The Three Mothers, scholar Anna Malaika Tubbs celebrates Black motherhood by telling the story of the three women who raised and shaped some of America's most pivotal heroes.

One of Fortune Magazine's 21 Books to Look Foward to in 2021

Badass Women's Bookclub pick for "Badass Books We Can't Wait to Read in 2021!"

Berdis Baldwin, Alberta King, and Louise Little were all born at the beginning of the 20th century and forced to contend with the prejudices of Jim Crow as Black women. These three extraordinary women passed their knowledge to their children with the hope of helping them to survive in a society that would deny their humanity from the very beginning—from Louise teaching her children about their activist roots, to Berdis encouraging James to express himself through writing, to Alberta basing all of her lessons in faith and social justice. These women used their strength and motherhood to push their children toward greatness, all with a conviction that every human being deserves dignity and respect despite the rampant discrimination they faced.

These three mothers taught resistance and a fundamental belief in the worth of Black people to their sons, even when these beliefs flew in the face of America's racist practices and led to ramifications for all three families' safety. The fight for equal justice and dignity came above all else for the three mothers.

These women, their similarities and differences, as individuals and as mothers, represent a piece of history left untold and a celebration of Black motherhood long overdue.
Praise For The Three Mothers: How the Mothers of Martin Luther King, Jr., Malcolm X, and James Baldwin Shaped a Nation…
Advance Praise for Anna Malaika Tubbs' The Three Mothers

One of Fortune Magazine's "21 Books to Look Forward to in 2021!"
Badass Women's Bookclub pick for "Badass Books We Can't Wait to Read in 2021!"

"Tubbs does a masterful job of interweaving the facts of these women's lives into the evolving social and political histories of civil rights, including accounts of the horrific injustices suffered by women of color."—Booklist (starred review)

"The Three Mothers is a fascinating exploration into the lives of three women ignored by history after raising sons who helped shape a movement. By tracing the intellectual, political, and emotional strands of each woman's life, Anna Malaika Tubbs uncovers hidden complexities within black motherhood that illuminate our understanding of the past while also shedding light on the overlooked contributions of black women today. An eye-opening, engrossing read!"
—Brit Bennett, New York Times bestselling author of The Vanishing Half and The Mothers

"Tubbs's connection to these women is palpable on the page — as both a mother and a scholar of the impact Black motherhood has had on America. Through Tubbs's writing, Berdis, Alberta, and Louise's stories sing. Theirs is a history forgotten that begs to be told, and Tubbs tells it brilliantly."
—Ibram X. Kendi, #1 New York Times bestselling author of How to Be an Antiracist and National Book Award winner Stamped from the Beginning

"The Three Mothers tells a captivating story of women traumatized by the nation they and their sons would ultimately help transform.... There's no doubt that [it] will be at the forefront of that changing conversation about Black womanhood."--Destiny Birdsong, BookPage

"Anna Malaika Tubbs does what Black women do best: hold up the light in darkness, calling us all to do our work. The light Alberta, Louise and Berdis deserve is finally shining on them, not only as mothers, but as women whose lives and examples can stir up the gift in all of us. When we tell the stories of Black women with the sharp truth and clarity Anna has, we can better honor the past and find guidance for the struggles of today. Anna is a powerful storyteller, and we should all be grateful she chose to tell this story."
—Brittany Packnett Cunningham, co-host of Pod Save the People and co-founder of Campaign Zero

"In excavating the life stories of the mothers who reared three of the most central figures in the struggle for civil rights, Anna Malaika Tubbs provides a profound reflection on the contours of Black freedom in the twentieth century and beyond. The Three Mothers is an essential celebration of Black women, one that illuminates the history of racism and resistance in critical new ways. A timely and important book."
— Elizabeth Hinton, author of From the War on Poverty to the War on Crime

"Anna Malaika Tubbs' magnificent debut The Three Mothers is an intimate explication of motherhood as the shoulders upon which children stand. Yes, it is a biographical sketch of the Black women who erected strong foundations for their would-be famous sons while going largely un-recognized themselves, but it's also a love letter to these three particular Black women; a scholarly rejection of the trope of Black woman as conquered victim; and a literary declaration that Black women know best how to survive in this broken world while actively mending it for everyone."
—Julie Lythcott-Haims, New York Times bestselling author of How to Raise an Adult and Real American

"Tubbs debuts with an engrossing triple biography of Alberta King, mother of Martin Luther King Jr.; Louise Little, mother of Malcom X; and Berdis Baldwin, mother of James Baldwin.... Tubbs skillfully draws parallels between each woman's story, and vividly captures the early years of the civil rights movement. This immersive history gives credit where it's long overdue."
—Publishers Weekly

"an intimate narrative that aims to link not only Little, King, and Baldwin, but all Black mothers."—
New York Times Book Review

"This ambitious book reframes African American history, supplying the female Black experience as a much-needed perspective." —The Washington Post

"a great examination of a rarely-told triple story you'll love." —The Miami Times
Flatiron Books, 9781250756121, 272pp.
Publication Date: February 2, 2021
About the Author
Anna Malaika Tubbs is a Cambridge Ph.D. candidate in sociology and a Bill and Melinda Gates Cambridge Scholar. After graduating Phi Beta Kappa from Stanford University with a Bachelor's degree in anthropology, Anna received a Master's degree from the University of Cambridge in multidisciplinary gender studies. Outside of the academy she is an educator, Diversity, Equity, and Inclusion consultant, and the First Partner of Stockton, California. She lives with her husband, Michael Tubbs, who is the mayor of Stockton, and their son, Michael Malakai.