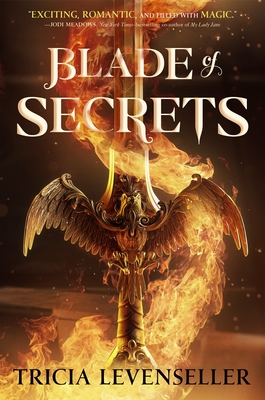 Blade of Secrets (Bladesmith #1)
Hardcover

* Individual store prices may vary.
Other Editions of This Title:
Digital Audiobook (5/3/2021)
Paperback (6/28/2022)
Description
In Blade of Secrets, a new YA fantasy adventure from the author of Daughter of the Pirate King, a teenage blacksmith with social anxiety is forced to go on the run to protect the world from the most powerful magical sword she's ever made.

Eighteen-year-old Ziva prefers metal to people. She spends her days tucked away in her forge, safe from society and the anxiety it causes her, using her magical gift to craft unique weapons imbued with power.

Then Ziva receives a commission from a powerful warlord, and the result is a sword capable of stealing its victims' secrets. A sword that can cut far deeper than the length of its blade. A sword with the strength to topple kingdoms. When Ziva learns of the warlord's intentions to use the weapon to enslave all the world under her rule, she takes her sister and flees.

Joined by a distractingly handsome mercenary and a young scholar with extensive knowledge of the world's known magics, Ziva and her sister set out on a quest to keep the sword safe until they can find a worthy wielder or a way to destroy it entirely.
Praise For Blade of Secrets (Bladesmith #1)…
"Blade of Secrets was an addictive page-turner. Loaded with action, betrayal, slow-burn romance—honestly, that is the best first kiss scene ever—I couldn't put it down. I fell in love with Ziva, her sister, and their very "interesting" companions. Be prepared to laugh, cry, and gasp." — Mary E. Pearson, the New York Times-bestselling author of The Remnant Chronicles

"Exciting, romantic, and filled with magic, BLADE OF SECRETS is a fast-paced journey through a fractured kingdom. Ziva is an amazing main character, with a gentle heart and a fierce need to do what's right, even in the face of incredible odds. This is a book you'll want to read right away—and then reach for that sequel." —Jodi Meadows, New York Times-bestselling author of My Lady Jane and the Fallen Isles trilogy

"Blade of Secrets is an impactful, eye-opening journey of social anxiety that is flawlessly blended with Levenseller's signature flair for adventure and romance. It's the best kind of story, inciting understanding and compassion while allowing the reader to escape reality." —Bookstagram sensation Bridget Howard, @darkfaerietales_

"This fast-paced novel caters to popular romance and fantasy tropes while still feeling fresh, but it really shines in its portrayal of Ziva, who has an anxiety disorder... Readers will be craving not just the sequel but also more fantasy fiction that handle disabilities with this level of care." — The Bulletin of the Center for Children's Books (BCCB)

"Levenseller (The Shadows between Us, 2020) elevates her already intriguing fantasy world through her depiction of Ziva, whose anxiety will ring true for anyone who's ever had a panic attack. Added details about how Ziva functions in everyday life with her anxiety, something not often addressed in fantasy, bring additional depth. Grab this and devour it." — Booklist, starred review


Praise for Tricia Levenseller:

"My favorite kind of fantasy: dark, mesmerizing, and completely addictive. With a gripping mystery and layered characters, it's a glittering tale of love and the pursuit of power. Put simply: it's the Slytherin romance we've all been waiting for." —Kerri Maniscalco, #1 New York Times and USA Today bestselling author of Stalking Jack the Ripper on The Shadows Between Us

"A decadent and wickedly addictive fantasy." —Kendare Blake, #1 New York Times–bestselling author of the Three Dark Crowns series on The Shadows Between Us

"A wickedly fun romp with corsets and jeweled daggers … The Shadows Between Us will heat up the page—and your heart." —Emily R. King, author of The Hundredth Queen series on The Shadows Between Us

"A viciously satisfying romance featuring two well-matched opponents." —Booklist on The Shadows Between Us

" The action! The world-building! The voice! This book kicks so much ass." -- Cale Dietrich, author of The Love Interest, on Warrior of the Wild

"Rasmira's quest is thrilling, her emotional journey compelling; this adventure sings." --Booklist on Warrior of the Wild

"This high-octane novel is filled with mythical creatures and showcases a heroine who wants to be a warrior, a woman, and a leader." --School Library Journal, on Warrior of the Wild

"The real gratification lies in Rasmira's transformation from broken, betrayed, girl to resourceful, confident victor. Her final clash with the god is heart pounding, and her triumph in front of her village and father is satisfyingly righteous." -- The Bulletin for the Center for Children's Books, on Warrior of the Wild

"Levenseller has created a formidable female character who can take care of herself as she makes some hard decisions." —School Library Journal on Daughter of a Pirate King

"[Levenseller's] words will pull you in, and there's no escaping them." —Charlie N. Holmberg, author of The Paper Magician Series, on Daughter of the Siren Queen

"With a cunning plot, robust writing, and complicated characters, any reader will enjoy being manipulated in Levenseller's capable hands." —Anna Banks, author of the New York Times Bestseller Of Triton, on Daughter of the Pirate King
Feiwel & Friends, 9781250756800, 336pp.
Publication Date: May 4, 2021
About the Author
Tricia Levenseller, whose books include Daughter of the Pirate King, its sequel Daughter of the Siren Queen, and Warrior of the Wild, is from a small town in Oregon, but now lives next to the Rocky Mountains in Utah with her bossy dog, Rosy. She received her degree in English language and editing, and she is thrilled that she never has to read a textbook again. When she's not writing or reading, Tricia enjoys putting together jigsaw puzzles, playing Overwatch, and watching her favorite TV shows while eating extra-buttered popcorn.