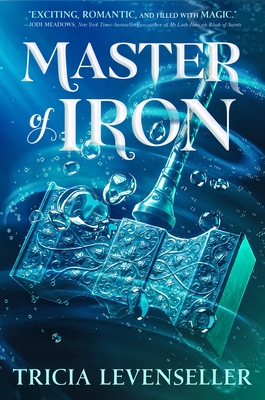 Master of Iron (Bladesmith #2)
Hardcover

* Individual store prices may vary.
Description
In Master of Iron, the conclusion to Tricia Levenseller's exciting Bladesmith YA fantasy duology, a magically gifted blacksmith with social anxiety must race against the clock to save her beloved sister and stop a devastating war.

Eighteen-year-old Ziva may have defeated a deadly warlord, but the price was almost too much. Ziva is forced into a breakneck race to a nearby city with the handsome mercenary, Kellyn, and the young scholar, Petrik, to find a powerful magical healer who can save her sister's life.

When the events that follow lead to Ziva and Kellyn's capture by an ambitious prince, Ziva is forced into the very situation she's been dreading: magicking dangerous weapons meant for world domination.

The forge has always been Ziva's safe space, a place to avoid society and the anxiety it causes her, but now it is her prison, and she's not sure just how much of herself she'll have to sacrifice to save Kellyn and take center stage in the very war she's been trying to stop.
Praise For Master of Iron (Bladesmith #2)…
The Bladesmith Duology:

"Levenseller has forged another winner in this sequel to Blade of Secrets." -- Booklist on Master of Iron

"Blade of Secrets was an addictive page-turner. Loaded with action, betrayal, slow-burn romance—honestly, that is the best first kiss scene ever—I couldn't put it down. I fell in love with Ziva, her sister, and their very "interesting" companions. Be prepared to laugh, cry, and gasp." — Mary E. Pearson, the New York Times-bestselling author of The Remnant Chronicles on Blade of Secrets

"Exciting, romantic, and filled with magic, BLADE OF SECRETS is a fast-paced journey through a fractured kingdom. Ziva is an amazing main character, with a gentle heart and a fierce need to do what's right, even in the face of incredible odds. This is a book you'll want to read right away—and then reach for that sequel." —Jodi Meadows, New York Times-bestselling author of My Lady Jane and the Fallen Isles trilogy on Blade of Secrets

"Blade of Secrets is an impactful, eye-opening journey of social anxiety that is flawlessly blended with Levenseller's signature flair for adventure and romance. It's the best kind of story, inciting understanding and compassion while allowing the reader to escape reality." —Bookstagram sensation Bridget Howard, @darkfaerietales_ on Blade of Secrets

"This fast-paced novel caters to popular romance and fantasy tropes while still feeling fresh, but it really shines in its portrayal of Ziva, who has an anxiety disorder... Readers will be craving not just the sequel but also more fantasy fiction that handle disabilities with this level of care." — The Bulletin of the Center for Children's Books (BCCB) on Blade of Secrets

"Levenseller (The Shadows between Us, 2020) elevates her already intriguing fantasy world through her depiction of Ziva, whose anxiety will ring true for anyone who's ever had a panic attack. Added details about how Ziva functions in everyday life with her anxiety, something not often addressed in fantasy, bring additional depth. Grab this and devour it." — Booklist, starred review for Blade of Secrets


Praise for Tricia Levenseller:

"My favorite kind of fantasy: dark, mesmerizing, and completely addictive. With a gripping mystery and layered characters, it's a glittering tale of love and the pursuit of power. Put simply: it's the Slytherin romance we've all been waiting for." —Kerri Maniscalco, #1 New York Times and USA Today bestselling author of Stalking Jack the Ripper on The Shadows Between Us

"A decadent and wickedly addictive fantasy." —Kendare Blake, #1 New York Times–bestselling author of the Three Dark Crowns series on The Shadows Between Us

"A wickedly fun romp with corsets and jeweled daggers … The Shadows Between Us will heat up the page—and your heart." —Emily R. King, author of The Hundredth Queen series on The Shadows Between Us

"A viciously satisfying romance featuring two well-matched opponents." —Booklist on The Shadows Between Us

" The action! The world-building! The voice! This book kicks so much ass." -- Cale Dietrich, author of The Love Interest, on Warrior of the Wild

"Rasmira's quest is thrilling, her emotional journey compelling; this adventure sings." --Booklist on Warrior of the Wild

"This high-octane novel is filled with mythical creatures and showcases a heroine who wants to be a warrior, a woman, and a leader." --School Library Journal, on Warrior of the Wild

"The real gratification lies in Rasmira's transformation from broken, betrayed, girl to resourceful, confident victor. Her final clash with the god is heart pounding, and her triumph in front of her village and father is satisfyingly righteous." -- The Bulletin for the Center for Children's Books, on Warrior of the Wild

"Levenseller has created a formidable female character who can take care of herself as she makes some hard decisions." —School Library Journal on Daughter of a Pirate King

"[Levenseller's] words will pull you in, and there's no escaping them." —Charlie N. Holmberg, author of The Paper Magician Series, on Daughter of the Siren Queen

"With a cunning plot, robust writing, and complicated characters, any reader will enjoy being manipulated in Levenseller's capable hands." —Anna Banks, author of the New York Times Bestseller Of Triton, on Daughter of the Pirate King
Feiwel & Friends, 9781250756824, 400pp.
Publication Date: July 26, 2022
About the Author
Tricia Levenseller, author of several YA fantasy novels, including Daughter of the Pirate King and The Shadows Between Us, grew up in Oregon, where she spent her childhood climbing trees and playing make believe. She now lives in Utah with her bossy dog, Rosy, where she writes full time. When she's not writing or reading, Tricia enjoys putting together jigsaw puzzles, playing Overwatch and Sea of Thieves on her Xbox, and finding tasty restaurants to frequent.