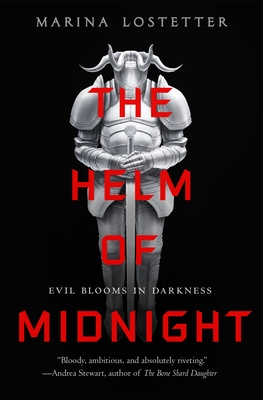 The Helm of Midnight (The Five Penalties #1)
Hardcover

* Individual store prices may vary.
Description
A legendary serial killer stalks the streets of a fantastical city in The Helm of Midnight, the stunning first novel in a new trilogy from acclaimed author Marina Lostetter.

In a daring and deadly heist, thieves have made away with an artifact of terrible power—the death mask of Louis Charbon. Made by a master craftsman, it is imbued with the spirit of a monster from history, a serial murderer who terrorized the city with a series of gruesome murders.

Now Charbon is loose once more, killing from beyond the grave. But these murders are different from before, not simply random but the work of a deliberate mind probing for answers to a sinister question.

It is up to Krona Hirvath and her fellow Regulators to enter the mind of madness to stop this insatiable killer while facing the terrible truths left in his wake.
Praise For The Helm of Midnight (The Five Penalties #1)…
Praise for The Helm of Midnight

"The Helm of Midnight transports readers to an intensely unique and creative world, with interwoven secrets and heart-pounding action. Bloody, ambitious, and absolutely riveting." — Andrea Stewart, author of The Bone Shard Daughter

"A mysterious and mind-ripping journey through the mystic depths of time and the darkness of the human psyche." — Matt Wallace, author of the Sin du Jour and Savage Rebellion series

Praise for Noumenon
"Noumenon...offers a dreamlike exploration of evolving societies and the many ways
humans can control, fight and love each other." — The Washington Post

"Lostetter expertly balances the thrill of discovery with the interpersonal consequences
of an isolated community. The tools of speculative fiction are deployed with heart-
rending attention to emotional reality in this enthralling odyssey. A striking adventure
story that could hold a galaxy in its scope." — Kirkus Reviews, starred review

"[An] ambitious and stunning debut...Lostetter handles a complex and fractured narrative
masterfully, never allowing her novel to become confusing or unconvincing. There are no
easy answers to the book's questions, but the lingering sense of wonder and discovery
thoroughly justifies its title." — Publishers Weekly, starred review

"This ambitious debut explores the complexities of such an immense voyage, which pile
up in surprising ways as the clones get further from the familiar." — B&N Sci-Fi & Fantasy Blog
Tor Books, 9781250757050, 464pp.
Publication Date: April 13, 2021
About the Author
Marina J. Lostetter (she/her) is the author of Noumenon and Noumenon: Infinity. The Helm of Midnight is her first foray into fantasy. Originally from Oregon, she now resides in Arkansas with her husband, Alex. When not writing or drawing she can often be found reading spec-fic, or playing it (she enjoys a good zombie-themed board game now and again). And she does it all while globetrotting.