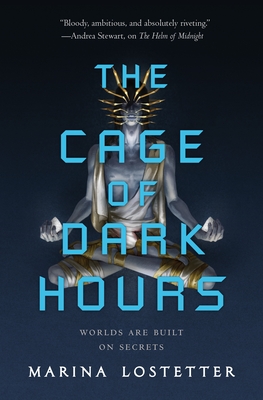 The Cage of Dark Hours (The Five Penalties #2)
Hardcover

* Individual store prices may vary.
Description
The Cage of Dark Hours is the second novel in the epic fantasy trilogy from acclaimed author Marina Lostetter, where the defeat of a serial killer back from the dead has pulled the mask off the myths and magics of a fantastical city.

Krona and her Regulators survived their encounter with Charbon, the long-dead serial killer who returned to their city, but the illusions of their world were shattered forever.

Allied with an old friend they will battle the elite who have ruled their world with deception, cold steel, and tight control of the magic that could threaten their power, while also confronting beasts from beyond the foggy barrier that binds their world.

Now they must follow every thread to uncover the truth behind the Thalo, once thought of as only a children's tale, who are the quiet, creeping puppet masters of their world.

The Five Penalties Series:
The Helm of Midnight
The Cage of Dark Hours
Praise For The Cage of Dark Hours (The Five Penalties #2)…
Praise for The Helm of Midnight

"Marina Lostetter brings together a cast of relatable, remarkably human characters across three separate timelines to tell a beautiful story of struggle, loss and, eventually, triumph... Tears, smiles and surprise await any reader that opens this book."—Bookpage, starred review.

"Transports readers to an intensely unique and creative world, with interwoven secrets and heart-pounding action. Bloody, ambitious, and absolutely riveting."—Andrea Stewart, author of The Bone Shard Daughter

"A mysterious and mind-ripping journey through the mystic depths of time and the darkness of the human psyche." —Matt Wallace, author of the Sin du Jour and Savage Rebellion series

"Beautiful and vicious, The Helm of Midnight will snare you with its intriguing mystery and then enthrall you with its rich characters and inventive world."—Megan E. O'Keefe, author of Velocity Weapon

"An utterly enthralling mystery of magic, masks, and murder. Marina Lostetter weaves together three stories to a stunning conclusion with a skill that will leave you breathless."—K. B. Wagers, author of the Farian War series

"A tense and atmospheric mystery in an inventive fantasy setting, Lostetter weaves three stories of trauma and grief together with skill and suspense to a thrilling conclusion."—Sam Hawke, author of City of Lies

"A firecracker.... What makes this book a captivating read is not merely the tight prose and exquisite use of language to create tension, but the master craft level of world building that offers much more to the fantasy genre than the usual fare. Don't pass this one by, it's too good."—New York Journal of Books

"This tale has creative worldbuilding and an intense focus on the psychology of a killer."—Library Journal
Tor Books, 9781250757470, 464pp.
Publication Date: February 14, 2023
About the Author
Marina Lostetter is the author of Noumenon and Noumenon: Infinity. The Helm of Midnight was her first foray into fantasy. Originally from Oregon, she now resides in Arkansas with her husband, Alex. When not writing or drawing she can often be found reading spec fic, or playing it (she enjoys a good zombie-themed board game now and again). And she does it all while globe-trotting.