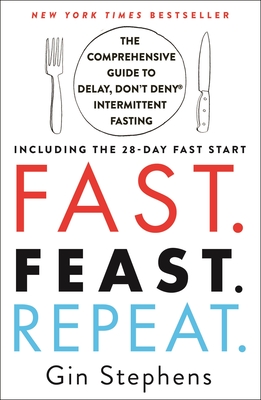 Fast. Feast. Repeat.
The Comprehensive Guide to Delay, Don't Deny® Intermittent Fasting--Including the 28-Day FAST Start
Paperback

* Individual store prices may vary.
Description
The instant New York Times and USA Today bestseller!

Change when you eat and change your body, your health, and your life!

Diets dont work. You know you know that, and yet you continue to try them, because what else can you do? You can Fast. Feast. Repeat. After losing over eighty pounds and keeping every one of them off, Gin Stephens started a vibrant, successful online community with hundreds of thousands of members from around the world who have learned the magic of a Delay, Dont Deny intermittent fasting lifestyle.

Fast. Feast. Repeat. has it all! Youll learn how to work a variety of intermittent fasting approaches into your life, no matter what your circumstances or schedule. Once youve ignited your fat-burning superpower, youll get rid of diet brain forever, tweak your protocol until its second nature, and learn why IF is a lifestyle, not a diet.

Fast. Feast. Repeat. is for everyone! Beginners will utilize the 28-Day FAST Start. Experienced intermittent fasters will strengthen their intermittent fasting practice, work on their mindset, and read about the latest research out of top universities supporting intermittent fasting as the health plan with a side effect of weight loss. Still have questions? Gin has you covered! All of the most frequently asked intermittent fasting questions are answered in the exhaustive FAQ section.
St. Martin's Griffin, 9781250757623, 352pp.
Publication Date: June 16, 2020
About the Author
Gin Stephens, author of the bestselling Delay, Dont Deny, has been living the intermittent fasting (IF) lifestyle since 2014. Since then, shes lost over eighty pounds and launched her IF website, four online support groups, four self-published books, and two top-ranked podcastsIntermittent Fasting Stories and The Intermittent Fasting Podcast. A graduate of the Institute of Integrative Nutritions Health Coach Training Program (2019), she also earned a Doctor of Education degree in Gifted and Talented Education (2009), a Master's degree in Natural Sciences (1997), and a Bachelor's degree in Elementary Education (1990). She taught elementary school for twenty-eight years, and has worked with adult learners in a number of settings. She splits her time between Augusta, Georgia and Myrtle Beach, South Carolina, where she lives with her husband and their four cats. Gin is also a mother to two adult sons (and she is thankful every day for the intermittent fasting lifestyle that makes her life easier).