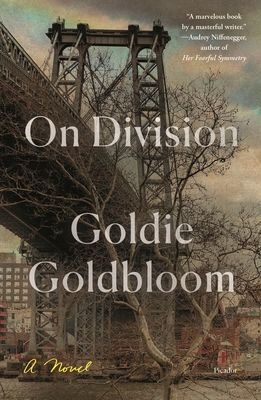 On Division
A Novel
Paperback

* Individual store prices may vary.
Other Editions of This Title:
Hardcover (9/17/2019)
MP3 CD (6/2/2020)
Description
** Winner of the 2020 Jewish Fiction Award **

"A novel of wisdom and uncertainty, of love in its greater and lesser forms, and of the struggle between how it should be and how it is. It is impossible not to be moved."
—Amy Bloom, author of White Houses

"This book brings the reader into the heart of a close-knit Jewish family and their joys, loves, and sorrows . . . A marvelous book by a masterful writer."
—Audrey Niffenegger, author of Her Fearful Symmetry and The Time Traveler's Wife

Through one woman's life at a moment of surprising change, the award-winning author Goldie Goldbloom tells a deeply affecting, morally insightful story and offers a rare look inside Brooklyn's Chasidic community

On Division Avenue, just a block or two up from the East River in Williamsburg, Brooklyn, Surie Eckstein is soon to be a great-grandmother. Her ten children range in age from thirteen to thirty-nine. Her in-laws, postwar immigrants from Romania, live on the first floor of their house. Her daughter Tzila Ruchel lives on the second. She and Yidel, a scribe in such demand that he makes only a few Torah scrolls a year, live on the third. Wed when Surie was sixteen, they have a happy marriage and a full life, and, at the ages of fifty-seven and sixty-two, they are looking forward to some quiet time together.

Into this life of counted blessings comes a surprise. Surie is pregnant. Pregnant at fifty-seven. It is a shock. And at her age, at this stage, it is an aberration, a shift in the proper order of things, and a public display of private life. She feels exposed, ashamed. She is unable to share the news, even with her husband. And so for the first time in her life, she has a secret—a secret that slowly separates her from the community.

Goldie Goldbloom's On Division is an excavation of one woman's life, a story of awakening at middle age, and a thoughtful examination of the dynamics of self and collective identity. It is a steady-eyed look inside insular communities that also celebrates their comforts. It is a rare portrait of a long, happy marriage. And it is an unforgettable new novel from a writer whose imagination is matched only by the depth of her humanity.
Praise For On Division: A Novel…
** Winner of the 2020 Jewish Fiction Award **
Chosen for the One Bay One Book Program at the Jewish Community Library in San Francisco

"A quietly, finely wrought story about how to move beyond restrictions even while living within them . . . Wonderfully entrancing, a book about difference that feels universal."
—Bethanne Patrick, Lit Hub

"[An] elegant novel about a Hasidic woman cocooned by her close-knit faith community, yet increasingly alienated from it . . . [Goldie Goldbloom's] portrait of Surie and the Chassids of Williamsburg glows with sympathy and authenticity . . . Goldbloom knows the Yiddishisms, the customs, the constraints — and the longings that chafe against them."
—Julia M. Klein, Forward

"Richly imagined . . . Goldbloom captures the full scale of human emotion in this family in a contemporary ultra-Orthodox community as Surie contends with this news, and somehow taps into the particular demands of Chassidic life, as well as the universality of shifting generational boundaries."
—The National Book Review

"Unique . . . The story revolves around Surie Eckstein, a 57-year-old matriarch who suddenly doubts some of the restrictive mores of her Hasidic shtetl in Brooklyn; yet it conveys an abiding affection for this anachronistic world . . . This novel is really about the struggle to bridge differences."
—The Economist

"The author, a member of the Chasidic community, writes with accuracy, authenticity, and respect—celebrating the positive aspects of the community with beauty, warmth, and love while also exposing negative, harmful, and shameful practices. The result is a multi-layered story of how secrets can shake even the most secure and close-knit families that is accessible to readers both familiar and unfamiliar with the insular world of ultra-Orthodox Jews."
—Rachel Kamin, Association of Jewish Libraries

"Author Goldie Goldbloom, a Hasidic mother of eight, is not the first to expose the inner world of ultra-Orthodox Jews, but she does so with a rare sensitivity to nuance and a resistance to stereotype . . . Surie Eckstein surprises herself, but she also confounds our expectations of a character like her. The fact that she remains, throughout, a sympathetic and convincing heroine is a testament to Goldbloom's masterful skill as a storyteller."
—Lilith Magazine

"Quietly exceptional . . . Goldbloom is careful to remind readers that liberation doesn't necessarily mean rule breaking, just as obedience doesn't necessarily mean holiness."
—Lily Meyer, The Chicago Reader

"A won­der­ful­ly com­plex exam­ple of what it means to be an Ortho­dox Jew in mod­ern times . . . Through art­ful sto­ry­telling, the read­er is able to feel every bit of the anx­ious suf­fer­ing Surie endures with­in the tight-knit and secre­tive Cha­sidic com­mu­ni­ty . . . Surie's char­ac­ter offers deep, engag­ing insight into the life and faith of a person not nor­mal­ly known. On Divi­sion auda­cious­ly com­mu­ni­cates to those unfa­mil­iar with the Cha­sidic commu­ni­ty how they are not as dif­fer­ent as they may seem."
—Corey Friedman, Jewish Book Council

"In Goldbloom's nuanced telling, nothing is black and white, and alongside Surie's fomenting indignation over her lot is a lovingly detailed picture of the rituals, the prayers, the history—and oh, the meals!—that bind the families together."
—Karen Houppert, The Women's Review of Books

"In this intimate novel of a woman at a crossroads, Goldbloom deftly portrays the relationships of individuals to a close-knit community, the impact of secrets and lies, and the persistence of our past experiences in shaping our lives."
—Jewish Learning Works, The Jewish News of Northern California

"Goldbloom's intimate descriptions of domestic hubbub, emotional tumult, and nature's vibrancy deepen this authentic and suspenseful portrait of a strong, conflicted woman . . . [She] vitally portrays the complex dynamics and paradoxes of a strictly regimented, unforgiving, yet loving religious enclave, and imaginatively and boldly explores the divide between tradition and compassion, community and self."
—Booklist

"[Goldie] Goldbloom, who is herself Chasidic, writes with great depth of feeling about this close community but also with humor . . . She shows the joy of belonging to a community as well as the feelings of frustration at its strictures. How can a community bind itself together?"
—Kirkus

"A secret sparks a path toward self-discovery in Goldbloom's revelatory latest . . . [Goldie] Goldbloom writes about Surie's community fondly but also critically, examining both the kindness and the intolerance that can arise when a group separates itself from the world around it. Goldbloom's portrait of a woman on the verge of claiming her own agency even after she thought all her life's questions had been answered makes for fascinating, stirring reading."
—Publishers Weekly

"Reader, prepare thyself: you will soon be in Surie's grip, and she will forever intrigue you with her fierceness and vulnerability, her honesty and self-deception, and her tender, brutal heart filled with both longing and rage. In this achingly suspenseful novel of satisfying psychological depth, Goldie Goldbloom asks what happens when the ones we know most intimately become strangers, and when one of those strangers is oneself."
—Christopher Castellani, author of Leading Men

"Goldie Goldbloom's Surie is a character at once mythic and deeply human: a wise Chassidic elder in a youthful predicament, freighted by loss, denial, and blossoming hope. On Division is as beautiful as it is unexpected."
—Claire Messud, author of The Burning Girl

"On Division is brilliant and beautiful. This book brings the reader into the heart of a close-knit Jewish family and their joys, loves, and sorrows. Goldie Goldbloom shows us the pains of being included and excluded, the delights of tradition, and the difficulties of coming to terms with oneself, of truly knowing one's own deepest mind. This is a marvelous book by a masterful writer."
—Audrey Niffenegger, author of Her Fearful Symmetry and The Time Traveler's Wife

"What a marvel this novel is! Unsentimental, beautifully observed, rich in both joy and heartbreak, this is an indelible portrait of a remarkable woman embedded in a community pulsing with all the feelings and contradictions of a living faith."
—Andrea Barrett, author of Ship Fever and Archangel

"A fifty-seven-year-old woman—a Chassidic wife and mother and grandmother—is pregnant with twins. Goldie Goldbloom offers us, out of the very specific and often unfamiliar, a woman to be known and loved by every reader. On Division is a novel of wisdom and uncertainty, of love in its greater and lesser forms, and of the struggle between how it should be and how it is. It is impossible not to be moved and surprised by Goldie Goldbloom."
—Amy Bloom, author of White Houses

"Oh, this book! I feel that I have been waiting for this book all my reading life. Goldie Goldbloom creates a magnificently human woman in Surie Eckstein, unprepossessing, yet heroic in her determination to understand past tragedies, to face her own failings, and to improve. The moral complexities of this Chassidic community, lovingly and critically detailed, spring to life as complexities and challenges for us all, whatever our customs and beliefs. On Division is a triumph, and an essential one at that."
—Robin Black, author of Life Drawing

"What Evan Connell's Mrs. Bridge does for a woman in an upper-middle-class community in Kansas in the 1920s, Goldie Goldbloom's On Division does for a mother in the Chasidic community in present-day Williamsburg. Tracing the life (primarily) of a woman absorbed in and chafing against her world, Goldbloom creates the memorable Surie, living in a community that offers her beauty and connection, while requiring impossible choices. Goldbloom knows Jewish tradition and the world of her characters so well, I felt profoundly educated, even as I was entertained and moved by this knowing, loving, magical novel."
—Debra Spark, author of Unknown Caller
Picador, 9781250757968, 288pp.
Publication Date: December 1, 2020
About the Author
Goldie Goldbloom's first novel, The Paperbark Shoe, won the AWP Prize, was named the Literary Novel of the Year by Foreward Magazine and is an NEA Big Reads selection. She was awarded a National Endowment for the Arts Fellowship, and has been the recipient of multiple grants and awards, including fellowships from Warren Wilson, Northwestern University, the Brown Foundation, the City of Chicago and the Elizabeth George Foundation. She is chassidic and the mother of eight children.