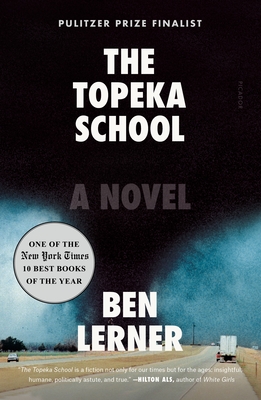 The Topeka School
A Novel
Paperback

* Individual store prices may vary.
Other Editions of This Title:
Digital Audiobook (9/30/2019)
Digital Audiobook (9/30/2019)
Hardcover (10/1/2019)
Library Binding, Large Print (3/25/2020)
October 2019 Indie Next List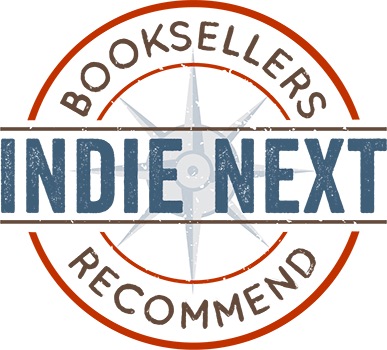 "It's the late '90s in Topeka, and high school senior Adam Gordon is partying, going to school, and preparing for a national speech and debate competition—living a life he expects to reflect back upon with irony and detachment in some urbane, imaginary future. Lerner shifts between perspectives, stealing stylistic bits from autofiction and documentary; he reinvents the way narrative can place the moments of our lives in the context of history, both global and hyper-local, exploring how history inflicts trauma onto us and how we, in turn, inflict that trauma back onto history. And he does all this while toying with language and the spaces where it breaks down as we attempt to self-define. Simply put,
The Topeka School
is a work of genius."
— Chris Lee, Boswell Book Company, Milwaukee, WI
View the List
Winter 2020 Reading Group Indie Next List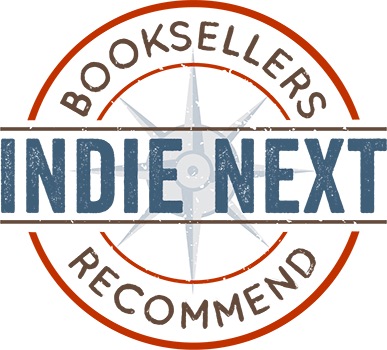 "This story of a boy growing up in middle America is a tragic interrogation of the chaos and violence of our world, a deft exploration of the ethics of the novel in times of ecosocial disaster, and a lacerating critique of the empire that makes us this way. Moving in its intelligence, generosity, and openness, this book is Lerner doing what he does best: making the familiar not only strange but also, and perhaps more importantly, historical and political."
— Sam Wooley, The Elliott Bay Book Company, Seattle, WA
View the List
Description
FINALIST FOR THE PULITZER PRIZE

WINNER OF THE LOS ANGELES TIMES BOOK PRIZE

ONE OF THE NEW YORK TIMES TOP TEN BOOKS OF THE YEAR

A TIME, GQ, Vulture, and WASHINGTON POST TOP 10 BOOK of the YEAR
ONE OF BARACK OBAMA'S FAVORITE BOOKS OF THE YEAR

Finalist for the National Book Critics Circle Award
Shortlisted for the Rathbones Folio Prize
Winner of the Hefner Heitz Kansas Book Award

ALSO NAMED ONE OF THE BEST BOOKS OF THE YEAR BY: Esquire, NPR, Vogue, Amazon, Kirkus, The Times (UK), Buzzfeed, Vanity Fair, The Telegraph (UK), Financial Times (UK), Lit Hub, The Times Literary Supplement (UK), The New York Post, Daily Mail (UK), The Atlantic, Publishers Weekly, The Guardian (UK), Electric Literature, SPY.com, and the New York Public Library

From the award-winning author of 10:04 and Leaving the Atocha Station, a tender and expansive family drama set in the American Midwest at the turn of the century: a tale of adolescence, transgression, and the conditions that have given rise to the trolls and tyrants of the New Right

Adam Gordon is a senior at Topeka High School, class of '97. His mother, Jane, is a famous feminist author; his father, Jonathan, is an expert at getting "lost boys" to open up. They both work at a psychiatric clinic that has attracted staff and patients from around the world. Adam is a renowned debater, expected to win a national championship before he heads to college. He is one of the cool kids, ready to fight or, better, freestyle about fighting if it keeps his peers from thinking of him as weak. Adam is also one of the seniors who bring the loner Darren Eberheart—who is, unbeknownst to Adam, his father's patient—into the social scene, to disastrous effect.

Deftly shifting perspectives and time periods, Ben Lerner's The Topeka School is the story of a family, its struggles and its strengths: Jane's reckoning with the legacy of an abusive father, Jonathan's marital transgressions, the challenge of raising a good son in a culture of toxic masculinity. It is also a riveting prehistory of the present: the collapse of public speech, the trolls and tyrants of the New Right, and the ongoing crisis of identity among white men.
Praise For The Topeka School: A Novel…
"The Topeka School rocks an American amplitude, ranging freely from parenthood to childhood, from toxic masculinity to the niceties of cunnilingus . . . Lerner's own arsenal has always included a composer's feel for orchestration, a ventriloquist's vocal range and a fine ethnographic attunement . . . I could say more— about trauma, sex, paradox, magic— but only at the cost of further reducing this irreducible novel, which seeks instead to spread its readers beyond their borders with its fertile intelligence and its even more abundant heart...A high-water mark in recent American fiction."
—Garth Risk Hallberg, The New York Times Book Review

"An extraordinarily brilliant novel that's also accessible to anyone yearning for illumination in our disputatious era . . . Through the wizardry of Lerner's prose, this battle of adolescent elocution becomes an emblem for the fiery state of American culture . . . Among the myriad miracles of The Topeka School is that it accomplishes so much, captures so much and questions so much about America in fewer than 300 pages."
—Ron Charles, The Washington Post

"[The Topeka School] is thoroughly, intimidatingly brilliant and absolutely contemporary . . . It's funny, and at times, painfully acute . . . [Lerner] is a supremely gifted prose stylist, at once theoretical and conversational; he never bores or blathers, and is always limpid. Rather than inviting the reader to look at him or his life, he invites the reader to look through him."
—Christine Smallwood, Harper's

"The best book yet by the most talented writer of his generation . . . [Lerner] treats the self like an archive of social data from which it is possible to construct a larger story about our times . . . Jane, in particular, is an astonishing creation; it is hard to think of another character in recent fiction who shows up so vividly on the page . . . a particle accelerator of a novel."
—Giles Harvey, The New York Times Magazine

"Fiercely intelligent."
—Joumana Khatib, The New York Times Book Review

"Ben Lerner is moving from strength to strength, and The Topeka School displays a unique mind and sensibility on the prowl."
--Dwight Garner, The New York Times 2019 Critics' Picks

"A triumph of ventriloquism . . . [Lerner] has written a perfectly weighted, hugely intelligent, entirely entertaining novel that does more than simply mine his childhood or explore what it is to be an author; he has taken on American masculinity, group identity and marginalization, political messaging and generational exchange, and has done so not didactically but generously and with admirable sensitivity."
--The Times Literary Supplement (UK)

"Because Lerner draws so freely from his own life, he is often grouped together with other writers of autofiction, like Karl Ove Knausgaard and Sheila Heti, which does his work a slight disservice. It ignores his real lineage, the great literature of passivity, failure and refusal: Melville's Bartleby, the novels of Robert Walser and László Krasznahorkai."
—Parul Seghal, The New York Times

"Lerner is a dazzlingly intelligent writer, and for anyone looking to understand contemporary America this tale of toxic masculinity, resentful outcasts, rigged high-school debates and political disaster is a good place to start."
--The Times (UK)

"[Lerner is] one of the most acclaimed writers in the English-speaking world . . . [The Topeka School] is not just a bildungsroman . . . but a polyphonic portrait of an entire community . . . Lerner can get away with writing so many books that are autofictional because a spirit speaks through him—because his language takes on a life of its own."
—Becca Rothfeld, The Wall Street Journal

"I dunno if Ben Lerner was reading a lot of Faulkner when he wrote The Topeka School or if he naturally shares some of that writer's fixations (clan, memory, language) and modes (doom-filled, funny, allusive), but either way: damn."
—Vulture (#1 Book of the Year)

"Absorbing . . . Despite the book's specificity in place and time—Kansas in the late 1990s—it is really America that is lying on the therapist's couch."
—Public Books

"With acute social insight into the crisis of toxic masculinity and deep psychological penetration into one Midwestern family, [The Topeka School] is the rare novel of ideas that never skimps on depth of feeling."
—Adrienne Westenfeld, Esquire

"In Lerner's work, an anticapitalist rhetoric indebted to critical theory is wedded to a lyricism that finds an eerie beauty in what it negates, like a black light . . . [The Topeka School] proves that Lerner, without sacrificing the idiosyncratic charms of his earlier books, can do more things with the novel form."
—Evan Kindley, The Nation

"Ben Lerner's The Topeka School is the best novel of the Donald Trump era thus far . . . Maybe the most remarkable thing about The Topeka School is the way it models this possibility by gathering together the apparently distant and unrelated—psychotherapy, high school debate, Kansan politics, concussions, the drama of a marriage—into a story that feels sincere and generous."
—Ryan Lackey, Slant

"Autofiction master Lerner (10:04) returns with his most expansive novel to date . . . Narration from the present-day and interludes hinting at a terrible tragedy add intrigue to this study of polarization and toxic masculinity."
—Entertainment Weekly

"This third novel from Lerner (Leaving the Atocha Station, 10:04) arrives laden with the kind of hype that can sink a story from the get-go ("the future of the novel is here"). And then the book itself—page by page, sentence by sentence—surmounts it . . . The onset of a coming, nameless dread is palpable—as is the sublime pleasure of Lerner's prodigious mastery of plot, style, and form.
—Corey Seymour, Vogue

"Awe-inspiring . . . Lerner has hit on something deep, and true, in the portrait of "debate" in this book . . . The beautiful recollections of childhood in The Topeka School allow for a Portrait of the Artist–type origin story."
—Mark Greif, Bookforum

"Provocative and illuminating, this is a story for your head and your heart to enjoy."
--SPY.com (12 Best Books of the Year)

"[An] essayistic and engrossing novel . . . Few writers are so deeply engaged as Lerner in how our interior selves are shaped by memory and consequence . . . Increasingly powerful and heartbreaking as the story moves on. Autofiction at its smartest and most effective: self-interested, self-interrogating, but never self-involved."
—Kirkus Reviews (Starred Review)

"Ben Lerner's forthcoming novel The Topeka School weaves a masterful narrative of the impact that mental illness, misogyny, homophobia, politics, and religion have on children who want to be men . . . It's rare to find a book that is simultaneously searing in its social critique and so lush in its prose that it verges on poetry."
—Nikki Shaner-Bradford, The Paris Review (Staff Pick)

"Ben Lerner is arguably the hottest novelist writing in America today, in complete control of
his ideas and his prose, and ambitious with both."
--The Telegraph (UK)

"The Topeka School is a kind of 21st-century The Sound and the Fury—a kaleidoscopic portrait that masterfully connects one family and its traumas to wider cultural dysfunction . . . Lerner's novel offers a compelling exploration of how we got here, an
d where we might go."
—Star Tribune

"The Topeka School is a novel of exhilarating intellectual inquiry, penetrating social insight, and deep psychological sensitivity. To the extent that we can speak of a future at present, I think the future of the novel is here."
—Sally Rooney, author of Normal People

"Ben Lerner has redefined what it means for a writer to inhabit an American present by showing how a family reckons with its past. Here the personal and political are masterfully interwoven. The Topeka School is brave, furious, and, finally, a work of love."
—Ocean Vuong, author of On Earth We're Briefly Gorgeous

"Ben Lerner is a masterful writer who destabilizes the very notion of what a novel can achieve by making it new at every turn. The Topeka School is not only a fiction for our times, but for the ages: insightful, humane, politically astute, and true."
—Hilton Als, author of White Girls

"In Ben Lerner's riveting third novel, Midwestern America in the late nineties becomes a powerful allegory of our troubled present. The Topeka School deftly explores how language not only reflects but is at the very center of our country's most insidious crises. In prose both richly textured and many-voiced, we track the inner lives of one white family's interconnected strengths and silences . . . This is Lerner's most essential and provocative creation yet."
—Claudia Rankine, author of Citizen: An American Lyric

"The Topeka School is what happens when one of the most discerning, ambitious, innovative, and timely writers of our day writes his most discerning, ambitious, innovative and timely novel to date. It's a complete pleasure to read Lerner experimenting with other minds and times, to watch his already profound talent blooming into new subjects, landscapes, and capacities. This book is a prehistory of a deeply disturbing national moment, but it's written with the kind of intelligence, insight, and searching that makes one feel well-accompanied and, in the final hour, deeply inspired."
—Maggie Nelson, author of The Argonauts

"Ben Lerner is a brilliant novelist, unafraid to make of the novel something truly new . . . He is one of my favorite living writers."
—Rachel Kushner, author of The Flamethrowers

Praise for 10:04

"Reading Ben Lerner gives me the tingle at the base of my spine that happens whenever I encounter a writer of true originality. He is a courageous, immensely intelligent artist who panders to no one and yet is a delight to read." —Jeffrey Eugenides, author of The Marriage Plot

"Just how many singular reading experiences can one novelist serve up? . . . 10:04 is a mind–blowing book … Strange and spectacular." —Maureen Corrigan, NPR's Fresh Air

"This is a book that belongs to the future." —Giles Harvey, The New York Review of Books

"[Lerner's] concerns wrap around the modern moment with terrifying rightness . . . 10:04 describes what it feels like to be alive." —John Freeman, The Boston Globe

"Mr. Lerner is among the most interesting young American novelists at present . . . We come to relish seeing the world through [the narrator's] eyes." —Dwight Garner, The New York Times

"Ingenious . . . This brain-tickling book imbues real experiences with a feeling of artistic possibility, leaving the observable world 'a little changed, a little charged.'" —Sam Sacks, The Wall Street Journal
Picador, 9781250758002, 304pp.
Publication Date: September 29, 2020
About the Author
Ben Lerner was born in Topeka, Kansas, in 1979. He has received fellowships from the Fulbright, Guggenheim, Howard, and MacArthur Foundations. His first novel, Leaving the Atocha Station, won the 2012 Believer Book Award, and excerpts from 10:04 have been awarded The Paris Review's Terry Southern Prize. He has published three poetry collections: The Lichtenberg Figures, Angle of Yaw (a finalist for the National Book Award for Poetry), and Mean Free Path. Lerner is a professor of English at Brooklyn College.