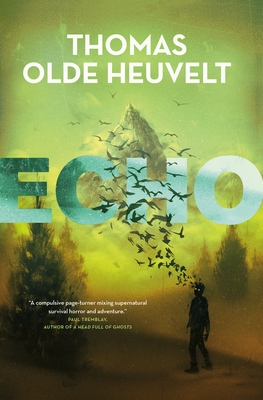 Echo
Paperback

* Individual store prices may vary.
Other Editions of This Title:
Digital Audiobook (2/7/2022)
Hardcover (2/8/2022)
Description
From international bestselling sensation Thomas Olde Heuvelt comes Echo, a thrilling descent into madness and obsession as one man confronts nature—and something even more ancient and evil answers back.

"A compulsive page-turner mixing supernatural survival horror and adventure." —Paul Tremblay, author of A Head Full of Ghosts and The Pallbearers' Club

Nature is calling—but they shouldn't have answered.

Travel journalist and mountaineer Nick Grevers awakes from a coma to find that his climbing buddy, Augustin, is missing and presumed dead. Nick's own injuries are as extensive as they are horrifying. His face wrapped in bandages and unable to speak, Nick claims amnesia—but he remembers everything.

He remembers how he and Augustin were mysteriously drawn to the Maudit, a remote and scarcely documented peak in the Swiss Alps.

He remembers how the slopes of Maudit were eerily quiet, and how, when they entered its valley, they got the ominous sense that they were not alone.

He remembers: something was waiting for them...

But it isn't just the memory of the accident that haunts Nick. Something has awakened inside of him, something that endangers the lives of everyone around him…

It's one thing to lose your life. It's another to lose your soul.

Also by Thomas Olde Heuvelt
Hex
Praise For Echo…
Praise for Echo:

"Echo is horrific, poignant, creepy, brilliantly written—expect to see it on bestseller lists and year's end best lists, and hopefully awards consideration. Don't sleep on this one."—Jeff VanderMeer

"Hallucinatory, eerie and terrifying, Echo is an engine of menace, an icicle in your heart. I've rarely been so frightened, and yet so transported by a book. It left me breathless" —Catriona Ward, author of The Last House on Needless Street

"The long-awaited new novel from the Dutch author of Hex is an ambitious, capacious work [...] containing everything from psychological suspense to cosmic horror. With moments of wonder as well as terror, it looks likely to be one of the highlights of this year's horror scene."—The Guardian

"Uniquely terrifying… It's rare to find a horror novel that's genuinely hair-raising, but every chapter here introduces some new nightmarish detail that'll push you to switch on every light in your home." —SFX Magazine

"Chilling, stealthy, horrendous, Echo grips like an ice-pick and chills like a glacier."—The Daily Mail

"Echo is a haunting contribution to the literature of folk horror, and its scenes in the monstrous mountains convey a sense of uncanny dread that rises through terror towards awe. Few writers in our field have scaled such heights." —Ramsey Campbell

"[Olde Heuvelt's] smart tale... creates a moving narrative that stops just short of going over the top. Horror fans will be thrilled." —Publishers Weekly

"Echo straddles the intimate and the epic in a magical realist nightmare of love, loyalty, chills, and dread, along with a couple of genuine 'Holy Sh*t' moments you'll never see coming. Another winner for Thomas Olde Heuvelt!" —Christopher Golden, New York Times bestselling author of Road of Bones and Ararat

"A tale at once both grand and intimate, and every bit as dark as the mountain at its heart, Echo chills and heats the blood into a frenzy. Over and over, I read it late into the night, and so will you." —Andy Davidson, author of The Boatman's Daughter

"Echo is a compulsive page-turner mixing supernatural survival horror and adventure. You'll be happily rooted to your reading chair, safe (maybe) from the shadow of the Maudit." —Paul Tremblay, author of A Head Full of Ghosts and The Pallbearers' Club

"Thomas Olde Heuvelt is a literary showman, proudly naming and displaying his influences before blending them into something unique and new. Echo is a heartbreaking, intimate, and genuinely frightening epic." —Shaun Hamill, author of A Cosmology of Monsters

"Thomas Olde Heuvelt has outdone himself with Echo. The climbing sequences are Jon Krakauer-esque, and the narrative evokes the terror of a vintage Dan Simmons or Peter Straub novel. Thrilling, horrifying, supremely confident storytelling." —Nick Cutter

"Can a place—say a mountain or a glen—be evil? Thomas Olde Heuvelt's long-awaited second novel Echo delivers an emphatic 'Yes!' on a breath of icy air. His deft prose will have you absolutely frigid, sitting up straight and hearing every squeak in the house…and savoring every delicious frozen shiver." —John F.D. Taff, multiple Bram Stoker Award-nominated author of The Fearing and editor of Dark Stars.

"I just scaled Mt. Olde Heuvelt and let me tell you, the view up here is absolutely terrifying. Reading Echo caused me vertigo. The sense of dread inspired by this breathtaking novel -- the dread of something monstrous wearing the face of someone we love -- reaches so deep, I can still feel the lingering chill in my bones well after putting the book down" —Clay McLeod Chapman

"Echo by Thomas Olde Heuvelt is the kind of queer love story I've wanted to read all my life. It's terrifying and wild--not wild as it's colloquially used, but massive and untame and beyond the borders of the map. Like all the best horror, it will break your heart." —Lindsay King-Miller, author of Ask A Queer Chick

"There's some amazing horror fiction being written today, and Thomas Olde Heuvelt is at the forefront. As well as being a compulsively readable scary story, Echo is an exploration of love, vanity, and desire. A milestone novel from an important writer." —Billy Martin

Praise for Hex:

"Hidden tensions and human weakness trigger a witch-hunt that boils over into persecution, scapegoating and a shocking denouement. A powerfully spooky piece of writing." —Financial Times

"Equal parts Stephen King and The Cabin in the Woods, Thomas Olde Heuvelt's novel is a pop page-turner with an intriguingly weird ambience . . . a funny, surprising and eerie novel." —SFX Magazine

"An entertaining read with a chilling concept. Not for the faint hearted." —Brave New Words

"Truly absorbing and keeps you locked into the horrifying events as they unfold." —Fantasy Book Review

"Olde Heuvelt offers up a truly terrifying parable about mankind's depravity and the depths of evil of which we are capable. The story is not merely unsettling, it is horrifying" —Kirkus Reviews
Tor Nightfire, 9781250759566, 416pp.
Publication Date: January 17, 2023
About the Author
Thomas Olde Heuvelt (1983) is the international bestselling author of HEX. The lauded novel was published in over twenty-five countries around the world and is currently in development for TV by Gary Dauberman and James Wan. Olde Heuvelt, whose last name in Dutch dialect means "Old Hill," was the first ever translated author to win a Hugo Award for his short fiction. He lives in The Netherlands and the south of France and is an avid mountaineer.