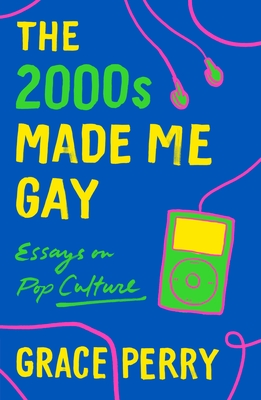 The 2000s Made Me Gay
Essays on Pop Culture
Paperback

* Individual store prices may vary.
Description
From The Onion and Reductress contributor, this collection of essays is a hilarious nostalgic trip through beloved 2000s media, interweaving cultural criticism and personal narrative to examine how a very straight decade forged a very queer woman

A Lambda Literary Award Finalist

"Honest, funny, smart, and illuminating." —Anna Drezen, co-head writer of SNL

"If you came of age at the intersection of Mean Girls and The L Word: Read this book." —Sarah Pappalardo, editor in chief and co-founder of Reductress

Today's gay youth have dozens of queer peer heroes, both fictional and real, but former gay teenager Grace Perry did not have that luxury. Instead, she had to search for queerness in the (largely straight) teen cultural phenomena the aughts had to offer: in Lindsay Lohan's fall from grace, Gossip Girl, Katy Perry's "I Kissed A Girl," country-era Taylor Swift, and Seth Cohen jumping on a coffee cart. And, for better or worse, these touch points shaped her adult identity. She came out on the other side like many millennials did: in her words, gay as hell.

Throw on your Von Dutch hats and join Grace on a journey back through the pop culture moments of the aughts, before the cataclysmic shift in LGBTQ representation and acceptance—a time not so long ago, which many seem to forget.
Praise For The 2000s Made Me Gay: Essays on Pop Culture…
"Laugh-out-loud… Perry's casual, off-the-cuff charm and astute analyses mark her as a talented new voice." —Publishers Weekly

"Millennials grew up in such a chaotic cultural moment but it all seemed inevitable and normal because we had nothing to compare it to, and Grace's witty and honest book helped me appreciate just how uniquely bizarre a time it was. It's mind-blowing to see that I wasn't the only weird teen girl who did the weird teen girl things I did. It's fun to look back with her guidance. Her writing is so honest, funny, smart, and illuminating." —Anna Drezen, co-head writer of SNL, author of How May We Hate You?

"It's easy now, in hindsight, to conceive of early-aughts American pop culture as trashy, and unenlightened, and it definitely sometimes was, but with The 2000s Made Me Gay, Grace Perry reexamines the decade's offerings and identifies what made them so compelling and so fun—and yes, so gay. Tender, funny, and as bingeable as its source material." —Katie Heaney, writer for The Cut, and author of Girl Crushed

"In The 2000s Made Me Gay, Grace Perry explores how the pop culture she loved growing up helped shape her sense of identity. The resulting essays are funny, tender, and wise. Perry's book satisfyingly taps into aughts nostalgia, but also transcends it—as she goes deep on Millennial touchstones like The O.C., Lindsay Lohan, and Glee, she simultaneously explores universal questions for every generation: How do I know who I am? And how can I show the world who I am?" —Kate Knibbs, Wired

"Grace draws hilarious comparisons between the barely concealed gayness of 2000s culture and her own journey of self-discovery. From Grey's to Gossip Girl, this is the gay historical record that millennials need." —Beth Newell, creator of Reductress

"The 2000s Made Me Gay is a gay hike through the media that shaped my little gay life, revisiting all of the big questions of my adolescence (Do I want to f*ck her, or be her?) via every dusty DVD I quietly watched in various finished basements in 2003. If you came of age at the intersection of Mean Girls and The L Word: Read this book." —Sarah Pappalardo, editor in chief and co-founder of Reductress and author of How to Win at Feminism

"Grace Perry's debut essay collection is the peak of pop-culture–peppered Millennial reflection. For anyone who recalls the special romance of G-chatting a new love until dawn, or whose "Team Seth" stance during The O.C.'s run was life-defining, this masterful first book will cut deep." —Joel Meares, editor in chief of Rotten Tomatoes, author of We're All Going to Die (Especially Me)

"It's not just that Grace Perry is hilarious—she's also incredibly particular, and dynamic, and so keen an observer of this demented world. This book is a searchlight. Her essays will explain you to you." —Claire Luchette, 2020 Pushcart Prize winner and author of Agatha of Little Neon

"It's impossible to resist the pull of [Perry's] prose and the ease of her humor; Perry specializes in the kind of writing that makes you feel like you've known her for years. [W]hip-smart...hilarious and sneakily thought-provoking, The 2000s Made Me Gay is a compelling collection of essays that seamlessly weaves together pop culture references and tales from Perry's sexual own awakening." —Morgan Olsen, editor in chief of Time Out Chicago

"A humorous and reflective journey of self-discovery via pop culture." —Kirkus

"Throughout, Perry maintains a levity about what she's discussing, but the topics are substantive, and the critiques well-considered." —Freshfruit magazine
St. Martin's Griffin, 9781250760142, 256pp.
Publication Date: June 1, 2021
About the Author
GRACE PERRY's work has been published in a variety of outlets, including The New Yorker, New York magazine's The Cut, BuzzFeed, Outside, and Eater. She is also a longtime, regular contributor to The Onion and the feminist satire site Reductress. Most of her work, comedy and journalism alike, interrogates the intersection of queerness, pop culture and the internet. She lives in LA.