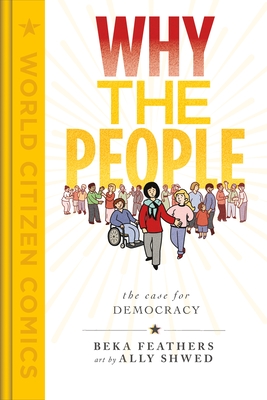 Why the People
The Case for Democracy (World Citizen Comics)
Hardcover

* Individual store prices may vary.
Description
This witty and well-argued graphic novel is a must-have for anyone wanting to learn what power "we the people" actually have in a democracy.

Why the people?
Is democracy actually the best form of government? Does it ever work like it's supposed to?
Join Lin and Julie in the middle of an airport, as they wonder aloud how America can ever be a democracy when citizens seem to disagree about everything. With them, we are whisked through political history, and journey through different systems of power, including monarchy, theocracy, dictatorship and oligarchy.
Beka Feathers and Ally Shwed shine a bright light on power, justice, and the promise of true democracy.
Praise For Why the People: The Case for Democracy (World Citizen Comics)…
"Readers within sight of voting age will come away with lots of useful tools and perspectives."—School Library Journal

"A buoyant but clear-eyed addition to this useful series." —Publisher's Weekly

First Second, 9781250760708, 272pp.
Publication Date: June 14, 2022
About the Author
Beka Feathers is a legal adviser on political development in conflict-affected states. Her writing is influenced by her work with clients and partners in more than a dozen countries, where she has helped to draft constitutions, design transitional governments, facilitate peace processes, and advocate for improved access to justice. She is a proud alumna of Lewis & Clark College, the Fletcher School of Law & Diplomacy, and American University's Washington College of Law. She lives with her talented, pun-loving wife and a suspiciously intelligent dog in Portland, Oregon.

Ally Shwed is a cartoonist, writer, and editor, originally from Linden, New Jersey. She received her Master of Fine Arts degree in Sequential Art from the Savannah College of Art & Design and has worked with The Boston Globe, Topic, Jezebel, and The Intercept. She regularly contributes to the comics journalism website The Nib and is the editor-in-chief of Little Red Bird Press, a comics publisher and printmaking studio. She currently lives in Belmar, New Jersey with her partner, cartoonist Gerardo Alba, and their cats, Egon and Schneider.