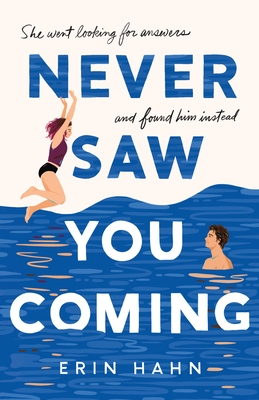 Never Saw You Coming
A Novel
Hardcover

* Individual store prices may vary.
Description
"BOLD. IMPORTANT. BEAUTIFUL." - Laura Taylor Namey, New York Times bestselling author of A Cuban Girl's Guide to Tea and Tomorrow

In Erin Hahn's Never Saw You Coming, sometimes it takes a leap of faith to find yourself.

Eighteen-year-old Meg Hennessey just found out her entire childhood was a lie. So instead of taking a gap year before college to find herself, she ends up traveling north to meet what's left of the family she never knew existed - all while questioning the ideals she grew up with.

While there, she meets Micah Allen, a former pastor's kid whose dad ended up in prison, leaving Micah with his own complicated relationship with faith. The clock is ticking on his probation hearing and Micah, now 19, feels the pressure to forgive - even when he can't possibly forget.

As Meg and Micah grow closer, they are confronted with the heavy flutterings of first love and all the complications it brings. Together, they must navigate the sometimes-painful process of cutting ties with childhood beliefs as they build toward something truer and straight from the heart.

"Heartfelt and utterly genuine… I already want to reread it." - Erin A. Craig, New York Times bestselling author of Small Favors
Praise For Never Saw You Coming: A Novel…
A 2022 MICHIGAN NOTABLE BOOK

"I've always loved Erin's books, but there is something extra special about this one." - BUZZFEED, "40 YA Contemporary Books We're Highly Anticipating in 2021"

"A well-done, engaging read that can serve young people grappling with their faith. Highly recommended." - SCHOOL LIBRARY JOURNAL

"I love it when YA novels aren't afraid to dig into the painful parts of religion, so I can't wait for this new romance from Erin Hahn." - YOUNG FOLKS, "Most Anticipated Reads of 2021"

"A powerful coming-of-age story about growing in faith and self-awareness." - KIRKUS REVIEWS

CULTURESS, "21 exciting YA book releases we can't wait to read in Fall 2021"

"Heartfelt and utterly genuine, Never Saw You Coming hit my soul in all the best ways. This is an important story to be told and Hahn's words resonate with truth and sparkle with her brilliant wit. I already want to reread it." - ERIN A. CRAIG, New York Times bestselling author of Small Favors and House of Salt and Sorrows

"This is the purity culture-smashing book I needed as a teen. With clear respect for genuine faith, Hahn eviscerates the Church that emphasizes judgment before love. Never Saw You Coming somehow manages to be both sex-positive and faith-positive, and will be a balm to the bruised souls of so many readers." - JOY McCULLOUGH, author of Blood Water Paint

"[A] love letter to the disillusioned youth group kid. And to every reader seeking to explore the ideas and truths separating faith from religion. Bold. Important. Beautiful." - LAURA TAYLOR NAMEY, New York Times bestselling author of A Cuban Girl's Guide to Tea and Tomorrow (A Reese Witherspoon x Hello Sunshine Book Club YA Pick)

"Erin Hahn's Never Saw You Coming is a balm of comfort. Readers will fall in love with the refreshing honesty of Meg and Micah, two teens who are heartbreakingly genuine in their struggles as they navigate questioning religion, faith, hypocrisy, and the true meaning of love and forgiveness. With her familiar humor and extraordinary prose, Hahn has created a world in which readers are invited to be still and know that they are more than enough just as they are. No conditions. No exceptions." - ASHLEY SCHUMACHER, author of Amelia Unabridged

"[A] gorgeous contemporary that touches on faith and family and the ways others may twist them into something unrecognizable. The love story within is not only immensely sweet, but also serves for both characters as a way to be understood and respected. It's magnificent." - RACHEL STROLLE, Teen Services Coordinator, Glenside Public Library District

Wednesday Books, 9781250761248, 320pp.
Publication Date: September 7, 2021
About the Author
ERIN HAHN is the author of You'd Be Mine, More Than Maybe, and Never Saw You Coming. She married her very own YA love interest, who she met on her first day of college, and has two kids who are much, much cooler than she ever was at their age. She lives in Ann Arbor, Michigan, a.k.a. the greenest place on earth, and has a cat named Gus who plays fetch and a dog named June who doesn't.