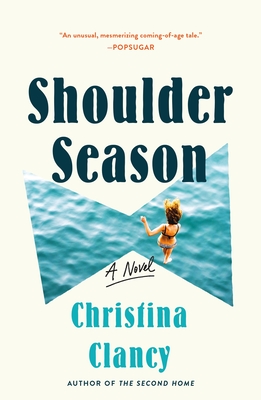 Shoulder Season
A Novel
Paperback

* Individual store prices may vary.
Other Editions of This Title:
Digital Audiobook (7/5/2021)
Hardcover (7/6/2021)
CD-Audio (7/6/2021)
Description
Named a Best Book of Summer by Good Morning America • CNN • Parade • EW • Travel & Leisure • PopSugar • New York Post • BuzzFeed • Brit & Co • SheReads • Women.com

A dazzling portrait of a young woman coming into her own, the youthful allure of sex, drugs, and rock and roll, and what we lose—and gain—when we leave home.

ONCE IN A LIFETIME, YOU CAN HAVE THE TIME OF YOUR LIFE

The small town of Lake Geneva, Wisconsin is an unlikely location for a Playboy Resort, and nineteen-year old Sherri Taylor is an unlikely bunny. Growing up in neighboring East Troy, Sherri plays the organ at the local church and has never felt comfortable in her own skin. But when her parents die in quick succession, she leaves the only home she's ever known for the chance to be part of a glamorous slice of history. In the winter of 1981, in a costume two sizes too small, her toes pinched by stilettos, Sherri joins the daughters of dairy farmers and factory workers for the defining experience of her life.

Living in the "bunny hutch"—Playboy's version of a college dorm—Sherri gets her education in the joys of sisterhood, the thrill of financial independence, the magic of first love, and the heady effects of sex, drugs, and rock and roll. But as spring gives way to summer, Sherri finds herself caught in a romantic triangle—and the tragedy that ensues will haunt her for the next forty years.

From the Midwestern prairie to the California desert, from Wisconsin lakes to the Pacific Ocean, this is a story of what happens when small town life is sprinkled with stardust, and what we lose—and gain—when we leave home. With a heroine to root for and a narrative to get lost in, Christina Clancy's Shoulder Season is a sexy, evocative tale, drenched in longing and desire, that captures a fleeting moment in American history with nostalgia and heart.
Praise For Shoulder Season: A Novel…
Praise for Shoulder Season:

"Don't head for the beach, pool or lake without this glamorous new read tucked in your tote bag."
—CNN

"An unusual but mesmerizing coming of age tale"
––PopSugar

"A perfect beach read."
––Buzzfeed

"A burst of heady independence and excitement [that] develops into a love triangle with tragic results."
––New York Post

"A striking portrayal of a glamorous piece of history."
––SheKnows.com

"A story filled with tension, excitement, love, indulgence, tragedy, and redemption...Clancy doesn't disappoint."
––Provincetown Banner

"A rare glimpse into an unexamined world."
––Madison Magazine

"Shoulder Season is a triumph of heart, of courage, and of resilience, and a message that the tragedies that spark our journeys don't decide their endings. I loved it."
––J. Ryan Stradal, bestselling author of The Lager Queen of Minnesota

"Shoulder Season shines a bright light on a neglected moment in history and tells a coming-of-age story I've truly never read before. In Sherri, Clancy rescues the Playboy Bunny from ridicule and illuminates her inner life with all of the richness and complexity she deserves."
––Lauren Fox, New York Times bestselling author of Send For Me

"I adored the story of Sherri, an unlikely Playboy Bunny, and her wild and poignant adventures inside the Lake Geneva Playboy Resort. Both a tender coming of age novel and a sun-drenched ride, Shoulder Season is an absolute pleasure."
––Amanda Eyre Ward, New York Times bestselling author of The Jetsetters

"Shoulder Season is a delight. Briskly plotted, the book moves like a river through time, sweeping the reader along for an unexpected, humorous, and surprising journey of friendship, exploration, and discovery."
––Nickolas Butler, bestselling author of Shotgun Lovesongs

"With literary flair and great empathy, Clancy chronicles the exhilaration and disillusionment of a small-town girl who takes a job as a Bunny during the waning days of Wisconsin's Playboy Resort. Seamlessly researched and beautifully written, Shoulder Season vividly evokes a uniquely 1980s kind of glamour that's almost inconceivable today. Clancy's story of a young woman's difficult road to independence hums with contemporary resonance. Clancy is a gifted storyteller, and Shoulder Season is a riveting tale of ambition, romance, friendship, heartbreak and hope."
––Karen Dukess, author of The Last Book Party

"Shoulder Season is a beautifully-written, thrilling, heartbreaking story of a bumpy coming of age. A page-turner full of twists and surprises, Bunnies and bad boyfriends, and lasting sisterhood found in unexpected places. I loved it."
––Julia Claiborne Johnson, bestselling author of Be Frank With Me

"I tore through this vibrant coming-of-age tale of small-town girls seduced by a new life of sex and glitter just miles from their quiet Wisconsin towns. Clancy's vulnerable characters come roaring to life in full eighties glamour, before spiraling toward a central tragedy that will define their adult lives and the very definition of home."
––Steven Rowley, bestselling author of Lily and the Octopus

"Expertly researched and flawlessly executed, Shoulder Season has a bit of everything: adventure and excess; love and heartbreak; shocking tragedy. You'll start reading for the wild ride of the Playboy Resort but stay for Sherri, the complex protagonist at the heart of this exquisite novel. Clancy is a master of place, rendering Wisconsin so vividly that I'm homesick for somewhere I've never been. I'll be thinking about this novel for a long time."
––Amy Meyerson, author of The Imperfects
St. Martin's Griffin, 9781250761507, 336pp.
Publication Date: July 12, 2022
About the Author
CHRISTINA CLANCY is the author of The Second Home. Her writing has appeared in the New York Times, The Washington Post, The Chicago Tribune, The Sun Magazine and in various literary journals, including Glimmer Train, Pleiades and Hobart. She holds a PhD in Creative Writing from the University of Wisconsin-Milwaukee, and lives in Madison, WI with her family.