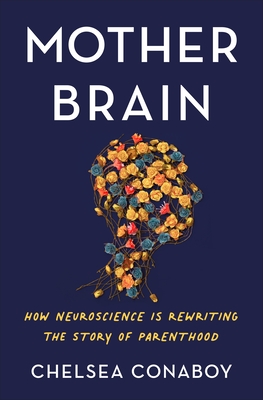 Mother Brain
How Neuroscience Is Rewriting the Story of Parenthood
Hardcover

* Individual store prices may vary.
Description
Health and science journalist Chelsea Conaboy explodes the concept of "maternal instinct" and tells a new story about what it means to become a parent.

Conaboy expected things to change with the birth of her child. What she didn't expect was how different she would feel. But she would soon discover what was behind this: her changing brain. Though Conaboy was prepared for the endless dirty diapers, the sleepless nights, and the joy of holding her newborn, she did not anticipate this shift in self, as deep as it was disorienting. Mother Brain is a groundbreaking exploration of the parental brain that untangles insidious myths from complicated realities.

New parents undergo major structural and functional brain changes, driven by hormones and the deluge of stimuli a baby provides. These neurobiological changes help all parents—birthing or otherwise—adapt in those intense first days and prepare for a long period of learning how to meet their child's needs. Pregnancy produces such significant changes in brain anatomy that researchers can easily sort those who have had one from those who haven't. And all highly involved parents, no matter their path to parenthood, develop similar caregiving circuitry. Yet this emerging science, which provides key insights into the wide-ranging experience of parenthood, from its larger role in shaping human nature to the intensity of our individual emotions, is mostly absent from the public conversation about parenthood.

The story that exists in the science today is far more meaningful than the idea that mothers spring into being by instinct. Weaving the latest neuroscience and social psychology together with new reporting, Conaboy reveals unexpected upsides, generations of scientific neglect, and a powerful new narrative of parenthood.
Praise For Mother Brain: How Neuroscience Is Rewriting the Story of Parenthood…
"[Conaboy] deploys her journalistic skill to bring this complex subject to a readable level…Conaboy's book isn't a parenting manual but rather a work of pop science jam-packed with neurobiological research; it's both fascinating and surprisingly readable…Highly recommended."
—Library Journal, *starred review*

"[A]n engaging book debut…The author deftly translates scientific studies—by neurobiologists, anthropologists, primatologists, psychologists, and endocrinologists, among others—into accessible prose that speaks to needs and anxieties that many parents share."
—Kirkus Reviews

"I learned so much from Mother Brain—about neuroscience, yes. But also about pernicious mythmaking, and the vast chasm between the reductive, sexist lines we're sold about motherhood versus the science and stories of how families are actually made, how brains and hearts and bodies are transformed by pregnancy and parenthood. Chelsea Conaboy has written a generous, engaging, deeply researched book that will change the way you think about your own parents, your children, and yourself."
—Rebecca Traister, author of Good and Mad

"Mother Brain captivated me from page one. Chelsea Conaboy fearlessly pours herself into the silence surrounding the open secret of mothering and caregiving—how we are profoundly remade by it, in both beautiful and destabilizing ways."
—Angela Garbes, author of Essential Labor and Like a Mother

"Conaboy's fearlessly researched and deeply empathetic Mother Brain blew my mind, and I don't mean that just figuratively. Every page pruned away sexist, guilt-inducing assumptions about the 'maternal instinct,' wiring me up for new growth as a parent and a feminist. Even as Conaboy dissects complicated studies and points out what's still missing, there is so much wonder and hope (and humor!) here. If every new parent, boss, and lawmaker read this book, I swear, we would make a century of progress overnight."
—Lauren Smith Brody, author of The Fifth Trimester

"Part memoir, part scientific sleuthing, Mother Brain is storytelling at its very best. This book is deeply engrossing, not only because it untangles so many mysteries, but because it helps us reframe what we thought we already knew – about motherhood, about parenting, about ourselves. This book is a game-changer."
—Amy Ellis Nutt, Pulitzer Prize-winning journalist and author of The Teenage Brain and Becoming Nicole

"Chelsea Conaboy shines a bright light on the truth of parenthood, and the way it changes us. Mother Brain is a book about neuroscience—but it's also, ultimately, a book about the mysteries of the human heart: how we become ourselves, and how we are transformed by the mysteries of pregnancy, birth, and childrearing. A book for anyone raising a child, or who ever was one. Mother Brain is insightful, generous, and wise."
—Jennifer Finney Boylan, author of She's Not There: A Life in Two Genders and Good Boy

"Becoming a parent often comes with an influx of overwhelming feelings, and beliefs that result in guilt and shame. Conaboy dissects the research of what is truly going on inside our brains through storytelling to help us remove the unrealistic parenting expectations and get true support."
—Eve Rodsky, New York Times bestselling author of Fair Play and Find Your Unicorn Space

"Chelsea Conaboy's Mother Brain takes direct aim at the damaging and false narratives of morality and biology that have shaped our thinking about women and mothers for centuries. In a book that is both fascinating and relatable, Conaboy shows how emerging science is disrupting hide-bound notions of a 'maternal instinct.' A must-read not only for parents and caregivers, but for the policymakers and organizational leaders who have far to go to create the kind of world where caregivers can thrive."
—Brigid Schulte, New York Times bestselling author of Overwhelmed: Work, Love & Play When No One has the Time

"Mother Brain uses science to confirm a truth known to adoptive and other non-gestational parents: becoming a parent rewires our brains to love and care for children, just like biological parents. This physiological change anchors us to our children and makes space for society to see us as real parents. Thank you, Chelsea Conaboy, for including our mother brain in your tome about parenthood."
—Nefertiti Austin, author of Motherhood So White
Henry Holt and Co., 9781250762283, 368pp.
Publication Date: September 13, 2022
About the Author
Chelsea Conaboy is a journalist specializing in personal and public health. She was part of the Boston Globe's Pulitzer prize–winning team for coverage of the Boston Marathon bombing and more recently has worked as a magazine writer with bylines at Mother Jones, Politico, The Week, the Boston Globe Magazine, and others. She lives in Maine with her husband, their two young sons, and her own changing maternal brain.