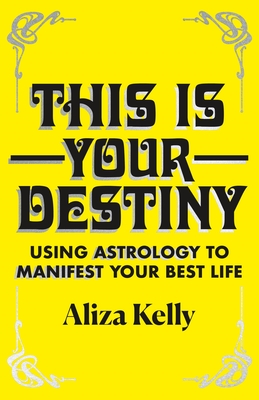 This Is Your Destiny
Using Astrology to Manifest Your Best Life
Hardcover

* Individual store prices may vary.
Description
Your best life is written in the stars

You may know what astrology is – but what does it actually do? Why is it so effective, and how can it be used as a tool for manifestation?

These are the questions Aliza Kelly answers in This Is Your Destiny. Elevating astrology from horoscopes to self-actualization, Aliza goes beyond the zodiac, illuminating the universe within.

As a rising star in modern spirituality, Aliza shares the wisdom of her extensive private practice, synthesizing thousands of one-on-one client sessions, intimate stories from her personal journey, and esoteric mystical knowledge to inspire readers through hands-on exercises, radical techniques, and groundbreaking insight.

Whether you're a seasoned stargazer or just beginning your cosmic journey, This Is Your Destiny will invigorate you through timeless insight delivered with soul, humor, and compassion.
Praise For This Is Your Destiny: Using Astrology to Manifest Your Best Life…
"Aliza Kelly is an incredibly comprehensive astrologer. Through this book, she has created something that is not only exploratory and introspective, but also useful, generative, and proactive. I will recommend it to anyone who wants to get their shit together." -Courtney Perkins, Creator of @NotAllGeminis

"Aliza Kelly has masterfully captured the mystery and wonder of astrology as a tool for manifestation, and made it practical for your everyday life." —Jerico Mandybur, author of Neo Tarot: A Fresh Approach to Self-Care, Healing & Empowerment and Daily Oracle: Seek Answers from Your Higher Self

"With her iconic wit, depth and vulnerability, Aliza has offered a thought-provoking guide to finding empowerment through astrology, mysticism and magick. Effortlessly weaving together personal narratives alongside firsthand experiences through her thousands of client readings, Aliza gives readers the gift of creating their destiny in a way that feels tangible, attainable and inspiring." —Gabriela Herstik, author of Inner Witch, Bewitching the Elements and Embody Your Magick

"If astrology is a language to help you understand yourself and the world around you, Aliza is its ultimate translator—insightful and full of heart." —Jessica Pels, Editor-in-Chief, Cosmopolitan

"Tapping her (Leo) gift for storytelling, Aliza Kelly brings astrology alive through real narratives mixed with practical exercises (a nod to her Capricorn rising). Not your typical astrology book, Create Your Destiny reveals the ways we can apply the stars to our relationships, finances and daily decisions, relevant to the world we live in now." — Ophira Edut, The AstroTwins, author of The Astrotwins' Love Zodiac: The Essential Astrology Guide For Women and Momstrology: The Astrotwins' Guide to Parenting Your Little One By the Stars

"Aliza Kelly has made working with astrology on your life journey digestible, & do-able regardless of your level of understanding. Empowering the reader on the road to their destiny." —Emilia Ortiz
St. Martin's Essentials, 9781250763143, 272pp.
Publication Date: September 28, 2021
About the Author
Referred to as a "rising star" in modern spirituality, ALIZA KELLY has been featured in The New York Times, The New Yorker, and Vogue, and on The Cut, among many others. Along with Will Arnett, she was the producer and consulting astrologer behind the top-rated show Your Daily Horoscope. She's appeared on the The Drew Barrymore Show, E! Close Up, and The Today Show and is the resident astrologer of Cosmopolitan. She lives in New York City.
or
Not Currently Available for Direct Purchase