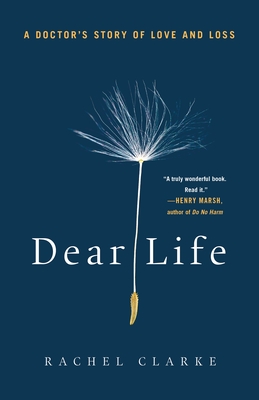 Dear Life
A Doctor's Story of Love and Loss
Hardcover

* Individual store prices may vary.
Description
In Dear Life, palliative care specialist Dr. Rachel Clarke recounts her professional and personal journey to understand not the end of life, but life at its end.

Death was conspicuously absent during Rachel's medical training. Instead, her education focused entirely on learning to save lives, and was left wanting when it came to helping patients and their families face death. She came to specialize in palliative medicine because it is the one specialty in which the quality, not quantity of life truly matters.

In the same year she started to work in a hospice, Rachel was forced to face tragedy in her own life when her father was diagnosed with terminal cancer. He'd inspired her to become a doctor, and the stories he had told her as a child proved formative when it came to deciding what sort of medicine she would practice. But for all her professional exposure to dying, she remained a grieving daughter.

Dear Life follows how Rachel came to understand—as a child, as a doctor, as a human being—how best to help patients in the final stages of life, and what that might mean in practice.
Praise For Dear Life: A Doctor's Story of Love and Loss…
"A truly wonderful book. Read it." —Henry Marsh, author of Do No Harm

"Though a new medical memoir seems to come along every five minutes just now, this one is special." —The Guardian

"Moving, funny and compulsively readable, it's part love letter, part lament to a great ideal that [Clarke] believes is being starved of the resources it needs to thrive." —The Sunday Times

"[Clarke's] intention is not to be maudlin or sensationalist. Rather, what she wants us to grasp is that we have nothing to fear about reaching the end of our lives. It's not just that a skilled hospice doctor will know exactly how to administer the right amount of morphine – just enough to ease the physical pain, not enough to fog the intellect – but she will understand the emotional and spiritual needs of her patients too." —The Daily Mail

"Though a new medical memoir seems to come along every five minutes just now, this one is special. Clarke, a doctor who works in palliative medicine, [...] has written a book, beautiful and blessedly un-mawkish, about her experiences. Among its pages are true horrors for those involved, but also a numinous beauty. Her words are brimful of love, grace and kindness – and by being so, put the place where this piece began firmly in perspective." —The Observer

"A memoir about caring for people on the edge of death. Though indisputably a time of sorrow, Clarke tries to show that in the face of death can be found the things that really matter in life, including the strength and compassion of which we are all capable." —BBC

"A truly moving medical memoir. Clarke writes so movingly about what it means to face death, the grief that gets left behind and how hospices do such vital work in allowing people to die being looked after and surrounded by the people they love." —Stylist

"A magnificent, tender book. The book should also be essential reading for anyone who cares about our beleaguered health system. Clarke powerfully conveys the battering the NHS has endured over the past decade of austerity, neglect that has resulted in overcrowded hospitals and the rise of "Corridor Medicine"." —The Independent

"Warm and empathetic account affirms that a hospice is all about life, not death." —Financial Times

Thomas Dunne Books, 9781250764515, 336pp.
Publication Date: September 1, 2020
About the Author
RACHEL CLARKE is a current NHS doctor and former television journalist who cares passionately about standing up for her patients and the NHS. She now works in palliative medicine, believing that helping patients at the end of life experience the best quality life possible is priceless. Rachel lives in Oxford with her husband and two children.