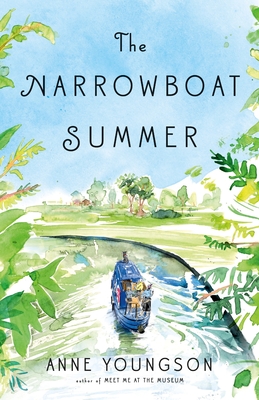 The Narrowboat Summer
Hardcover

* Individual store prices may vary.
Other Editions of This Title:
Digital Audiobook (1/25/2021)
Library Binding, Large Print (7/28/2021)
CD-Audio (1/26/2021)
Paperback (1/25/2022)
Description
"Lovely...Another heartening story about the possibility of striking out in a new direction at any age. It is also a soothing read, especially welcome in these anxious times." —Christian Science Monitor

From the author of Meet Me at the Museum, a charming novel of second chances, about three women, one dog, and the narrowboat that brings them together

Eve expected Sally to come festooned with suitcases and overnight bags packed with everything she owned, but she was wrong. She arrived on foot, with a rucksack and a carrier bag. "I just walked away," she said, climbing on to the boat. Eve knew what she meant.

Meet Eve, who has left her thirty-year career to become a Free Spirit; Sally, who has waved goodbye to her indifferent husband and two grown-up children; and Anastasia, a defiantly independent narrowboat-dweller, who is suddenly landlocked and vulnerable.

Before they quite know what they've done, Sally and Eve agree to drive Anastasia's narrowboat on a journey through the canals of England, as she awaits a life-saving operation. As they glide gently – and not so gently – through the countryside, the eccentricities and challenges of narrowboat life draw them inexorably together, and a tender and unforgettable story unfolds. At summer's end, all three women must decide whether to return to the lives they left behind, or forge a new path forward.

Candid, hilarious, and uplifting, Anne Youngson's The Narrowboat Summer is a celebration of the power of friendship and new experiences to change one's life, at any age.
Praise For The Narrowboat Summer…
Praise for The Narrowboat Summer

"Gentle and charming. A chance to think about what really matters." ?Reader's Digest

"Lovely...Another heartening story about the possibility of striking out in a new direction at any age. It is also a soothing read, especially welcome in these anxious times." —Christian Science Monitor

"Life-affirming and funny." ?Good Housekeeping

"The Narrowboat Summer, by Anne Youngson, follows three women intent on reinvention. Charming and cozy, this novel is as warm as a hearth fire." —Campus Circle

"A gentle meander down England's waterways with bittersweet charm." ?Daily Mail

"A tender story of friendship amidst the challenges and glory of canal-boat life." ?Woman's Weekly

"Touching and accomplished…Often humorous, always affecting, this episodic, character-driven novel shimmers with perception and humanity." —Free Lance-Star

"Fans of Jane Smiley and Hannah Mary McKinnon will enjoy Youngson's immersive, lyrical account of the women's narrowboat summer, especially the colorful characters they meet along their journey." —Booklist

"Youngson, a heartfelt storyteller, takes readers on a charming excursion that provides a comforting, tender escape." —Shelf Awareness

Praise for Meet Me at the Museum

Short-listed for the Costa First Novel Award

Indie Next Pick, LibraryReads Selection, Goodreads Best of the Month

"The charmer of the summer…A touching, hopeful story about figuring out what matters and mustering the courage to make necessary changes." —NPR

"How subtle. How perceptive… Gently provoking, delving into how we interact with our children, our spouses, our communities, but mostly with ourselves." —Minneapolis Star Tribune

"Lovely." —Woman's Day (Editor's Choice)

"Beautifully written and deeply moving." --Shelf Awareness
Flatiron Books, 9781250764614, 336pp.
Publication Date: January 26, 2021
About the Author
Anne Youngson is retired and lives in Oxfordshire. She has two children and three grandchildren to date. Her debut novel, Meet Me at the Museum, was shortlisted for the Costa First Novel Award.
1. Discuss Eve's description of life on the Number One: "Eve concentrated on the experience of travelling. The rhythm of movement along a canal, the tramp of feet on the towpath like a song without notes. This was not about the destination; the point was the travelling, at a speed that allowed change to occur at the rate of one hundred yards every minute." Have you ever experienced travel like that? What unique insights does it offer?
2. Sally describes the narrowboat community as being "rooted in a geography that was defined by its distance end to end rather than by boundaries round a fixed center." How does that geographic orientation affect life on the canals and the relationships that develop there?
3. One of the unexpected joys for Eve of narrowboat travel is that all of her problems are immediate: "As long as she needed to think ahead only as far as the next tap, the next locks, the next mooring, Eve had no room to worry about the next month, the next year." How is life different for Eve and Sally on the Number One? Do you see the appeal of that lifestyle? Could you imagine yourself doing what they did?
4. Is the "Easy Plan" that Eve, Sally, and Anastasia come up with actually easy? Discuss the ways in which it is both easy and difficult for each of them. How do the three women approach the big decisions they face in this novel? Is there an element of randomness inherent in decision-making?
5. When Sally's hairdresser asks why she is divorcing Duncan, she replies, "it's sometimes harder to endure the everyday than it is to cope with a big trauma." What do you think she means? Do you agree? What do you make of her reasons to end her marriage?
6. Sally has a camera with her on the trip but reflects that "taking photos as they travelled in the Number One was as unlikely as taking photos at her kitchen sink. This was not a holiday. It was life, going on in unrecorded moments." What do you think she means? How does her perspective bump up against our current social media culture, in which everyday life is often recorded in photos and text?
7. Billy says of Trompette: "She saved my life and so we are bound together for eternity. I cannot leave her because I owe her too much; she cannot leave me because she has taken to herself the responsibility for my well-being." What do you make of their relationship? How does the idea of holding responsibility for someone else's life run throughout this novel, beyond Billy and Trompette?
8. Sally reflects: "After all, was it not important to change every aspect of her routines? How else would she be able to identify those hooks and burrs that held her, like the flag on a flagpole, free to flap about but not free to drift or soar?" Do you agree that sometimes it's necessary to change everything in your life? Have you ever had the opportunity to do that, or have you dreamed about doing that? Discuss.
9. For Eve, life on the Number One helps her understand the ways in which her highly-structured life both helped and hindered her: "previously, any change she had made had been within a structure she understood; it was not until now, on the verge of changing everything, that she understood the boundaries that had enabled her to make decisions easily, because the choices were limited, and familiar." Discuss the advantages and disadvantages of structure. How important are boundaries or lack thereof in your own life?
10. Billy tells several stories on the canal over the course of the novel, which are often a mix of fact and fiction. He describes his stories as capturing "a version of the truth…A storyteller's version." How can truth be different than fact, especially when it comes to storytelling (and novel writing)? What purpose to Billy's stories serve in the narrative?
11. What do you make of Anastasia's relationship with Arthur? Were you surprised by the nature of that relationship when it was revealed? What about Owen? Discuss the different kinds of family relationships we encounter in the novel. How are those similar to and different than the friendships?
12. Sally and Eve both read Arthur's book recommendation, Mr. Lucton's Freedom. What does the novel mean to each of those three characters? Discuss the book's "optimistic" message: "It was good to leave, but there is pleasure in going back." How does that idea hold true (or not) for the various characters in The Narrowboat Summer?
13. After they've known each other for several weeks, Eve tells Sally, "You've turned into someone else entirely." When Sally disagrees, Eve revises: "You are the person you've always been but that person is just rising to the surface." Do you think Sally, Eve, Anastasia, and Trompette change over the course of the novel, or do they simply become truer versions of themselves? Is there a difference?
14. What do you think Plan Number One will entail? What does the future hold for these characters?Which character did you feel most drawn to and invested in by the novel's end?