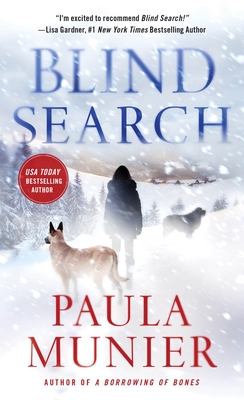 Blind Search
A Mercy Carr Mystery
Mass Market

* Individual store prices may vary.
Other Editions of This Title:
Digital Audiobook (11/4/2019)
Hardcover (11/5/2019)
Description
Former Army MP Mercy Carr and her retired bomb-sniffing dog Elvis are back in Blind Search, the sequel to the page-turning, critically acclaimed A Borrowing of Bones

It's October, hunting season in the Green Mountains—and the Vermont wilderness has never been more beautiful or more dangerous. Especially for nine-year-old Henry, who's lost in the woods. Again. Only this time he sees something terrible. When a young woman is found shot through the heart with a fatal arrow, Mercy thinks that something is murder. But Henry, a math genius whose autism often silences him when he should speak up most, is not talking.

Now there's a murderer hiding among the hunters in the forest—and Mercy and Elvis must team up with their crime-solving friends, game warden Troy Warner and search-and-rescue dog Susie Bear, to find the killer—before the killer finds Henry. When an early season blizzard hits the mountains, cutting them off from the rest of the world, the race is on to solve the crime, apprehend the murderer, and keep the boy safe until the snowplows get through.

Inspired by the true search-and-rescue case of an autistic boy who got lost in the Vermont wilderness, Paula Munier's mystery is a compelling roller coaster ride through the worst of a surprise blizzard—and human nature.
Praise For Blind Search: A Mercy Carr Mystery…
"Charming working dogs are the icing on the cake in this story, Vermont is as tough a character as Mercy, and Munier writes them with both intricacy and ease. Returning readers will celebrate this sequel; those new to Mercy and Elvis will be delighted...all will look forward to more." —Library Journal

"There's so much to praise here: Munier's deep knowledge of the culture of hunting (especially the bow-and-arrow variety); her brisk, incisive characterizations; the way she maintains a taut line of suspense throughout; and, best of all, her portrayals of wounded yet still courageous pairs of humans and dogs. A not-to-be-missed K-9 mystery." —Booklist

"Munier's affection for the dogs she depicts, as well as Henry's sweet bond with them, will warm hearts. Readers will look forward to the irresistible Mercy and Elvis's next adventure." —Publishers Weekly

"An action-packed story of triumph over adversity." —Kirkus Reviews

"Based on the true search-and-rescue of an autistic boy, this page turner will take you on a roller coaster ride through the worst of winter—and human nature." —Modern Dog Magazine

"'Blind Search' reads like a treatise on how to craft a thriller bursting at the seams with converging subplots without ever moving us to throw up our hands in exasperation. Indeed, we're too busy using our fingers to turn the pages." —John Land for Providence Journal

"Riveting." —Concord Monitor

Praise for A Borrowing of Bones:

"Munier's perfectly paced tale crackles with fast-paced dialogue and elegant descriptions that would make the likes of John Hart and James Lee Burke proud. But it's her writing about animals, dogs in particular, that truly sparkles and distinguishes her from the pack." —Jon Land, Booktrib

"Comparisons may be made between Munier's debut mystery and Margaret Mizushima's Timber Creek K-9 mysteries. A stronger read-alike is Julia Spencer Fleming's mysteries featuring Rev. Clare Fergusson, another female veteran. The believable dogs, the touches of humor, the independent, determined Mercy, and well-crafted characters will bring readers back." —Library Journal (starred review and debut of the month)

"The portrayal of working dogs will appeal to fans of David Rosenfelt and Margaret Mizushima. The blend of lovingly detailed setting and lively characters, both human and canine, makes this a series to watch." —Publishers Weekly

"Finally, a suspense novel that combines my two loves: a thrilling police procedural, assisted by two fabulous working dogs. A one-sit read that will make you happy you did." —Lisa Gardner, #1 New York Times bestselling author of Look for Me

"A compelling mix of hard edges and easy charm - I loved this book." —Lee Child, #1 New York Times bestselling author

"A Borrowing of Bones is a nuanced nail-biter with a compelling quartet of crime fighters: two extraordinary rescue and rescued dogs and their human handlers." — Hallie Ephron, New York Times bestselling author of You'll Never Know, Dear

"This is why we read crime fiction! The immensely talented Paula Munier had me at page one with indelibly drawn characters in a heartbreaking, compelling and incredibly intelligent story. Plus, the greatest dogs on the planet. Fans of William Kent Krueger and C.J. Box will devour this terrific book." —Hank Phillippi Ryan, Agatha, Anthony, Mary Higgins Clark and Macavity Award-Winning Author

"Who let the dogs out? Paula Munier did, in a terrific new mystery thriller about two admirably resilient human characters and their smart, sturdy, resourceful canine sidekicks, who track a collection of murderous suspects across the glorious Green Mountains of Vermont. Come for the action and the mystery, stay for all the other pleasures of a novel that will keep you turning pages right up to the satisfying final passages." —William Martin, New York Times bestselling author of Back Bay and Bound for Gold

"Paula Munier has that special gift for bringing fictional dogs to life, and she's just as adept with humans. I read this book in one sitting, and so will you. A Borrowing of Bones is a terrific mystery." —Spencer Quinn, New York Times bestselling author

"Wow! I couldn't put it down. (Warning: Don't start this one at bedtime.) Paula is an artist. Her prose is breathtaking, the story compelling, the pace exhilarating. Truly, I loved it. A Borrowing of Bones is an exultant exploration of decency, honor, and patriotism. Beautifully crafted, thoroughly enjoyable." —Jane K. Cleland, Agatha Award-winning author

"If you love dogs and mysteries, you have two reasons to love A Borrowing of Bones. Paula Munier's page turner is made even more memorable by her keen insight and love of dogs." —Larry Kay, award-winning dog author of Training the Best Dog Ever and Life's A Bark

"An entertaining, escapist retreat." —Shelf Awareness

"A novel that hooks the reader from the first page and begins a projected series, A Borrowing of Bones shines as a paean to veterans and service dogs." —Fredericksburg Free Lance-Star

"This fast-paced and intoxicating drama immediately grabbed my attention and I was immersed in all aspects from plot-line to character development to the dialogue to just about everything. The author knows how to keep this reader involved by creating a complex and determine yet flawed heroine..." —Dru's Book Musings, Best Books of 2018
Minotaur Books, 9781250766373, 416pp.
Publication Date: October 27, 2020
About the Author
PAULA MUNIER is a literary agent and the USA TODAY bestselling author of the Mercy Carr mysteries. A Borrowing of Bones, the first in the series, was nominated for the Mary Higgins Clark Award and named the Dogwise Book of the Year. Blind Search was inspired by the real-life rescue of a little boy with autism who got lost in the woods. The Hiding Place debuted in March 2021. Paula credits the hero dogs of Mission K9 Rescue, her own rescue dogs, and a deep love of New England as her series' major influences. Paula has also written the popular books on writing: Plot Perfect, The Writer's Guide to Beginnings, and Writing with Quiet Hands, as well as Fixing Freddie and Happier Every Day. She lives in New England with her family and Bear the Newfoundland-retriever rescue, Bliss the Great Pyrenees-Australian cattle dog rescue, pandemic puppy Blondie, a Malinois rescue (much like Elvis in her books), and Ursula The Cat, a rescue torbie tabby who does not think much of the dogs.