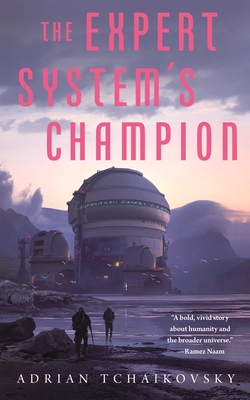 The Expert System's Champion (The Expert System's Brother #2)
Paperback

* Individual store prices may vary.
Description
In Adrian Tchaikovsky's The Expert System's Champion, sometimes the ones you hate are the only ones that can save you.

It's been ten years since Handry was wrenched away from his family and friends, forced to wander a world he no longer understood. But with the help of the Ancients, he has cobbled together a life, of sorts, for himself and his fellow outcasts.

Wandering from village to village, welcoming the folk that the townships abandon, fighting the monsters the villagers cannot—or dare not—his ever-growing band of misfits has become the stuff of legend, a story told by parents to keep unruly children in line.

But there is something new and dangerous in the world, and the beasts of the land are acting against their nature, destroying the towns they once left in peace.

And for the first time in memory, the Ancients have no wisdom to offer...
Praise For The Expert System's Champion (The Expert System's Brother #2)…
"Deliciously creepy... Tchaikovsky's vision is bizarre, frightening, and wildly imaginative. Readers will be wowed." —Publishers Weekly starred review


Praise for The Expert System's Brother

"I loved it. A bold, vivid story about humanity and the broader universe. Should we mold the universe to suit us? Or should we mold ourselves to suit the universe? Adrian Tchaikovsky keeps these choices in tension, and kept me riveted to the page." —Ramez Naam, author of Nexus

"A great coming-of-age story that careens through a world so vividly realized that you can feel each insect bite and taste every acrid berry. The Expert System's Brother gives you that visceral eek of satisfaction as its pieces come into view then fit together with exacting precision. It's a smart story, smartly told." —Hugo Award Winner, John Chu

"Tchaikovsky convincingly evokes a world populated with grotesque creatures, rituals, vegetation and mysterious technology that reflects a command of the science fiction genre." —Lincolnshire Life Magazine
Tordotcom, 9781250766397, 192pp.
Publication Date: January 26, 2021
About the Author
Adrian Tchaikovsky is the author of the acclaimed Shadows of the Apt fantasy series and the epic science fiction blockbuster Children of Time. He has won the Arthur C. Clarke Award, a British Fantasy Society Award, and been nominated for the David Gemmell Legend Award. In civilian life he is a lawyer, gamer and amateur entomologist.