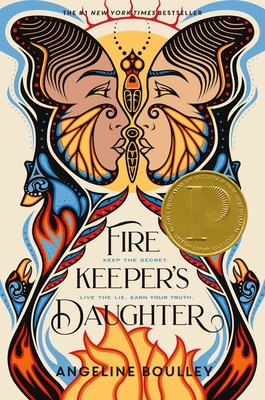 Firekeeper's Daughter
Hardcover

* Individual store prices may vary.
Other Editions of This Title:
CD-Audio (3/16/2021)
Description
In Firekeeper's Daughter, debut author Angeline Boulley crafts a groundbreaking YA thriller about a Native teen who must root out the corruption in her community, for readers of Angie Thomas and Tommy Orange.

Eighteen-year-old Daunis Fontaine has never quite fit in, both in her hometown and on the nearby Ojibwe reservation. She dreams of a fresh start at college, but when family tragedy strikes, Daunis puts her future on hold to look after her fragile mother. The only bright spot is meeting Jamie, the charming new recruit on her brother Levi's hockey team.

Yet even as Daunis falls for Jamie, she senses the dashing hockey star is hiding something. Everything comes to light when Daunis witnesses a shocking murder, thrusting her into an FBI investigation of a lethal new drug.

Reluctantly, Daunis agrees to go undercover, drawing on her knowledge of chemistry and Ojibwe traditional medicine to track down the source. But the search for truth is more complicated than Daunis imagined, exposing secrets and old scars. At the same time, she grows concerned with an investigation that seems more focused on punishing the offenders than protecting the victims.

Now, as the deceptions—and deaths—keep growing, Daunis must learn what it means to be a strong Anishinaabe kwe (Ojibwe woman) and how far she'll go for her community, even if it tears apart the only world she's ever known.
Praise For Firekeeper's Daughter…
"Firekeeper's Daughter is a gripping and unforgettable story of family, community and identity told through the eyes of a protagonist so powerfully realized on the page, you'll swear you can hear her heart beat. Daunis Fontaine is a force to be reckoned with—and so is Angeline Boulley. This is one bold, uncompromising and elegantly crafted debut." —Courtney Summers, New York Times-bestselling author of Sadie

"Intricate and moving. Boulley takes the reader on an incredible journey with the assurance of a veteran novelist." —Tochi Onyebuchi, award-winning author of Beasts Made of Night and Riot Baby

"A rare and mesmerizing work that blends the power of a vibrant tradition with the aches and energy of today's America. This book will leave you breathless!" —Francisco X. Stork, acclaimed author of Marcelo in the Real World and Illegal
Henry Holt and Co. (BYR), 9781250766564, 496pp.
Publication Date: March 16, 2021
About the Author
Angeline Boulley, an enrolled member of the Sault Ste. Marie Tribe of Chippewa Indians, is a storyteller who writes about her Ojibwe community in Michigan's Upper Peninsula. She is a former Director of the Office of Indian Education at the U.S. Department of Education. Angeline lives in southwest Michigan, but her home will always be on Sugar Island. Firekeeper's Daughter is her debut novel.
1. Daunis starts every day with a prayer and a morning run. What is the significance of ritual to Daunis? What other rituals does she engage in?
2. Daunis talks about keeping her various "worlds" separate, saying, "My life goes more smoothly when Hockey World and Real World don't overlap. Same as with my Fontaine and Firekeeper worlds." What are ways in which we see Daunis acting to keep her worlds separate? Do you think she feels a stronger connection to one world or the other? Do you agree it's easier to keep worlds separate?
3. Daunis often seeks wisdom and guidance from the Elders. How does the role of the Elders compare to the role of senior citizens in your community?
4. Both Daunis and Jamie struggle with their identities—while Daunis feels torn between many, Jamie doesn't have any sense of where he comes from. Are there similarities in the way they consider their identities? Differences?
5. Aunt Teddie describes a Blanket Party as "Nish Kwe justice." What do you think of this form of justice and how Blanket Parties were created? How do you think this might influence Daunis's understanding of justice?
6. Teddie tells Daunis, "Not every Elder is a cultural teacher and not all cultural teachers are Elders. It's okay to listen to what people say and only hold onto the parts that resonate with you. It's okay to leave the rest behind. Trust yourself to know the difference." What does Teddie mean? What does Daunis choose to hold onto and leave behind from her culture?
7. Describe Daunis's feelings after she learns that her testimony can't be used in the court. Why do you believe the author made this choice?
8. Why did the author choose to end the story on a powwow scene? How does this speak to the themes of the book?
9. Daunis references the Seven Grandfather teachings throughout the novel—Love, Humility, Respect, Honesty, Bravery, Wisdom, and Truth. Are there characters or moments that help Daunis learn and embody these teachings?