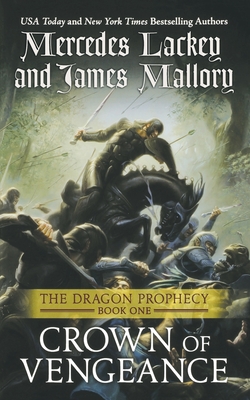 Crown of Vengeance
Book One of the Dragon Prophecy (The Dragon Prophecy Trilogy #1)
Paperback

* Individual store prices may vary.
Other Editions of This Title:
Hardcover (11/13/2012)
Paperback (8/27/2013)
MP3 CD (7/8/2014)
Description
Mercedes Lackey and James Mallory, bestselling authors individually and together, return to the world of their New York Times and USA Today bestselling Obsidian and Enduring Flame Trilogies with Crown of Vengeance.
Here, readers will learn the truth about the Elven Queen Vielissiar Faricarnon, who was the first to face the Endarkened in battle and the first to bond with a dragon. She worked some of the greatest magics her world has ever known, and paid the greatest Price.
Crown of Vengeance is an exciting fantasy adventure that will appeal to fans of Mercedes Lackey's Valdemar series. No previous knowledge of Lackey and Mallory's collaborations is necessary to enjoy this fast-paced, action-packed novel, but returning readers will be excited to discover this amazing story.
Previous Trilogies set in the world of Crown of Vengeance:
The Enduring Flame Series:
The Phoenix Unchained
The Phoenix Transformed
The Phoenix Endangered
The Obsidian Trilogy:
The Outstretched Shadow
To Light a Candle
When Darkness Falls
Praise For Crown of Vengeance: Book One of the Dragon Prophecy (The Dragon Prophecy Trilogy #1)…
"A thoughtfully created world, engaging characters, and a tighter plot than many fantasy epics make this new novel a must-have." —VOYA on The Phoenix Unchained
"Lackey and Mallory combine their talents for storytelling and world crafting into a panoramic effort. Filled with magic, dragons, elves, and other mythical creatures, this title belongs in most fantasy collections." —Library Journal on To Light a Candle
"Delightful." —Booklist on The Outstretched Shadow
Tor Books, 9781250767349, 608pp.
Publication Date: August 27, 2013
About the Author
Mercedes Lackey is the author of the bestselling Valdemar series, the Obsidian Trilogy (The Outstretched Shadow, To Light a Candle, and When Darkness Falls), the Enduring Flame trilogy (The Phoenix Unchained, The Phoenix Engendered, and The Phoenix Transformed), and The Phoenix Tales of the Five Hundred Kingdoms. She has written many other books, including Trio of Sorcery, Phoenix and Ashes, Sacred Ground, The Firebird, The Fairy Godmother, and Alta. Lackey is the co-author, with Andre Norton, of the Halfblood Chronicles, including Elvenborn. Mercedes Lackey was born in Chicago and graduated from Purdue University. She has worked as an artist's model, a computer programmer, and for American Airlines, and has written lyrics and recorded more than fifty songs. She lives in Oklahoma.

James Mallory is the author of the Merlin trilogy (Merlin: The Old Magic; Merlin: The King's Wizard; Merlin: The End of Magic). He lives in upstate New York.