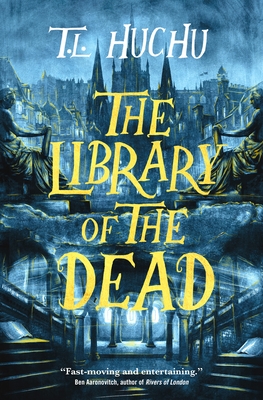 The Library of the Dead (Edinburgh Nights #1)
Hardcover

* Individual store prices may vary.
Description
Sixth Sense meets Stranger Things in T. L. Huchu's The Library of the Dead, a sharp contemporary fantasy following a precocious and cynical teen as she explores the shadowy magical underside of modern Edinburgh.

When a child goes missing in Edinburgh's darkest streets, young Ropa investigates. She'll need to call on Zimbabwean magic as well as her Scottish pragmatism to hunt down clues. But as shadows lengthen, will the hunter become the hunted?

When ghosts talk, she will listen...

Ropa dropped out of school to become a ghostalker. Now she speaks to Edinburgh's dead, carrying messages to the living. A girl's gotta earn a living, and it seems harmless enough. Until, that is, the dead whisper that someone's bewitching children—leaving them husks, empty of joy and life. It's on Ropa's patch, so she feels honor-bound to investigate. But what she learns will change her world.

She'll dice with death (not part of her life plan...), discovering an occult library and a taste for hidden magic. She'll also experience dark times. For Edinburgh hides a wealth of secrets, and Ropa's gonna hunt them all down.
Praise For The Library of the Dead (Edinburgh Nights #1)…
Praise for T. L. Huchu:

"Fresh and moving."—The New York Times Book Review

"Huchu's literary prowess is beyond doubt, juggling and fusing humour, language, flashbacks, musical and political references to create this masterpiece."—The Sunday Mail (Zimbabwe)

"A sensitive exploration of the concepts of identity, family, and home grounded in a rich, intricately detailed depiction of the immigrant experience of the global African diaspora." —Kirkus Reviews

"This sharp, entertaining, and thoughtful debut is rife with sociopolitical commentary but never loses its humanity."—Kirkus Reviews
Tor Books, 9781250767769, 336pp.
Publication Date: June 1, 2021
About the Author
T. L. Huchu (he/him) has been published previously (as Tendai Huchu) in the adult market, but The Library of the Dead is his genre fiction debut. His previous books (The Hairdresser of Harare and The Maestro, The Magistrate and the Mathematician) have been translated into multiple languages and his short fiction has won awards. Tendai grew in up Zimbabwe but has lived in Edinburgh for most of his adult life.