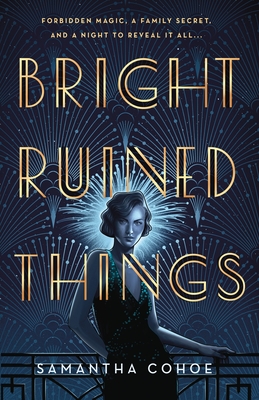 Bright Ruined Things
Hardcover

* Individual store prices may vary.
Other Editions of This Title:
Digital Audiobook (2/14/2022)
Description
"A deftly-plotted tale about ambition and belonging, Bright Ruined Things takes Shakespeare's The Tempest and brilliantly reimagines its themes of family and love. Cohoe writes with a magic that dazzles and cuts right to the core." - Chloe Gong, New York Times bestselling author of These Violent Delights

Forbidden magic, a family secret, and a night to reveal it all...

The only life Mae has ever known is on the island, living on the charity of the wealthy Prosper family who control the island's magic and its spirits. Mae longs for magic of her own and to have a place among the Prosper family, where her best friend, Coco, will see her as an equal, and her crush, Miles, will finally see her.

But tonight is First Night, when the Prospers and their high-society friends celebrate the night Lord Prosper first harnessed the island's magic and started producing aether – a magical fuel source that has revolutionized the world. With everyone returning to the island, Mae finally has the chance to go after what she's always wanted.

When the spirits start inexplicably dying, Mae realizes that things aren't what they seem. And Ivo, the reclusive, mysterious heir to the Prosper magic, may hold all the answers – including a secret about Mae's past. As Mae and her friends unravel the mysteries of the island, and the Prospers' magic, Mae starts to question the truth of what her world was built on.

In this YA fantasy, Samantha Cohoe wonderfully mixes magic and an atmospheric setting into a fantastically immersive world, with characters you won't be able to forget.
Praise For Bright Ruined Things…
BOOKRIOT, "Ultimate Guide to New Winter YA Books 2022"

GOODREADS, "The 68 Most Anticipated YA Novels of 2022"

THE NERD DAILY, "72 Upcoming YA Book Releases To Add To Your TBR"

"Cohoe's sophomore novel...is filled with magic, romance, secrets, and lies." - Booklist

"Cohoe's prose moves at a clip through a night packed with intrigue...Fans of Shakespeare's The Tempest will find much to enjoy, as will readers eager for a luxurious 1920s period piece...An intriguing story about the rot that lies beneath splendor." - Kirkus Reviews

"Cohoe ably combines a postcolonial reading of The Tempest with the literary tradition of edgy, electric aristocrats and outsiders in London's 1920s social scene (à la Nancy Mitford and Evelyn Waugh). This will appeal to a broad audience, from fans of Shakespeare to Lockhart's We Were Liars to Cooper's Montmaray Diaries series." - The Bulletin of the Center for Children's Books

"This dizzying struggle over power, magic, and dreams will sink readers into this fantasy's web of ambition and family tension. A strong choice for libraries serving teens." - School Library Journal

"I was utterly captivated by the world Samantha Cohoe conjured on this mysterious island, where magic and power rule hand-in-hand with intrigue and desire. A wealthy family, a web of secrets about the past, and a cast of glittering characters who feel like they just stepped out from one of The Great Gatsby's legendary parties—what's not to love? I was swept right along with Mae as she digs in to uncover the truth behind the magic wielded by the Prosper family and wrestles with her own desire to grasp hold of power she's long been denied." —Lisa DeSelm, author of The Puppetmaster's Apprentice

"A deftly-plotted tale about ambition and belonging, Bright Ruined Things takes Shakespeare's The Tempest and brilliantly reimagines its themes of family and love. Cohoe writes with a magic that dazzles and cuts right to the core." - Chloe Gong, New York Times bestselling author of These Violent Delights

Praise for A GOLDEN FURY

BOOKRIOT, "New Fall 2020 YA Books To Add To Your TBR"

CULTURESS, "12 New YA Book Releases October 2020"

EPIC READS, "The 19 Most Anticipated YA Books to Read in October"

GOODREADS, "October's Most Anticipated YA Reads"

THE MARY SUE BOOK CLUB, "October 2020: Spooky Season Is Out in Full Force"

THE NERD DAILY, "20 SFF YA Debuts To Watch Out For In 2020"

POPSUGAR, "Best New YA Books of October 2020"

"An engaging concoction of fantasy, romance, and historical fiction." - Booklist

"Cohoe situates the supernatural among the historical, referencing the French Revolution and the Enlightenment while...keeping a sense of urgency as Thea struggles with the magical, demonic pull of the Stone." - Bulletin of the Center for Children's Books

"If you liked Belle Revolte by Linsey Miller or All That Glitters (previously Enchantée) by Gita Trelease, you will love A Golden Fury." - NerdSpan

"The attention to detail in the story is excellent. ...Thea herself is a confident lead with a strong voice. A solid fantasy to flesh out the world of alchemy that most readers know only from 'Harry Potter.'" - School Library Journal

"Sharply written with a crackling, compassionately determined heroine, A Golden Fury is a vivid ride through eighteenth century Europe with darkness and dread creeping at its corners. Utterly enchanting." - Emily A. Duncan, New York Times bestselling author of Wicked Saints

"Cohoe transmutes the legend of the Philosopher's Stone into a dark, intoxicating tale of ambition, obsession, and sacrifice. Prepare for a magic that will consume you." - Rosamund Hodge, New York Times bestselling author of Cruel Beauty and Bright Smoke, Cold Fire

"Steeped in mystery and magic, Samantha Cohoe's A GOLDEN FURY immerses readers in beautifully rendered world where magic and science mix, and where the intoxication of power can be deadly. Whip-smart Thea is a heroine readers will root for." - Lisa Maxwell, New York Times bestselling author of The Last Magician

"A Golden Fury is beguiling and unpredictable. Cohoe weaves an international adventure set against a rich historical backdrop, and alchemist Thea faces adversaries both human and magical with wit and grit. A compelling debut from a writer to watch." - Hannah Capin, author of Foul is Fair and The Dead Queens Club

"Alchemists used many methods to hide their secrets, but Cohoe has deciphered their riddles -- and uncovered a truth far darker and more complex than a miraculous rock. She lures you in with a promise of gold, then delivers something far more valuable: an intricate tale of ambition and sacrifice, loyalty and betrayal, the quest for knowledge and the wisdom to use it correctly." - Marie Brennan, author of The Memoirs of Lady Trent

"I adore Thea - her fierce ambition, her intelligence, and the warmth she so desperately wants to share with someone worthy. This is an alchemical wonder of a book. It takes all the elements of a good story - mystery, magic, devastating stakes, compelling relationships and impossible choices - and weaves them into pure gold." - Catherine Egan, author of Julia Unbound

"A GOLDEN FURY invites you into a world of intrigue, magic and ambition. Set against the backdrop of the French revolution, it follows a talented, driven heroine, raised by her famous and overbearing mother to pursue alchemy's ultimate dream—the Philosopher's Stone—in a time when women had little rights of their own. Cohoe's prose is flush with clever dialogue and flawed-yet-sympathetic characters, so realistic they leap off the page. First loves, family secrets and shocking betrayals abound as our heroine pits her intellect against a curse of madness in this impossible-to-put-down debut." - Ellen Goodlett, author of Rule

"Full of rich historical detail, clever world-building, and tumultuous relationships, A Golden Fury transformed me. Cohoe's debut proves we are in the hands of a deft and dangerous creator. I sat up half the night thinking about it, and the other half longing to see her next book." - Tracy Townsend, author of Thieves of Fate series

"I fell for this thrilling tale of madness and murder, alchemy and obsession— and the fiercely determined Theosebeia Hope who will stop at nothing to get her heart's desire. I could not turn the pages fast enough!" - Gita Trelease, author of Enchantee
Wednesday Books, 9781250768841, 352pp.
Publication Date: February 15, 2022
About the Author
Samantha Cohoe writes historically-inspired young adult fantasy. She was raised in San Luis Obispo, California, where she enjoyed an idyllic childhood of beach trips, omnivorous reading, and writing stories brimming with adverbs. She currently lives in Denver with her family and divides her time among teaching Latin, mothering, writing, reading, and deleting adverbs. A Golden Fury is her debut novel.