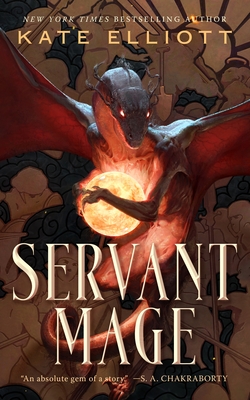 Servant Mage
Hardcover

* Individual store prices may vary.
Description
"An absolute gem of a story... I loved it." —S. A. Chakraborty

In Kate Elliott's Servant Mage, a lowly fire mage finds herself entangled in an empire-spanning conspiracy on her way to discovering her true power.

They choose their laws to secure their power.

Fellian is a Lamplighter, able to provide illumination through magic. A group of rebel Monarchists free her from indentured servitude and take her on a journey to rescue trapped compatriots from an underground complex of mines.

Along the way they get caught up in a conspiracy to kill the latest royal child and wipe out the Monarchist movement for good.

But Fellian has more than just her Lamplighting skills up her sleeve…
Praise For Servant Mage…
"[This] is an absolute gem of a story, a peek into a fascinating, fully realized world that manages to explore issues of power, consent, class and destiny before turning over some of fantasy's tropes completely on their head. I loved it." —S. A. Chakraborty

"I would follow [Fellion] anywhere... I highly recommend this. I stayed up way too late finishing it and am still thinking about it a week later." —Mary Robinette Kowal

"A rich and atmospheric lacework of worldbuilding, politics and magic—and of one woman's journey to find her place in the wake of a revolution. Mesmerising, relentless and sharp." —Aliette de Bodard

"Elliott uses a relatable main character and a complex and intriguing setting to dive into the consequences of revolution with an eye toward class and power dynamics; readers will be left wanting more." —Booklist

Praise for Kate Elliott's Unconquerable Sun:

"Non-stop action! Space battles! Intrigue! This is the kind of space opera that I love best—but Elliott does it even better."—Ann Leckie, New York Times bestselling author

"Intricate and thrilling, Kate Elliott's Unconquerable Sun reframes history's most legendary conqueror in a brand new galaxy, lights the fuse, and blasts off on an edge-of-your-seat adventure perfect for fans of Arkady Martine and James S.A. Corey."—Emily Skrutskie, author of Bonds of Brass

"A sweeping saga of a fierce and indomitable conqueror and her companions, this is breathtaking and mindblowingly good."—Aliette de Bodard, Nebula Award-winning author of The Tea Master and the Detective

"A maelstrom of palace intrigue, interstellar back-stabbing, devious plots, treachery, blistering action, ferocious confrontations—and a heroine for the ages... Enthralling, edge-of-your-seat stuff hurtling along at warp speed. Grab!"—Kirkus Reviews, starred review

"Rich with history, tongue-in-cheek humor, cultural references, and vibrant characters, this highly entertaining series launch will have readers clamoring for more."—Publishers Weekly, starred review

"Fans of Lois McMaster Bujold and N.K. Jemisin will find this a candidate for instant re-reading as soon as the last page is turned."—Booklist, starred review
Tordotcom, 9781250769053, 176pp.
Publication Date: January 18, 2022
About the Author
Kate Elliott has been writing science fiction and fantasy for 30 years, after bursting onto the scene with Jaran. She is best known for her Crown of Stars epic fantasy series and the New York Times bestselling YA fantasy Court of Fives. Elliott's particular focus is immersive world-building & centering women in epic stories of adventure, amidst transformative cultural change. She lives in Hawaii, where she paddles outrigger canoes & spoils her Schnauzer.
or
Not Currently Available for Direct Purchase