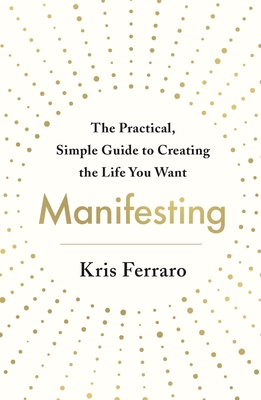 Manifesting
The Practical, Simple Guide to Creating the Life You Want
Paperback

* Individual store prices may vary.
Description
Are you frustrated by the fact that your life doesn't look the way you imagined? Whether it's too little money, a struggling relationship, or a dead-end job, it can seem as if nothing works out the way you hope it would. Kris Ferraro's Manifesting: The Practical, Simple Guide to Creating the Life You Want is the solution.

Too often we walk through life in a state of lack, choosing to focus our attention on our deficiencies and allowing our minds, bodies, and spirits to swirl with discontent and negativity. But when our focus and attention is sunk in darkness, that becomes all we experience in our lives. Manifesting offers a transformative new approach. By focusing on what you wish to have or achieve, instead of despairing over what you are missing, you will find that you can manifest those very things in your life.

Author Kris Ferraro is a practitioner and teacher in the areas of healing, growth, and metaphysics who has used manifesting in her own life and practice for years. In Manifesting, she guides readers to envision and create the lives they've always dreamed of with real, actionable steps, exercises, and wisdom.
Praise For Manifesting: The Practical, Simple Guide to Creating the Life You Want…
"Finally, a book about manifesting everyone can relate to. Author Kris Ferraro takes the mystery out of manifesting, making this powerful practice accessible to all. Packed with tips, tools, inspiration quotes and hands on exercises this will be one book you are going to want to keep around. If you are wondering how to create a life of happiness and prosperity, look no further."
—Sherianna Boyle, author of Emotional Detox Now

"Manifesting is a practical, essential guide for anyone who wants to turn their dreams into reality. Kris Ferraro has every detail covered: Why we need to manifest, potential obstacles and how to overcome them, tools we can use to make manifestation easier, how to tailor the process to your individual needs, and much more. This empowering book is truly a must read.
—Katie Beecher, MS, LPC, Medical Intuitive and Licensed Counselor; author of Heal from Within: A Guidebook for Intuitive Wellness

"I was hooked the moment I read the first sentence of Kris Ferraro's book. Instead of glossing over the hard stuff and fluffing up her wins, Kris invites us into her story with a broken heart. Over the last 3 decades I've read many classics on manifesting and the Law of Attraction. I often noticed there was one thing that fell short for me. I'd read each basic formula that combined affirmation of the unlimited abundance of the Universe, cultivation of gratitude and a saccharine insistence on positivity. Yet it always felt like something was missing. These books withheld all the messy, miserable pitfalls which inevitably stop us in our tracks. Truth about the struggle is the thing that so many self help and spiritual development books lack.

Not this book though. Kris brings her raw, real authentic self to this wonderful guide. She offers amazing tools, while she also shares her unvarnished truth. I'm so thankful for her willingness to teach about manifestation in a way that includes the hard, sticky snot covered reality of human life. It became a lot easier to keep going when I grasped that creating a life of our dreams doesn't always happen effortlessly and easily.

This book is the perfect combination of straightforward, doable actions, inspiring pep-talk and emotional validation. In the same way that Kris's book Energy Healing has something for the newbie and the seasoned energy practitioner, this book has gems for anyone hoping to up their manifesting game. Even as a seasoned practitioner of metaphysics and energy healing, I found tips, tools, perspective and encouragement. I have no doubt this will be another treasured volume in my library for many years to come."
—Jennifer Elizabeth Moore: Author of Empathic Mastery & Master Trainer for EFT International

"Kris Ferraro offers recipe after recipe for shifting and creating a life you love. And she's a smart, hip, well-versed guide that talks to you like your best friend. Grab this playbook again and again—because there's just so much packed into this quick, juicy read."
—Tama Kieves, USA Featured visionary career coach and bestselling author of Inspired & Unstoppable: Wildly Succeeding in Your Life's Work and other books
St. Martin's Essentials, 9781250769558, 256pp.
Publication Date: August 24, 2021
About the Author
KRIS FERRARO is an author, International Energy Coach, teacher, and sought-after speaker. Leaving a lengthy career in social services to guide others in the energy and metaphysical practices she had used to heal herself, Kris empowers others through the profound promise that everyone can move from surviving to thriving. She frequently speaks to diverse groups on how purpose, love, faith, and balanced energy are the ancient antidotes to modern stress caused by our current climate of constant uncertainty. A lifelong learner in the areas of personal growth, healing, and religious/spiritual history and education, Kris applies this knowledge in her own life, teachings, writings, and her professional coaching practice. Having spent dozens of years studying Shamanism, mysticism, Jungian philosophy, New Thought, and Shadow work, along with a serious study in all things energy, Kris found the common threads woven throughout. She is the creator of Spiritual Freedom Techniques, a series of processes that combine spiritual practices and principles with energy balancing for super charged transformation. A former punk rocker, radio DJ, and performance artist, it was in healing her severe social anxiety that she was finally able to uncover her purpose and truly shine, without panic. In addition to writing and creating curriculum on transformation, and producing a cutting-edge newsletter with original photography, she writes and performs spoken word poetry and is an accomplished sculptor. When not traveling, she lives in Montclair, NJ, with her cats Ling and The Baby Cheetah. Her first book, Energy Healing: Simple & Effective Practices to Become Your Own Healer was a #1 best seller on Amazon. Manifesting: The Simple, Practical Guide to Creating the Life You Want distills 10 years of her best metaphysical teachings.