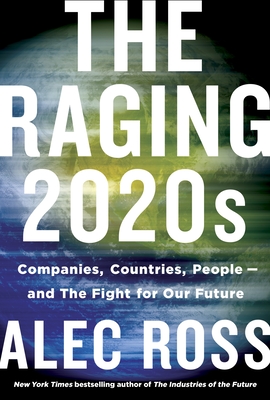 The Raging 2020s
Companies, Countries, People - and the Fight for Our Future
Hardcover

* Individual store prices may vary.
Other Editions of This Title:
Digital Audiobook (9/13/2021)
Paperback (9/6/2022)
Description
In the face of unprecedented global change, New York Times bestselling author Alec Ross proposes a new social contract to restore the balance of power between government, citizens, and business in The Raging 2020s.

For 150 years, there has been a contract. Companies hold the power to shape our daily lives. The state holds the power to make them fall in line. And the people hold the power to choose their leaders. But now, this balance has shaken loose.

As the market consolidates, the lines between big business and the halls of Congress have become razor-thin. Private companies have become as powerful as countries. As Walter Isaacson said about Alec Ross's first book, The Industries of the Future, "The future is already hitting us, and Ross shows how it can be exciting rather than frightening."

Through interviews with the world's most influential thinkers and stories of corporate activism and malfeasance, government failure and renewal, and innovative economic and political models, Ross proposes a new social contract—one that resets the equilibrium between corporations, the governing, and the governed.
Praise For The Raging 2020s: Companies, Countries, People - and the Fight for Our Future…
A Bloomberg Businessweek Best Book of 2021
Featured in Kirkus's "150 Most Anticipated Fall Books" and Adam Grant's "10 New Leadership Books to Wrap Up Summer and Kick Off Fall"

"An engaging, compelling, thought-provoking book, filled with astute analysis, but also with very clear recommendations about what we need to be doing going forward if we are to escape some of the many problems and traps that [Ross] outlines so effectively in The Raging 2020s…This is very much a global book...The way that [Ross connects] the pieces of this puzzle are very important."
—Hillary Rodham Clinton

"Ross's view...is from above, not the view of the people nor even the politicians…an immensely (and unusually) readable account."
—The New York Times Book Review

"Alec Ross fearlessly confronts one of the fundamental concerns of our time: fixing the broken social contract between people, business, and government. His book will challenge you to rethink some of your assumptions about democracy, capitalism, and globalization."
—Adam Grant, #1 New York Times bestselling author of THINK AGAIN and host of the TED podcast WorkLife

"Ross…astutely captures the changing landscape of society, documenting through real-life examples and engaging storytelling how the balance between individuals, business, and government has shifted…[T]he stories throughout the book challenge our assumption of how we think the world works—or should work—while laying out fresh ideas for a new direction forward."
—Bloomberg Businessweek

"This book is special. At a time when uncertainty fills every conversation and our recent history has left so many vulnerable, The Raging 2020s doesn't just add clarity, it offers direction. Alec leaves the reader with both understanding and hope in a way not many can, and he continues to show why he is one of the foremost thinkers of our time. This book helps set the direction our society should follow."
—Wes Moore, author, combat veteran, and social entrepreneur

"Alec Ross is a keen analyst and brilliant storyteller. The Raging 2020s introduces us to the people whose lives are blighted by unconscionable policies and concentrations of power, helping us understand and indeed share the rage that fuels many 21st century political movements. Best of all, Ross is willing to speak truth to power in recommending a set of bold but realistic solutions."
—Anne-Marie Slaughter, CEO, New America Foundation, and Bert G. Kerstetter '66 University Professor Emerita of Politics and International Affairs, Princeton University

"A gripping, illuminating chronicle that provides a wonderful birds-eye view from the heights of government and international business, that solidifies Ross's position among the most visionary of global thinkers on the future of technology and its implications, and that also is an amazingly enjoyable, page-turning read!"
—General David Petraeus, former Director of the CIA and former Commander of the Surge in Iraq, US Central Command, and Coalition Forces in Afghanistan

"A provocative, well-made case for remaking the American way of doing business—and way of life."
—Kirkus Reviews

"This disquieting look is a must-read for anyone looking to understand the present moment."
—Publishers Weekly
Henry Holt and Co., 9781250770929, 336pp.
Publication Date: September 14, 2021
About the Author
Alec Ross is one of the world's leading experts on innovation. Author of New York Times bestselling The Industries of the Future, he is currently a distinguished visiting professor at the University of Bologna Business School and a board partner at Amplo, a global venture capital firm. He was a distinguished senior fellow at Johns Hopkins University and a senior fellow at the Columbia University School of International and Public Affairs. He served as Senior Advisor for Innovation to the Secretary of State to help modernize the practice of diplomacy and advance America's foreign policy interests. He began his career as a 6th-grade teacher in Baltimore.