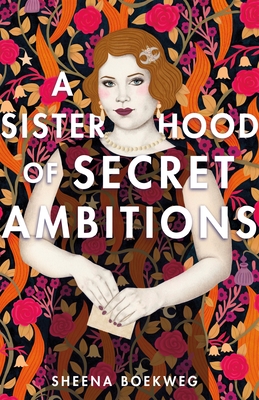 A Sisterhood of Secret Ambitions
Hardcover

* Individual store prices may vary.
Other Editions of This Title:
Digital Audiobook (11/1/2021)
Compact Disc (11/2/2021)
MP3 CD (11/2/2021)
Description
A teen girl, backed by a secret society of powerful women, competes to make an 18-year-old future President fall in love with her in Sheena Boekweg's compelling new YA novel, A Sisterhood of Secret Ambitions.

Behind every powerful man is a trained woman, and behind every trained woman is the Society. It started with tea parties and matchmaking, but is now a countrywide secret. Gossips pass messages in recipes, Spinsters train to fight, and women work together to grant safety to abused women and children. The Society is more than oaths—it is sisterhood and purpose.

In 1926, seventeen-year-old Elsie is dropped off in a new city with four other teenage girls. All of them have trained together since childhood to become the Wife of a powerful man. But when they learn that their next target is earmarked to become President, their mission becomes more than just an assignment; this is a chance at the most powerful position in the Society. A life more influential than they had ever before dared to dream possible. All they have to do is make one man fall in love with them first.
Praise For A Sisterhood of Secret Ambitions…
"Beautifully written and undeniably compelling, it's alternate history at its absolute best. Boekweg creates lasting characters, friendships, and tension throughout. You won't be able to stop rooting for these ambitious girls––or put the story down." -- Alechia Dow, author of The Sound of Stars

"Sheena Boekweg's A Sisterhood of Secret Ambitions is a whip-smart alternative historical fiction that reimagines a world where a secret society of women work behind the scenes to change history. Readers will root for Elsie as she struggles to navigate friendship, ambition, and romance in her quest to save the world. By turns fresh, funny, and feminist, this story is a powerful homage to sisterhood and to women realizing their dreams." -- Dr. Rosalyn Eves, author of Blood Rose Rebellion

"I love this book. Full of adventure, sisterhood, secret societies, gorgeous poems, and revisionist history, it shows how genuinely inclusive feminism can (and should) be. It also has tremendous things to say about women in politics and finding your own path, even when it's different from the one laid out for you. A delightful, thought-provoking read that I finished in one sitting." -- Jamie Pacton, author of The Life and (Medieval) Times of Kit Sweetly

" This clever, engaging novel is set in an alternate 1920s U.S. Prohibition and Jim Crow still exist, but so too does the secret First Ladies' Society, founded by Abigail Adams as a means to political influence." --Booklist
Feiwel & Friends, 9781250770981, 352pp.
Publication Date: June 1, 2021
About the Author
Sheena Boekweg, author of Glitch Kingdom, grew up reading books with tree branches peeking over her shoulder. Her novels feature plus-size girls with ambitions, love stories, and sometimes battle axes. She is a contributor to the body-positive anthology Every Body Shines, and believes that beauty is intrinsic, worth is unquestionable, and that you can't solve every problem with food, but it can always help. She is well loved by a tall man with a great beard, their three kids, and the world's most spoiled puppy.