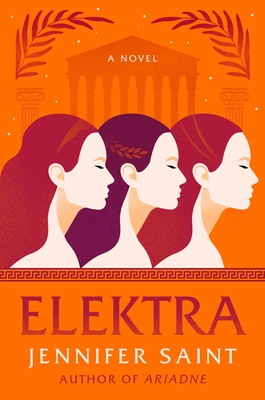 Elektra
A Novel
Hardcover

* Individual store prices may vary.
Other Editions of This Title:
Paperback (5/2/2023)
Description
A spellbinding reimagining of the story of Elektra, one of Greek mythology's most infamous heroines, from Jennifer Saint, the author of the beloved international bestseller, Ariadne.

Three women, tangled in an ancient curse.

When Clytemnestra marries Agamemnon, she ignores the insidious whispers about his family line, the House of Atreus. But when, on the eve of the Trojan War, Agamemnon betrays Clytemnestra in the most unimaginable way, she must confront the curse that has long ravaged their family.

In Troy, Princess Cassandra has the gift of prophecy, but carries a curse of her own: no one will ever believe what she sees. When she is shown what will happen to her beloved city when Agamemnon and his army arrives, she is powerless to stop the tragedy from unfolding.

Elektra, Clytemnestra and Agamemnon's youngest daughter, wants only for her beloved father to return home from war. But can she escape her family's bloody history, or is her destiny bound by violence, too?
Praise For Elektra: A Novel…
Praise for Elektra

A Most Anticipated Book (Harper's Bazaar, USA Today, Book Riot, BuzzFeed, Bustle, Goodreads, Veranda Magazine, Historical Novel Society, She Reads, The Nerd Daily)

"A powerful glimpse of ancient Greece…If you were ever confused after learning about these characters and their stories in school, you won't be once Elektra speeds up and dives into the action."
—Washington Post

"A vivid reimagining of Greek mythology's most haunted lineage."
—Harper's Bazaar

"An elektra-fying take on a classic myth focused on a wildly compelling trio of women all caught up in the midst of curses and tragedy."
—BuzzFeed

"A spellbinding reimagining of the story of Elektra, one of Greek mythology's most infamous heroines."
—Book Riot

"Poignant and necessary…These heroines rage at the dying of the light, refusing to go quietly into the fates that male authors like Euripides, Homer, and Aeschylus have set out for them, and though their endings remain as inevitable as always, for readers, the experience is a deeply cathartic one."
—Paste Magazine

"A spellbinding tale of war, betrayal and vengeance, but with a modern twist. If you love Greek mythology and drama, this page-turner is for you."
—Walmart's Woah, Wait Magazine

"Electrifying…Difficult to put down. It's an emotion-laden story of revenge and rage driven by loss and fills a gap by giving Clytemnestra a voice. Both readers who know the Greek myths well and readers who only know glimmers of the story will enjoy this new, epic retelling, perfect for fans of Madeline Miller's Circe."
—Booklist (starred review)

"Brilliant… In alternating chapters, each woman relays her own story and is treated to generous and bold character development…The author also does a splendid job managing the timeline, with rich and sustained scenes and seamless jumps. Out of a canonical myth, Saint has built a commanding story of rebellious women."
—Publishers Weekly (starred review)

"Riveting…Together, these voices show how three very different women understand family, the costs of war, and how to exercise their power…Royals, revenge, curses, and prophecies done right."
—Kirkus

"Elektra is sensational. Jennifer Saint has created a version of an ancient myth which is absolutely thrilling to read, and which gives so much depth and vitality to the characters. The book is profoundly moving, and full of beautiful touches which made the story feel fresh and immediate without losing any of the magic of the classical setting. I will be pressing this book on everyone I know."
—Elodie Harper author of The Wolf Den

"Jennifer Saint shows that whole millennia later, these stories have lost none of their power and resonance. In Elektra, the characters of myth take on an immediacy and intimacy that simply wouldn't be possible in the hands of a less assured and less masterful storyteller. Saint imparts both a voice and a humanity to women who have been consigned to narrow roles in the stories we think we know. Her approach is clear-eyed and unflinching, and the result is an enthralling and devastatingly moving work."
—Katherine J. Chen, author of Joan: A Novel of Joan of Arc

"Elektra tells the stories of three women as each battles to forge her own destiny. Jennifer Saint explores how suffering is passed down generations in this compelling novel, told in rich and evocative prose. A truly immersive read."
—Elizabeth Lee, author of Cunning Women

"Elektra makes the world of Mycenaean Greece feel alive again. In Jennifer Saint's prose, you can hear the songs of the poets, feel the floors beneath your feet, smell the wood burning in the fire and experience the story of these three very different women as if you are there. A compelling retelling of ancient legacies, betrayal and the whims of the gods."
—Claire North, author of Ithaca


Praise for Ariadne

IndieNext Pick
Book of the Month Club Selection

"A page-turner…If you like Madeline Miller's Circe and Son of Achilles, you will eat up Ariadne, a retelling of yet another engrossing and horrifying classic Greek myth." —Glamour

"Beautifully written and nuanced, Ariadne explores the bonds between women and their epic quest for agency in patriarchal Greek society." —BuzzFeed

"Circe fans would do well to take note." —Bustle

"If you loved Madeline Miller's Circe, then you have to check out Ariadne by Jennifer Saint." —PopSugar

"A lyrical, insightful re-telling." —The Daily Mail

"Captivating…Saint's mesmerizingly beautiful prose makes Ariadne a fascinating read." —The Nerd Daily

"In a world ruled by temperamental, petulant gods, Ariadne is a shining beacon of female strength and courage—making this a story that's impossible to forget." —Culturefly

"Relevant and revelatory." —Stylist

"Energetic and compelling." —The Times (UK)

"An illuminating read." —Woman & Home

"Enchanting…As the women navigate their changing positions of power, they court disaster at the hands of both gods and men. Saint expertly highlights how often the women of this world pay the price for the actions of the men around them. Lovers of mythology should snap this up." —Publishers Weekly

"Complex—and bold…Fans of Madeline Miller's Circe will enjoy this faithful retelling that centers the often-forgotten women of Greek myth." —Booklist

"Ariadne is a shimmering tapestry of two sisters bound by deceit and the shadows of family history. One marries a hero, the other a god. As their lives criss-cross through girlhood and womanhood, the secrets that their husbands keep become a monstrous backdrop to their relationship. With a fresh voice and keen insight, Saint adds flesh and bone to an ancient myth, drawing the reader into an uneasy world of ever-afters." —Yangsze Choo, New York Times bestselling author of The Night Tiger

"An ancient story of love and sisterhood reimagined, Jennifer Saint's Ariadne is a truly masterful debut—compulsive, absorbing and lyrical. Saint breathes new life into the forgotten women of Greek mythology with a novel that's both incredibly absorbing, and full of heart." —Katie Lowe, author of The Furies
Flatiron Books, 9781250773616, 304pp.
Publication Date: May 3, 2022
About the Author
Due to a lifelong fascination with Ancient Greek mythology, Jennifer Saint read Classical Studies at King's College, London. She spent the next thirteen years as an English teacher, sharing a love of literature and creative writing with her students. She is the internationally bestselling author of Atalanta, Elektra, and Ariadne.