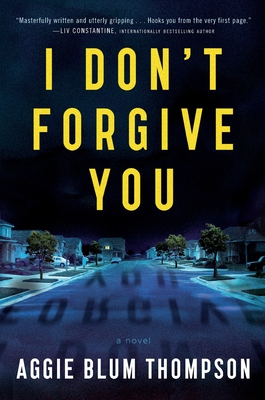 I Don't Forgive You
Paperback

* Individual store prices may vary.
Other Editions of This Title:
Digital Audiobook (6/7/2021)
Mass Market (6/27/2023)
Hardcover (6/8/2021)
Description
Perfect for book clubs or the beach, Aggie Blum Thompson's I Don't Forgive You is a page-turning, thrilling debut "not to be missed." (Wendy Walker)

An accomplished photographer and the devoted mom of an adorable little boy, Allie Ross has just moved to an upscale DC suburb, the kind of place where parenting feels like a competitive sport. Allie's desperate to make a good first impression. Then she's framed for murder.

It all starts at a neighborhood party when a local dad corners Allie and calls her by an old, forgotten nickname from her dark past. The next day, he is found dead.

Soon, the police are knocking at her door, grilling her about a supposed Tinder relationship with the man, and pulling up texts between them. She learns quickly that she's been hacked and someone is impersonating her online. Her reputation—socially and professionally—is at stake; even her husband starts to doubt her. As the killer closes in, Allie must reach back into a past she vowed to forget in order to learn the shocking truth of who is destroying her life.
Praise For I Don't Forgive You…
"A perceptive and beautifully assured piece of domestic noir." —The Washington Post

"Masterfully written and utterly gripping, Thompson hooks you from the very first page. With edge of the seat plotting, this complex and thoroughly chilling guessing game races to a staggering conclusion. This one definitely needs to be on your TBR list." —Liv Constantine, internationally bestselling author

"A terrific page-turner. Allie Ross has an enviable life with her loving husband and adorable son - until she moves into a suburban neighborhood where menace lurks beneath the glossy, Instagram-worthy facade. Don't try to guess what'll happen next - just hang on for the ride!" —Sarah Pekkanen, New York Times bestselling author

"A brilliant thriller that has it all—cliques, dark secrets, murder, and more—I loved it. It was twisty, relatable, and absolutely unputdownable. Thompson's debut knocks it out of the park—a must-read for 2021!" —Carissa Ann Lynch, USA Today and Wall Street Journal bestselling author

"Aggie Thompson's propulsive storytelling and relatable characters make I Don't Forgive You a thriller not to be missed!" —Wendy Walker

"A twisty, suspenseful, adrenaline rush debut that will keep you guessing until the final page." —Rebecca Drake

"From the first page, I Don't Forgive You grips the reader with jaw-dropping twists and turns. Aggie Thompson perceptively explores the creepiness of the suburbs while ratcheting up the tension as the story unfolds. With vivid imagery and sharply drawn characters, this is a smart mystery that will keep readers guessing until the end." —R. J. Jacobs, author of Somewhere in the Dark

"The truth won't stay hidden, even in the leafy suburbs of Washington D.C. in the fast-paced and riveting debut, I Don't Forgive You by Aggie Thompson. Life in the Capitol is richly drawn as the propulsive plot rockets the reader through dark secrets that won't stay hidden and shocking twists that reveal things can always, always get worse." —Vanessa Lillie, bestselling author of Little Voices and For the Best

"A smart novel of domestic suspense, as pinpointed in its societal observations and #metoo message as it is fun to read, readers will hope that Thompson is at the start of a great career." —Jenny Milchman, USA Today bestselling author of Cover of Snow and The Second Mother

"A riveting must-read and a terrific debut! With secrets, guilt, and the devastating power of gossip, Thompson's taut suburban thriller reveals the psychological damage loved ones and strangers inflict on each other—as hiding the past becomes a dangerous and deadly game. Wow—timely, chilling, and full of insight. I could not put this down." —Hank Phillippi Ryan, USA Today bestselling author of The First To Lie and Her Perfect Life

"In crime reporter Thompson's gripping fiction debut, Allie is welcomed to her wealthy new neighborhood by being framed for murder. The spot-on depictions of modern parenthood and suburban life make this story even more suspenseful, as Allie tries to find the real murderer before her entire life is destroyed." —Library Journal

"Kept me guessing until the big reveal. A page burner that demands reading straight through in one sitting." —Mystery and Suspense Magazine
Forge Books, 9781250773913, 352pp.
Publication Date: June 8, 2021
About the Author
Before turning to fiction, Aggie Blum Thompson covered real-life crime as a newspaper reporter for a number of papers, including The Boston Globe and The Washington Post. She lives with her husband and two children, a cat, and a dog in the suburbs of Washington D.C. She is the author of I Don't Forgive You and All the Dirty Secrets.
1. From high school through her evolution to suburban mom, how does Allie's outsider status increase tension between her and the community throughout her life? When have you felt like an outsider? How did it affect you?
2. In the book, social media is described as "a curated version of reality." Allie's life is upended by fake social media accounts made in her name. What does this say about the impact of social media in our everyday lives? What is the meaning of privacy in our current age?
3. Raising a small child while caring for her aging mother – Allie is decidedly stuck sandwiched between generations. How has this impacted the choices she's made? Have you found yourself in a similar situation?
4. Allie does everything she can to conceal the secret affair she had in high school, even keeping it from her husband. How did these attempts at obfuscation affect her relationships? Have you ever had to keep a secret from someone you love?
5. Why does Allie have trouble accepting her affair with Paul as a victimization? How does that affect her reaction to her assault by Rob Avery years later?• Why is it so hard for everyone in the book, including her husband, to believe Allie is a victim? What do you think was the turning point for Mark?
6. Eastbrook is a tight-knit neighborhood shaken apart by the events surrounding Rob Avery's murder. If you lived there, would you be supportive of Allie? Would there be a point at which you couldn't support her?
7. Allie says she spent more time researching her son's scooter than she did checking on Susan. What made Allie trust Susan implicitly?
8. Margaret Cooper upends her life to seek revenge. Why do you think she makes that choice? Can you relate to that vengeful feeling?
9. The book ends with the thought "Forgiveness is the backbone of love. And love makes life bearable." Why do you think forgiveness is important? What role has forgiveness played in your life