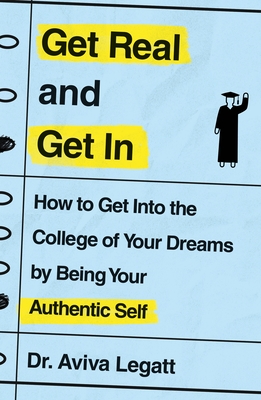 Get Real and Get In
How to Get Into the College of Your Dreams by Being Your Authentic Self
Paperback

* Individual store prices may vary.
Description
An insider's college admissions guide that teaches students to identify and harness their unique passions, stand out from the crowd, and achieve their dreams.

Dr. Aviva Legatt has spent her career in higher education as a professor, counselor, and admissions officer in the Ivy League, and she wants to let students in on a secret: admissions offices are sick of seeing the same cookie-cutter applications. What were once considered best practices for "doing high school right" are now so commonplace that they have become a liability.

Get Real and Get In teaches readers to think outside of the box and focus on what admissions officers are really looking for—young people who dare to be their most authentic selves. Through engaging, accessible, and empathetic prose, this book forms an inspirational roadmap for readers to uncover their true passions and leverage them to create applications that truly stand out from the crowd. It also features a variety of useful exercises and candid stories from many influential figures, which teach students to look beyond just getting into a "good" college and focus more actively on identifying and attaining their long term goals.

Get Real and Get In is designed to ignite an essential mindset shift in students: stop trying to just "get in" and start figuring out exactly what you want from life and how to get it. Stop managing the impressions you make on admissions officers and start defying impressions. This is an essential guide to cutting through the noise of the admissions process and gaining the confidence to forge one's own path to success—in college and beyond.
Praise For Get Real and Get In: How to Get Into the College of Your Dreams by Being Your Authentic Self…
"This book is full of the kind of advice that college applicants crave—and every helicopter parent desperately needs. Not just for getting into college, but becoming a leader any college would be proud to call an alum."
—Adam Grant, New York Times bestselling author of Think Again, Originals, and Give and Take

"The decisions we make around college profoundly shape our personal and professional trajectories. Aviva Legatt is a sage guide along the way, helping young people make smarter choices as they navigate their futures. Get Real and Get In is both grounding and inspiring."
—Dorie Clark, adjunct professor at Duke University, author of The Long Game, Entrepreneurial You, and Stand Out

"If practical is your thing (and it's definitely mine), Dr. Legatt's book offers actionable advice to approaching college admissions with the holistic mindset that admissions officers use themselves when reviewing applications. Get Real and Get In is the gentle, yet firm reminder to you, the applicant, that success trumps name brand when selecting a school and that there's more than one way to get to where you're trying to go in life."
—Ethan Sawyer, College Essay Guy, author of College Essay Essentials

"I strongly advise all students and parents who will be going through the college application process to benefit from this outstanding book."
—Joelle Hatem Ancel, Parent and Lawyer, Hatem Law Office, Istanbul, Turkey

"Full of practical advice from an admissions insider, this work will appeal to high school students, their parents, and their guidance counselors."
—Library Journal
St. Martin's Griffin, 9781250773968, 288pp.
Publication Date: August 3, 2021
About the Author
Dr. Aviva Legatt is the Elite Admissions Expert and founder of Ivy Insight, the gold standard in college admissions consulting for undergraduate elite college applications. An in-demand leadership and college admissions speaker with a fresh perspective, Dr. Legatt has been hailed by the New York Times as a trustworthy expert on college admissions, and recognized as an expert in corporate culture and diversity as a faculty member for Coursera and the University of Pennsylvania.