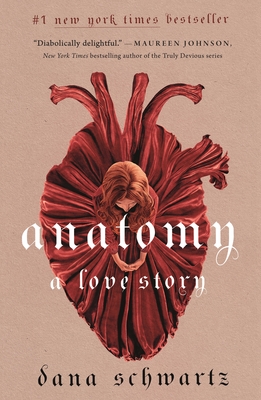 Anatomy
A Love Story
Hardcover

* Individual store prices may vary.
Description
Dana Schwartz's Anatomy: A Love Story is a gothic tale full of mystery and romance.

Hazel Sinnett is a lady who wants to be a surgeon more than she wants to marry.

Jack Currer is a resurrection man who's just trying to survive in a city where it's too easy to die.

When the two of them have a chance encounter outside the Edinburgh Anatomist's Society, Hazel thinks nothing of it at first. But after she gets kicked out of renowned surgeon Dr. Beecham's lectures for being the wrong gender, she realizes that her new acquaintance might be more helpful than she first thought. Because Hazel has made a deal with Dr. Beecham: if she can pass the medical examination on her own, Beecham will allow her to continue her medical career. Without official lessons, though, Hazel will need more than just her books—she'll need corpses to study.

Lucky that she's made the acquaintance of someone who digs them up for a living.

But Jack has his own problems: strange men have been seen skulking around cemeteries, his friends are disappearing off the streets, and the dreaded Roman Fever, which wiped out thousands a few years ago, is back with a vengeance. Nobody important cares—until Hazel.

Now, Hazel and Jack must work together to uncover the secrets buried not just in unmarked graves, but in the very heart of Edinburgh society.
Praise For Anatomy: A Love Story…
"Irreverent, intelligent and smart, Dana Schwartz is one of the brightest of the next generation of young writers." —Neil Gaiman, #1 New York Times bestselling author

"A fast-paced, utterly engrossing tale of mystery, romance, and cadavers. Dana Schwartz deftly blends the historical with the supernatural, racing from macabre graveyards to Scottish castles with two compelling young heroes I dare you not to root for. I grinned, I gasped, I cried and ended this book breathless and craving more." —Alwyn Hamilton, New York Times bestselling author of the Rebel of the Sands series

"Diabolically delightful. A love story, a murder mystery, and a horror novel bound up together in ghoulish stitches." —Maureen Johnson, New York Times bestselling author of the Truly Devious trilogy

"Lionhearted heroine you'll root for from page one? Check. Dark academia vibes? Check. Cheeky romantic banter that will make you blush? Check, check and CHECK. Read this gripping, ridiculously clever tale only if you're fully prepared to be haunted by its revelations about life and death while also swooning at the idea of flirting with someone in an open grave." —Emma Lord, New York Times bestselling author of You Have a Match and Tweet Cute

Praise for And We're Off:

A Seventeen Magazine Best Book of the Year

"A winsome, hilarious tale about losing the map and finding a better way to a happy ending. I loved it!" —#1 New York Times bestselling author Jennifer Weiner

"And We're Off is sure to steal your heart and inspire some serious wanderlust."—HelloGiggles

"Fun, poignant, and funny. I want to travel with Dana, and after reading this, so will you." —New York Times and USA Today bestselling author Maureen Johnson

"[Schwartz] deftly mixes humor and tenderness....This funny, whimsical tome isn't easy to put down once you start." —Rolling Stone


Praise for Choose Your Own Disaster:

"This long-form personality quiz manages to combine humor with unflinching honesty as one young woman tries to find herself amid the many, many choices that your twenties have to offer." —Bustle

"Equal parts amusing and cringe-worthy, these stories will have millennial readers relating and older ones nodding, 'Yes. I've made similar mistakes."—Library Journal

"The snappy direct address gives the feel of a playful internet bit, is sure to please Schwartz's loyal fans." —Booklist

"What do millennials love more than a quiz? NOTHING (except for killing off the diamond and napkin industries). That's part of what makes Dana Schwartz's unflinching, hilarious, and feminist memoir, Choose Your Own Disaster, such a fun ride." —PopSugar

"Choose Your Own Disaster is a salted caramel of a memoir. Her travails as an early 20-something aspiring writer/rom-com character are the perfect mixture of salty and sweet." —The Washington Post
Wednesday Books, 9781250774156, 352pp.
Publication Date: January 18, 2022
About the Author
Dana Schwartz is a television writer and the creator of the number-one charting history podcast Noble Blood. As a journalist and critic, Dana has written for Entertainment Weekly, Marie Claire, Glamour, GQ, Cosmopolitan, Vanity Fair and more. She lives in Los Angeles with her fiancé, and their cats Eddie and Beetlejuice. Her books include Choose Your Own Disaster, The White Man's Guide to White Male Writers of the Western Canon, and Anatomy: A Love Story.