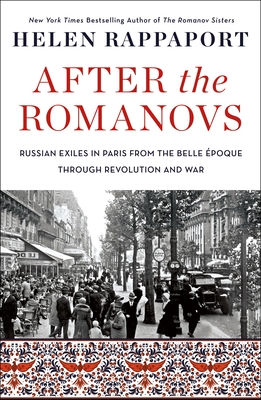 After the Romanovs
Russian Exiles in Paris from the Belle Époque Through Revolution and War
Paperback

* Individual store prices may vary.
Other Editions of This Title:
Digital Audiobook (3/7/2022)
Hardcover (3/8/2022)
Library Binding, Large Print (8/10/2022)
Description
From Helen Rappaport, the New York Times bestselling author of The Romanov Sisters comes After the Romanovs, the story of the Russian aristocrats, artists, and intellectuals who sought freedom and refuge in the City of Light.

Paris has always been a city of cultural excellence, fine wine and food, and the latest fashions. But it has also been a place of refuge for those fleeing persecution, never more so than before and after the Russian Revolution and the fall of the Romanov dynasty. For years, Russian aristocrats had enjoyed all that Belle Époque Paris had to offer, spending lavishly when they visited. It was a place of artistic experimentation, such as Diaghilev's Ballets Russes. But the brutality of the Bolshevik takeover forced Russians of all types to flee their homeland, sometimes leaving with only the clothes on their backs.

Arriving in Paris, former princes could be seen driving taxicabs, while their wives who could sew worked for the fashion houses, their unique Russian style serving as inspiration for designers like Coco Chanel. Talented intellectuals, artists, poets, philosophers, and writers struggled in exile, eking out a living at menial jobs. Some, like Bunin, Chagall and Stravinsky, encountered great success in the same Paris that welcomed Americans like Fitzgerald and Hemingway. Political activists sought to overthrow the Bolshevik regime from afar, while double agents from both sides plotted espionage and assassination. Others became trapped in a cycle of poverty and their all-consuming homesickness for Russia, the homeland they had been forced to abandon.

This is their story.
Praise For After the Romanovs: Russian Exiles in Paris from the Belle Époque Through Revolution and War…
"Excellent." --Forbes

"Vivid and harrowing." –Air Mail

"Entertaining and, at times, heart-wrenching...Rappaport, a prolific historian and highly regarded Romanov expert, unveils a Paris in which Russians had long played a prominent role." –Wall Street Journal

"Traces the Russian encounter with Paris from the city's glittering years as an expat playground before World War I to the grimmer reality of life in exile after the Bolshevik seizure of power." –New York Times Book Review

"An engaging group biography...Rappaport is a mistress of the telling detail." --Washington Post

"Harrowing, inspiring and illuminating." --Miranda Seymour, The Literary Review (UK)

"Well-researched, readable and poignant." –The Times (UK)

"Vividly evocative and vigorously researched, After the Romanovs offers a bounty of biographies as Rappaport eloquently explores the fraught lives of the uprooted with a welcome blend of candor and compassion." –Fredericksburg Free-Lance Star

"Rappaport presents masterful portraits of these refugees… Rappaport not only crafts a lovingly detailed picture of the City of Light, she also fills its parks and cafés and boulevards with an amazing cast of characters." –Christian Science Monitor

"Rappaport's engaging prose and prodigious research makes After the Romanovs a touching and enlightening experience." –Shelf Awareness

"The depth of the research is impressive, and the scope of the book is ambitious. Rappaport successfully traces those first Belle Époque artists and royals, those who were forced to flee with nothing during the revolution, and their experiences through World War I and beyond."—Bookreporter.com

"Full of colorful anecdotes and sharp character sketches, this breezy account of life in exile entertains." –Publishers Weekly

"Thorough and extremely well-researched." –Booklist

"Throughout, [Helen Rappaport], a consummate historian, displays her deep research into the era, the city, and its denizens. A culturally vibrant account of Russians uprooted to Paris during a tumultuous time." –Kirkus Reviews
St. Martin's Griffin, 9781250777201, 352pp.
Publication Date: March 28, 2023
About the Author
DR. HELEN RAPPAPORT is the New York Times bestselling author of several books, including A Magnificent Obsession, The Romanov Sisters and Caught in the Revolution. She studied Russian Special Studies at Leeds University and is a Fellow of the Royal Historical Society, a specialist in Imperial Russian and Victorian history, and a frequent historical consultant on TV and radio. She lives in West Dorset.